No Sugar but sweetened with ripe bananas and made using oat flour, whole wheat flour and coconut, these cookies are great for a quick grab & go breakfast!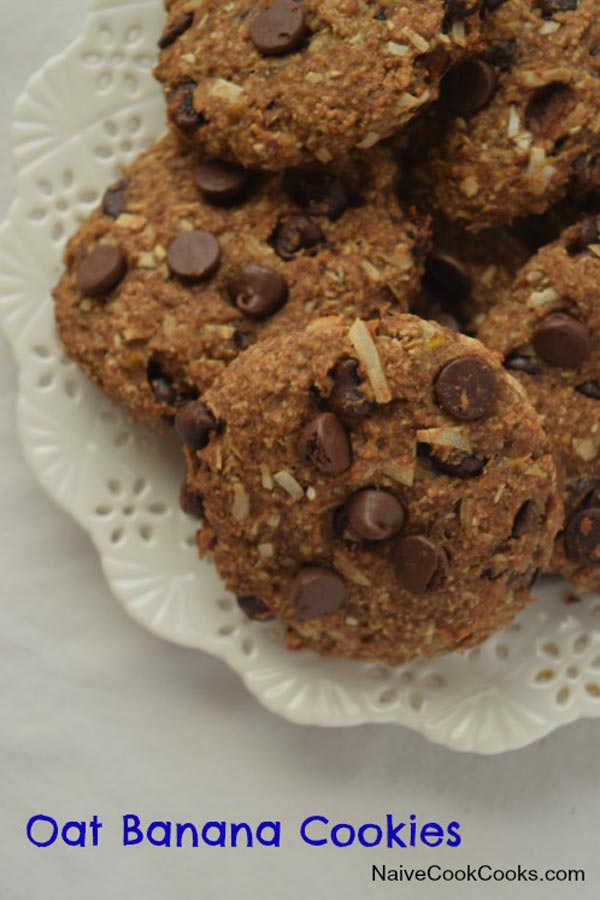 Growing up I had a special place for Christmas in my heart. I remember as a kid, I would go to check out if the little dingy shop next door got any ornaments. I clearly remember that shop. Last time I was in India, I remember it being the same. Still the same guy who with time turned into an old man with white beard and a big belly. He always had a big belly, even when he was young. I was surprised when I saw him last time cause it felt he took his fathers place. He looked every bit like his father. The shop used to carry different kinds of assorted crackers, biscuits, pastries (which used to be my favorite and I bet they still are) and soda bottles along with candies and toys. It was a place full of colorful dreams for little kids.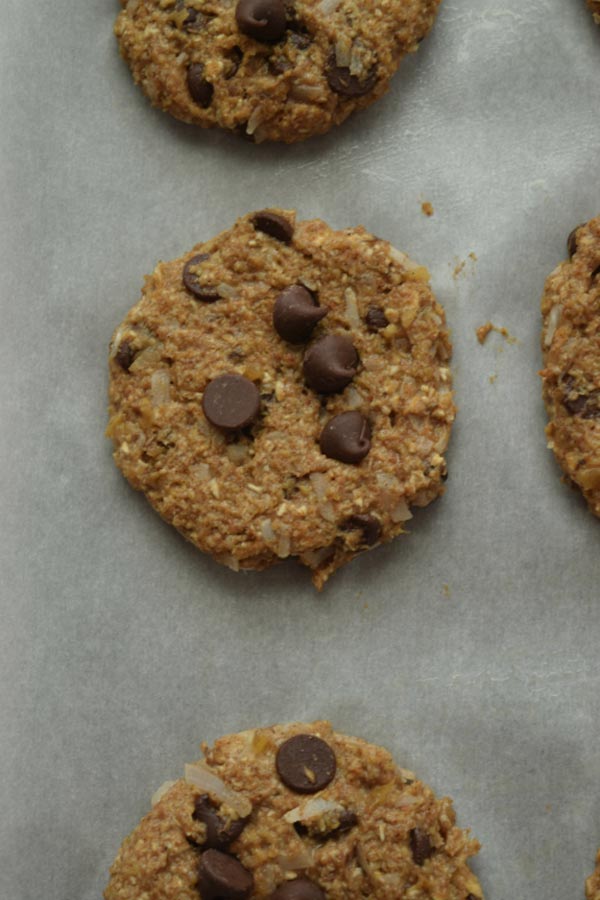 In real, Christmas was never part of my life until I met Jerry. I used to fascinate about Christmas, the colorful treats, the loaded trees, the lights, the music. Now our Christmas starts from October in the true sense. We have Christmas music whenever wherever possible. I miss when suddenly festive season comes to an end. Nothing to look forward to, no plans to make and no big over indulging meals.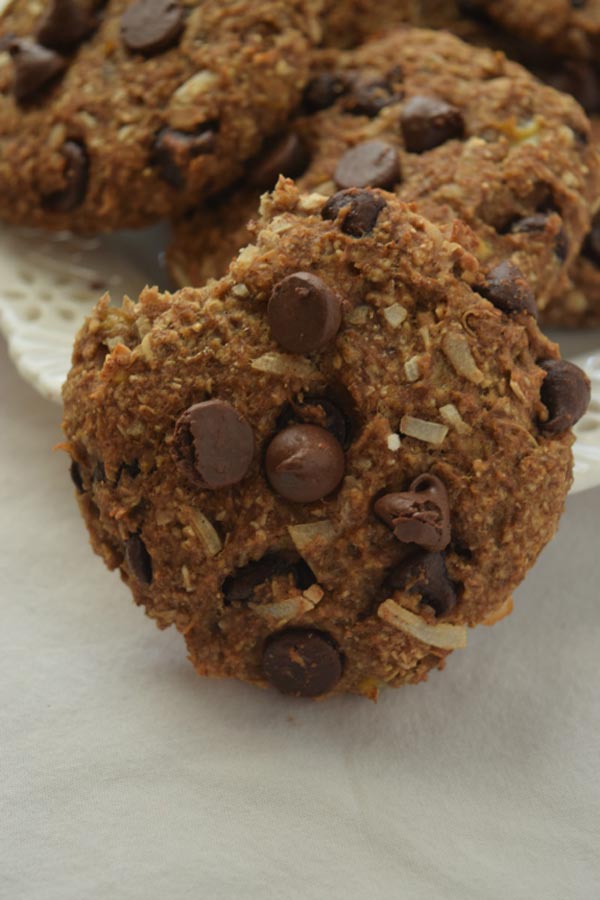 During Christmas time, I made these cookies quite a bit. They are in true sense not at all like cookies. They are cookies in a healthy version. No butter, no flour and no eggs. I feel they should be treated more as energy cookies. Since morning I already had 2 and ha I don't feel guilty(!). I suppose they can be labelled as gluten free though I am not entirely sure if chocolate chips can be counted as one. They remind of Christmas, of love, of happiness all around.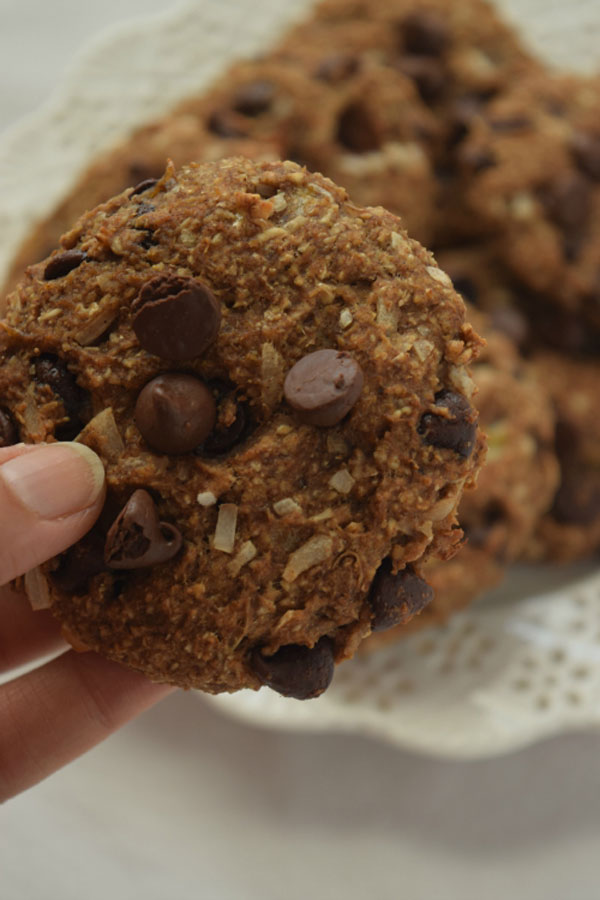 Perfect as a snack anytime of the day. Let me tell you that they go very well with orange and spice herb tea (believe me).
Follow along for a lot more delicious treats and life happenings on INSTAGRAM || FACEBOOK ||PINTEREST ||TWITTER ||GOOGLE+
Vegan Chocolate Chip Oat Banana Cookies
Ingredients
2 well ripened fresh or frozen bananas (I used frozen. If using frozen let them thaw for an hour outside before using)
1 tbsp real vanilla extract
2 tbsp coconut oil ( olive oil works fine too)
1 cup+2 tbsp old fashioned oats (I like to powder them so cookies hold better) OR use (1/2 cup + 2 tbsp oat flour & ½ cup whole wheat flour)
4 tbsp almond meal ( You can take whole almonds and grind them to a fine powder form at home too) (Recipe suggests that almond meal can be replaced by wheat bran if desired)
⅓ cup unsweetened, shredded coconut
2 tsp cinnamon powder
⅓ tsp salt
⅔ tsp baking soda
½ cup milk chocolate chips or semi-sweet chocolate chips or carob chips
Instructions
Pre-heat the oven to 350 F.
In a bowl, mash the bananas using a fork. To this add vanilla and oil and mix well. In another bowl, mix the remaining dry ingredients. Add the dry mix to the wet mix and gently mix them together. Fold in the chocolate chip or carob chips. The dough will be kind of loose and sticky.
On a baking sheet, lined with silicone mat or parchment paper, line up the small balls. You can flatten the balls using hands or roll them in desired shape. The shape doesn't really change while baking so 1" distance between them is fine.
Recipe called for 14 minutes baking time or until firm. I found that mine were done in around 16 mins. Make sure they are nice and firm because if they are under cooked they will crumble.
Devour before you partner or some one else finishes them(!).
Notes
Cool them completely & store them in an air tight container!
P.S Cookie recipe adapted from dear friend Sarah's
OatNana Pucks
from Sprouted Kitchen.
More Dessert Recipes: