One of my favorite brunch I had while in New York. Super fluffy TOASTED ALMOND & STRAWBERRY PANCAKES served with butter & maple syrup. So so good, fancy yet super simple to make!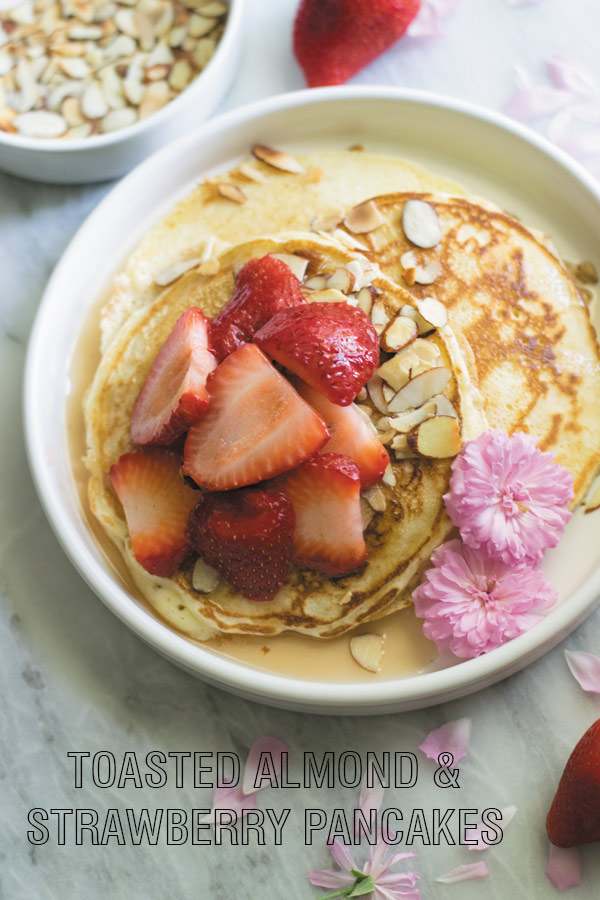 Hello friends. Thanks for sticking with me. Those of you who have been following me for sometime know that I had a baby almost 14 months ago and since then I have been ON/OFF from blogging. I have been seriously itching to get back to it but it was just not happening. But finally seems like I can do it all!
All you super mamas out there, especially both my mothers ( the one that gave me birth and my husband's mom), I am so proud of you all. How you raise your kids and do 100 million things simultaneously. Phew!! It does takes a village to raise a kid hehe, but I won't change anything for the world. Motherhood has seriously made me so much more patient even though my husband would tell you all about my short temper hahahaha!!
Ok so back to this amazing recipe I made few weeks back and quickly took some pictures so I could share these here with you guys.
While we were in New York this time, we went to this cute little brunch spot where they had seasonal special – house made pancakes with toasted almonds and strawberries served with a pat of butter and maple syrup. It doesn't sound like much but everything together tasted divine.
So I knew when I made pancakes, I have to serve them that way and honestly it tasted just like that.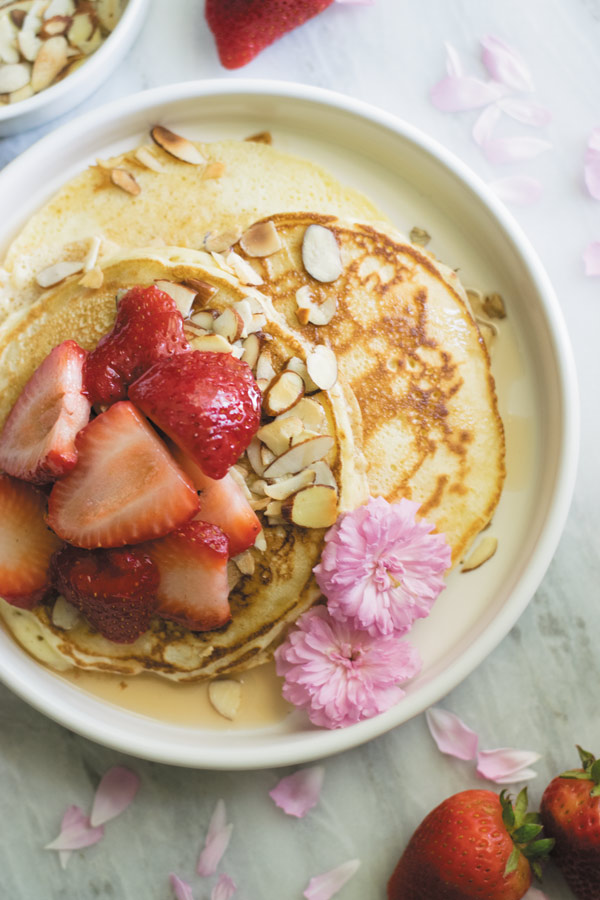 So all we do is make simple pancakes (no boxed mixes because this recipe is seriously stupidly sooo simple!) and then while pancakes cook, toast some slivered almonds. Serve the pancakes with a generous amount of toasted almonds, sweet strawberries, butter and lots of pure maple syrup.
Amongst all these pretty pictures, I tried to keep it real and added this picture of pancakes cooking as it's a very important step in getting those restaurant style soft fluffy pancakes that are perfectly cooked but not over cooked and hard! Add butter on your skillet and once its hot, drop about 1/4 – 1/3 cup batter into it. Once you start to see small bubbles on the surface, that means its time to flip your pancake. This trick will give you seriously amazing pancakes every single time!
BTW I am working on some new content for you guys like baby posts, some beauty favorites I have been loving lately and some more. Look out for tomorrows post!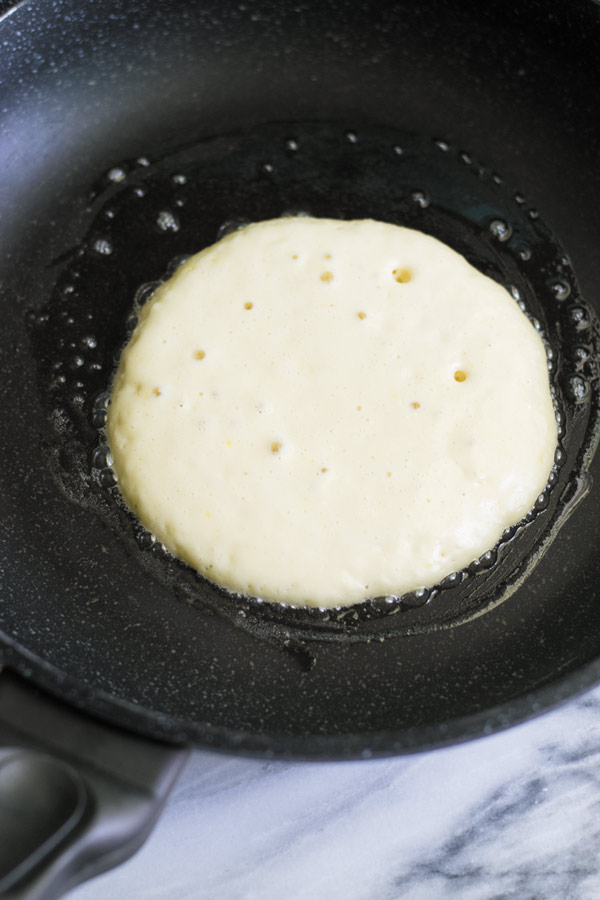 Lets see how to make these pancakes now ->>>>

Toasted Almond & Strawberry Pancakes
Super fluffy TOASTED ALMOND & STRAWBERRY PANCAKES served with butter & maple syrup. So so good, fancy yet super simple to make!
Ingredients
Serves 2 ; Makes 6 pancakes.
Pancakes :
1 cup + 2 tbsp unbleached All Purpose Flour
1 egg
1 cup milk
1 tsp sugar
1 tsp vanilla extract
1 tsp baking powder
Pinch of salt
EXTRAS:
⅓ cup slivered almonds, toasted
Fresh sweet strawberries, sliced
Butter for cooking and serving with pancakes
Pure maple syrup
Instructions
Pancakes:
In a bowl, add all dry ingredients. Add flour, sugar, baking powder and salt. Stir and add wet ingredients to it. Add egg, vanilla extract, milk and stir until its all mixed but you will still have some lumps and that is fine. DO NOT OVER MIX pancake batter ever!
Now heat up a skillet and add some butter. Once the skillet is warm, add about ¼-1/3 cup pancake batter to it and leave it untouched at this point. Let it cook on medium heat. Once you start to see those bubbles ( as you can see in the picture I shared above), flip pancake and let it cook. And that's about it. Keep making the rest of the pancakes and stacking them on a plate.
Meanwhile heat up another pan and add slivered almonds. Keep stirring so they toast and not burn. Keep them on the side once toasted to your desired level.
Stack 2-3 pancakes on a plate. Top with toasted almonds, strawberries, butter and drizzle with some good quality maple syrup.
Enjoy!
We like to eat them with my chocolate milk ( just milk mixed with my homemade chocolate sauce! So good!)