Satisfy both your crispy pretzel and homemade pizza craving in one single delicious meal! This pizza has a thin and crispy pretzel crust pizza and totally customizable toppings!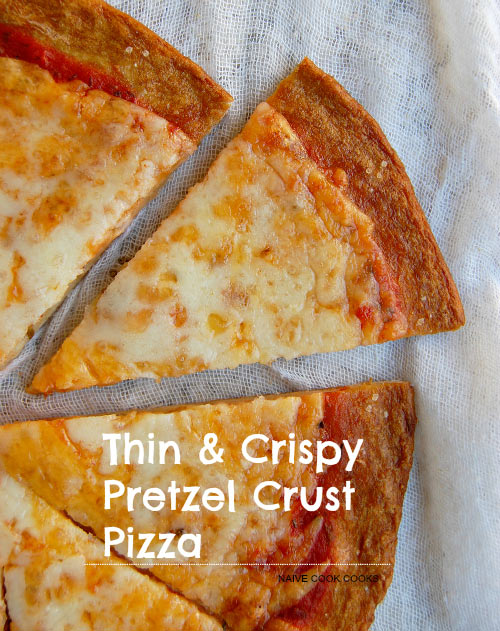 I am a big pizza person. If a week goes by without having pizza be it homemade or Dominos (Even though I must admit that homemade is my favorite), I start getting pizza cravings so bad that I totally go ahead and change my planned dinner menu and run to the grocery store just so we can have pizza at home. Yes, you may call me a crazy pizza lady!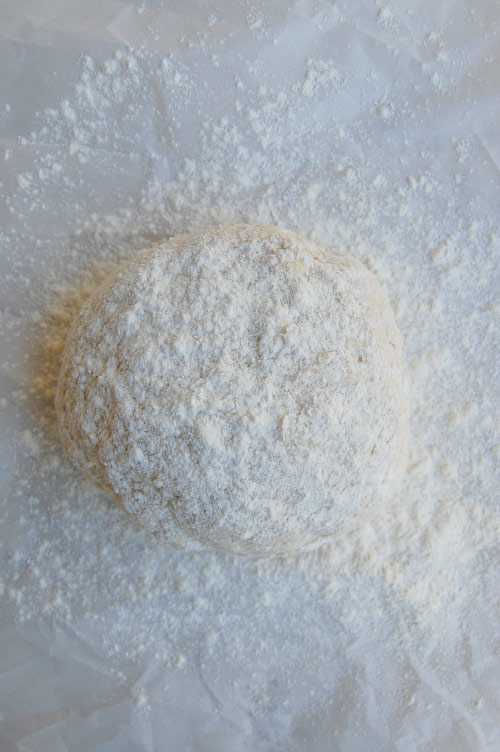 This PIZZA is different. Nothing like your usual thin crust pizza or should I say way better than a regular pizza? For long time I kept on watching this trailer from Little Ceasars for their pretzel crust pizza. I heard both good and bad reviews about it and still I wasn't convinced to give it a try. The main problem being that I am not a thick pizza crust kind of person. I feel you taste way more dough than the actual toppings on the pizza.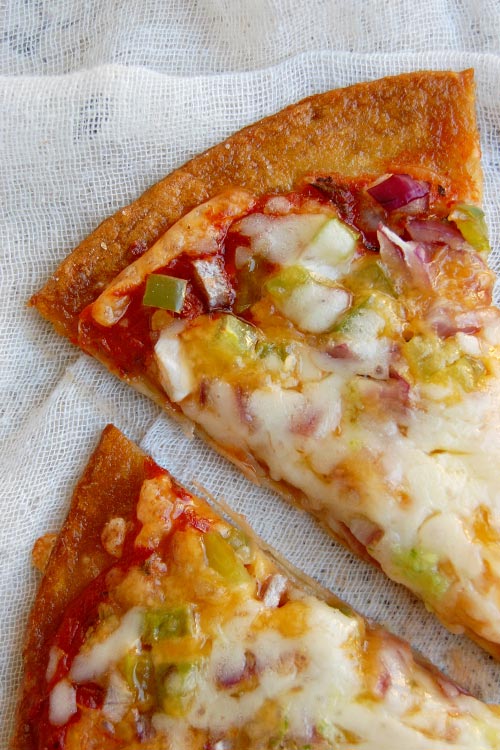 So here I was all happy in my world where there was no space for thick pretzel crust pizza and one day out of the blue, I came across pretzel crust pizza recipe by Creme de la crumb and I just had to make it. Yes I am kind of weird in these ways. Sometimes I see a recipe and my plans totally change. My family is not always happy with this as I promise them something in the morning but midday my plans change and I start working on totally different recipe. They come home to something totally different.
But this pizza. I went with thin crust as you might have guessed by now. It was the best pizza with a thin crispy crust that tasted just like eating a pretzel and you can totally taste all the flavorful toppings too.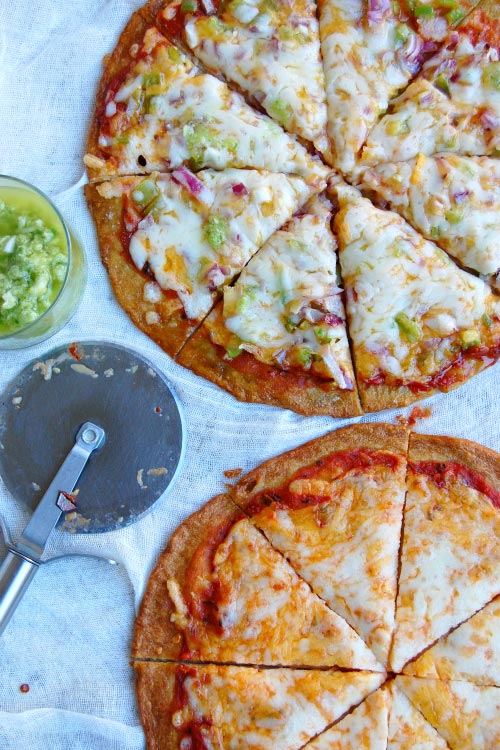 We went with simple cheese and veggie toppings but you can go with the classic cheese and pepperoni or have fun with the toppings of your choice.
On a different note, you guys going to blogher conference this year?? I have never been to one but I am really inclined towards it. Will love to know if anyone amongst you guys is planning on going as I will love to hang out with you guys there!
P.S Did you buy your own copy of GREATIST E-COOKBOOK. It has 100 healthy recipes which use no more than 8 whole ingredients and can be prepared in under 20 minutes! Perfect for keeping up with your healthy new year resolutions. 

Thin & Crispy Pretzel Crust Pizza
Satisfy both your crispy pretzel and homemade pizza craving in one single delicious meal! This pizza has a thin-crispy pretzel crust and totally customizable toppings!
Ingredients
1⅓ cups warm water
1 tablespoon active dry yeast
2 tablespoon sugar or honey
3½ cups all purpose flour
1 teaspoon salt
⅓ cup baking soda
1 tablespoon melted butter
coarse sea salt
1-1.5 cups pizza sauce
1 cup shredded cheese (I used a mix of sharp cheddar and fontina)
Chopped Veggies if you are going vegetable topping route (I used red onions, bell pepper, olives, jalapenos)
Instructions
In a bowl combine warm water, yeast, and sugar and stir to mix. Allow to rest for 5 minutes until it starts to foam.
Add flour and 1 teaspoon salt to yeast mixture. Mix until a dough forms. Knead for 5 minutes until dough is smooth and tacky but not too sticky.
Remove dough from bowl and allow to rest on a well-floured surface for 10 minutes.
Fill a stock pot (the largest pot you have, at least 10 inches wide) with about 2-3 inches of water. Bring to a boil. Add baking soda - careful, it will bubble and rise. Reduce water to a simmer.
Divide dough into 4 equal portions (if making thin crust or divide in 3 portions for a thicker crust pizza) and roll them out into 8-inch discs.
Gently drop one dough disc into the simmering water. Allow to boil for 30-40 seconds. Use slotted spoons or slotted spatulas to carefully lift dough from the pot and transfer to a paper-towel lined plate. Repeat with remaining discs.
Transfer dough discs to a lined baking sheet. I did two at a time. Brush with melted butter. Sprinkle with coarse sea salt.
Bake for 10 minutes at 420. After 10 minutes, top crusts with pizza sauce, cheese, and any other toppings you want. Bake for 10-15 minutes more until cheese is melty and crust is browned. Serve immediately.
Notes
Basic pretzel pizza dough recipe adapted from http://lecremedelacrumb.com/
Here are some Recipes to make it a full meal:
https://www.naivecookcooks.com/low-fat-spinach-artichoke-dip-cpk-inspired/