Thin & Crispy Pretzel Crust Pizza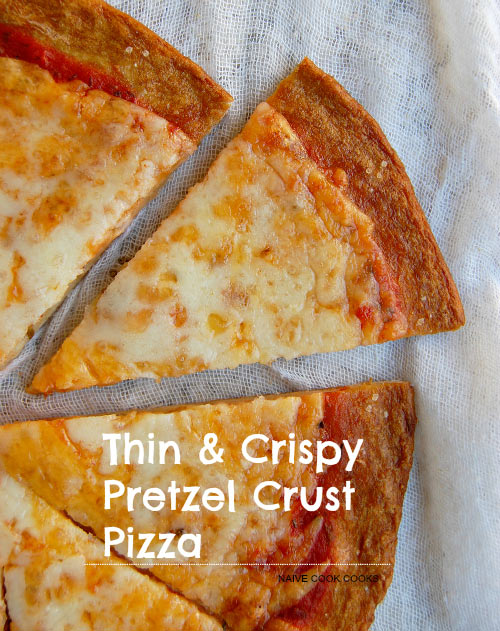 1⅓ cups warm water
1 tablespoon active dry yeast
2 tablespoon sugar or honey
3½ cups all purpose flour
1 teaspoon salt
⅓ cup baking soda
1 tablespoon melted butter
coarse sea salt
1-1.5 cups pizza sauce
1 cup shredded cheese (I used a mix of sharp cheddar and fontina)
Chopped Veggies if you are going vegetable topping route (I used red onions, bell pepper, olives, jalapenos)
In a bowl combine warm water, yeast, and sugar and stir to mix. Allow to rest for 5 minutes until it starts to foam.
Add flour and 1 teaspoon salt to yeast mixture. Mix until a dough forms. Knead for 5 minutes until dough is smooth and tacky but not too sticky.
Remove dough from bowl and allow to rest on a well-floured surface for 10 minutes.
Fill a stock pot (the largest pot you have, at least 10 inches wide) with about 2-3 inches of water. Bring to a boil. Add baking soda - careful, it will bubble and rise. Reduce water to a simmer.
Divide dough into 4 equal portions (if making thin crust or divide in 3 portions for a thicker crust pizza) and roll them out into 8-inch discs.
Gently drop one dough disc into the simmering water. Allow to boil for 30-40 seconds. Use slotted spoons or slotted spatulas to carefully lift dough from the pot and transfer to a paper-towel lined plate. Repeat with remaining discs.
Transfer dough discs to a lined baking sheet. I did two at a time. Brush with melted butter. Sprinkle with coarse sea salt.
Bake for 10 minutes at 420. After 10 minutes, top crusts with pizza sauce, cheese, and any other toppings you want. Bake for 10-15 minutes more until cheese is melty and crust is browned. Serve immediately.
Basic pretzel pizza dough recipe adapted from http://lecremedelacrumb.com/
Recipe by
Naive Cook Cooks
at https://www.naivecookcooks.com/thin-and-crispy-pretzel-crust-pizza/