Swordfish and Shrimp Caribbean Curry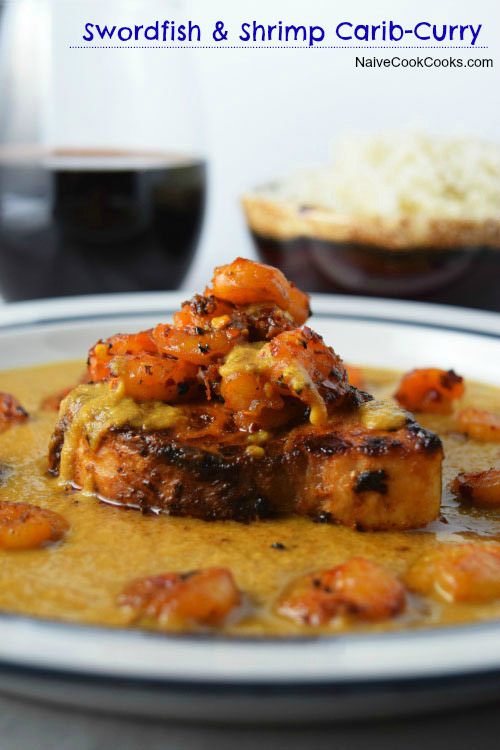 **You can double, triple or as much as you want increase the amount of swordfish fillets & shrimp according to the number of people.
1 swordfish fillet
1 tbsp olive oil
1 tbsp white sugar
Pinch of salt
½ tsp paprika
¼ tsp cumin powder
½ tsp black pepper
Around 25 small cocktail shrimps or 3-4 large shrimps
2 tsp olive oil
¼ tsp red chili powder
¼ tsp paprika
¼ tsp garlic salt
1 tsp black pepper
½ tbsp chili flakes (add according to your taste)
½ tsp turmeric
¼ tsp cajun seasoning
1 tsp salt
In one ziplock, add all the ingredients for swordfish fillets and mix. To it add the fish fillets and mix it around using hands so the seasoning is all over the fish. Close the packet and place in refrigerator to marinate for 1-2 hours.
In another ziplock do the same with shrimp & its seasonings.
Heat a nonstick skillet and add little oil. Add the fish fillets and cook them on medium-low without touching until it's nicely cooked. Flip and cook on the other side and then using tongs make sure to cook the sides. You will start to see change in color.
Now add some more oil in the same pan and add marinated shrimps. Cocktail shrimps need to be cooked only for few seconds on each side but if using big shrimps then cook them more until cooked through.
Serve the cooked swordfish & shrimp with the Indian Curry.
**Basic Indian Curry recipe is in yesterday's post. Link is at the end of the post.
Recipe by
Naive Cook Cooks
at https://www.naivecookcooks.com/swordfish-and-shrimp-caribbean-curry/