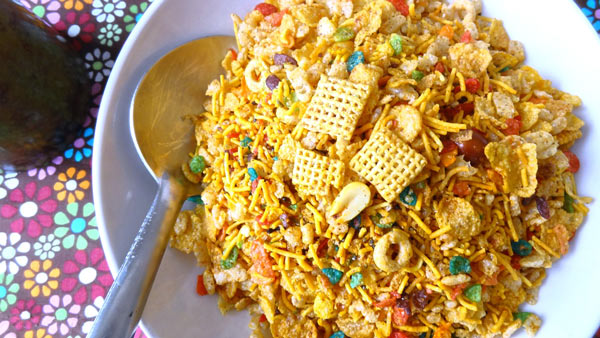 Waking up early on a Sunday morning is not unusual for me. I love watching the sun go up, slowly filling the apartment with light, light seeping from every nook and corner of the house. Light so pure that it makes everything look perfect. With a hot cup of steaming coffee in hands and a book tagged along have always been one of my favorite ways of welcoming mornings. It just takes the mind away from the hustle bustle of day to day life.
I remember as a kid my first task after freshening up used to be munching on cookies with milk while watching cartoon shows. Such innocent and carefree days.
I recently discovered something which I think could replace cookies during early mornings. Let me rephrase it that I absolutely love cookies but it is just something that could take my mind off them for sometime specially prevent me from going crazy filling up myself with cookies first thing in the morning. I got introduced to this snack by Jerry's mom and I was completely blown away as I must tell you.
It is a good alternative from eating boring cereal everyday for breakfast.
I suggest you must try it immediately. It is addictive. Trust me.

Spicy Peanut Cereal Mix
Ingredients
1 box fruity pebbles (11 oz) (gluten free optional)
1 bag corn flakes (18 oz Kellogs, the original one)
1 box rice crispies (12 oz)
1 box corn chex (gluten free)
½ box cheerios ( around 7 oz)
Salt to taste
3-4 tbsps Red chilli powder or to taste
3-4 tbsps Mustard seeds
2-3 tbsps turmeric powder
2-3 tbsp Fennel seeds
2-3 tbsp carrom seeds
1 cup peanuts
Oil for frying peanuts
Instructions
Preheat oven to 300F.
Mix corn flakes, rice crispies and corn chex in a big tray or aluminium foil trays and place it in a preheated oven for 7-10 minutes or until they get crispy.
Take them out and add cheerios and fruity pebbles and mix them all together. Never put fruity pebbles in the oven as sugar makes them melt.
Now in a small pot add around ½ cup oil and let it get heated up. When the oil gets hot, add the peanuts. Keep stirring them continuously so they don't burn. When you see the slight colour change take the peanuts out and place them on a plate lined with paper towel so as to soak the excess oil.
Now make sure the same oil is warmed up again. Take it away from the gas. We are going to add the spices in oil so we don't want the spices to burn. Now add mustard seeds and cover the pan. Keep it back on flame. Once the popping sound of mustard seed dies, take the pan away and add salt, red chilli and turmeric powder. Add the hot oil mixture over the cereal mix. Add fennel seeds and carom seeds along with peanuts. Mix it all up nicely.
Taste. Usually I have noticed I always find either the mix to be little dry or spices missing. So feel free to again make the hot oil mix and adjust accordingly.
Make sure you mix it all up nicely. Store them in sealed airtight containers. Stays good for 2-3 months.
More Indian Inspired Recipes: