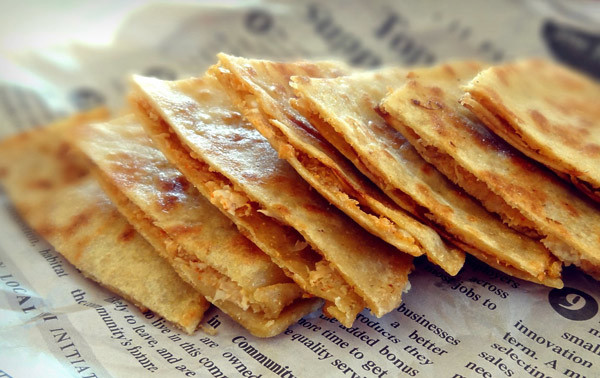 I have a thing for this time of the year, starting the beginning of dreary winters and extending till the end of this freezing weather. Days so short that by afternoon day seems to end and that leads to a pile load of undone work. If I had my way, I would be found hidden under layers of thick blankets 24*7.
It's funny how changing seasons have that kind of effect on some of us. Do not get me wrong as without any doubt, this is favorite time of the year for me. The naked trees, snow covered roofs, frozen ponds, sound of wind gushing through glass windows make me love and adore this time of the year even more.
I had been wanting to eat all kinds of  winter vegetable stuffed paranthas for long. Cold makes me hungry all the time. They remind me of chilly nights when we all would gather around the dining table and my mother would serve us hot paranthas with dollop of fresh homemade yogurt and pickle. Divine.
Filling made out of fresh winter vegetables. We would enjoy all sorts ranging from potato, radish, green peas to everyone's favorite Indian cottage cheese. While writing this, I am enjoying them with a hot cup of coffee.
They are very easy to make as you will have all the spices in your pantry already. A healthy and filling breakfast, lunch or dinner meal.
Leftovers wrapped in aluminium foil can be kept in refrigerator for a day or two. Warm them up on a skillet for few minutes before eating. Make sure the gas is on low and they are not left on skillet for long as it will make them chewy.

Gobi Parantha - Cauliflower Flatbread
Ingredients
⅓ Cauliflower, remove the leaves and separate florets from stems
Salt to taste
Red chilli powder to taste
3-4 Green chillies, chopped
1-2 tbsp Amchoor (Dried mango powder) or khatai
1 cup whole wheat flour plus additional for rolling
Oil for cooking
Instructions
On a box grater, the side with smallest size, grate the cauliflower florets. Make sure you discard the stems. Once done, add salt, red chilli, green chilli and dried mango powder to it. Mix it and taste. Adjust seasoning. Make sure seasoning is correct because that is going to play the major role in your stuffed parantha. Keep it little spicy so you can get flavor after it gets covered with flour layer. Keep it aside.
In a bowl, add flour and enough salt say 1-2 tsp to taste. Using warm water, mix it all together until it all comes together.
Break into small 8 rounds.
Put a flat skillet on gas at medium flame. Roll out one flour ball by using dry flour for rolling if it feels sticky. Keep it aside. Roll another ball the same way. Spread the stuffing mixture made earlier evenly over the rolled out flour. Cover it with the other rolled out piece. Make sure they hold together or using a rolling pin with very light stress, even it out so both the pieces along with stuffing in between kind of hold together. Gently transfer it to the skillet. Let it cook on one side for few minutes. Flip it and smear it with canola oil or ghee. Once the bottom side is little cooked flip and coat that side too. Let it cook till it gets nicely browned but not burnt. Repeat with others in the same manner.
Serve with yogurt and pickle along with a hot cup of tea or coffee.
More Indian Inspired Recipes: