This easy ROASTED TOMATO & CARROT SOUP is the perfect one pot wonder for those busy weeknights! Meal prep ahead or store extra in freezer for an easy yet comforting meal.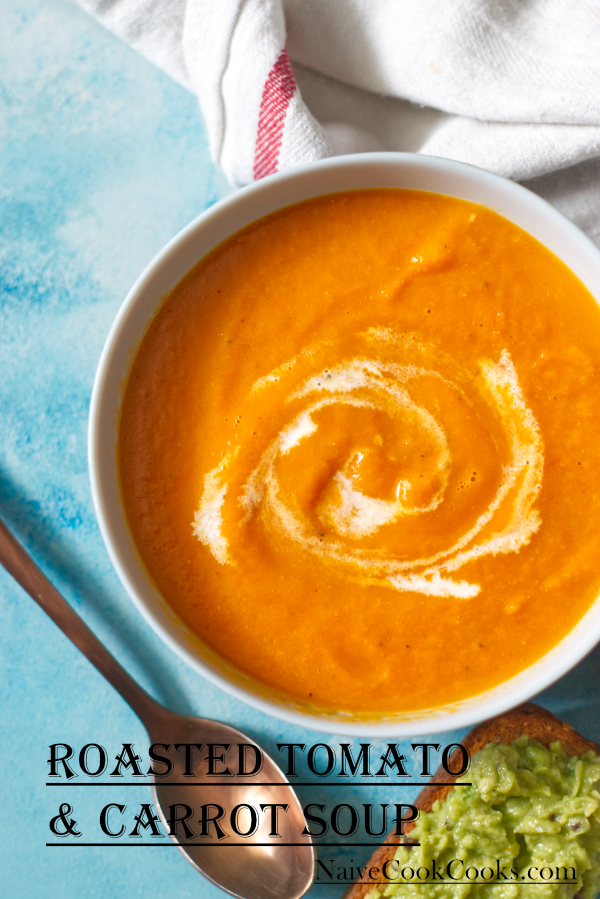 I was meant to share it on the first day of September but then as usual I had so much going on so couldn't but glad I am able to share it with you guys even though a day later as planned! This is one of our favorite soup recipes. I have been making this ROASTED TOMATO & CARROT SOUP VERSION since last year and I love how more intense the flavors get after roasting.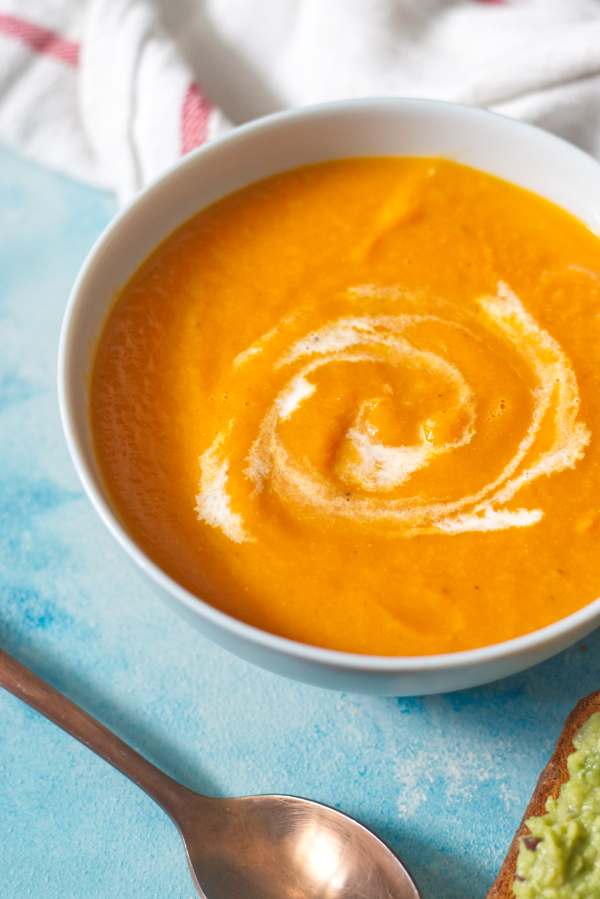 It's a super simple soup recipe ( CREAMY BUT WITHOUT ANY CREAM) , super nourishing with roasted tomatoes, carrots, garlic and just basic spices. It's so good that it doesn't demand many spices.
FOR TODDLERS/BABY VERSION : I have successfully fed this to Aria when she was baby and now in toddler stage by adding some mushed up whole wheat multi grain bread which easily dissolves in hot soup making the soup thicker and keeps them full for sometime.
SERVING SUGGESTIONS : I like to serve this soup with GRILLED CHEESE or AVOCADO TOAST or CROUTONS & a SIDE SALAD.
DAIRY/NO DAIRY : I added little heavy cream just for pictures sake but you can totally add some if you want to make it richer in taste! This ROASTED TOMATO & CARROT SOUP is naturally VEGAN & GLUTEN FREE.
VIDEO : I have shared a quick STEP BY STEP on my Instagram stories which you can find in my STORY HIGHLIGHTS in Instagram.
So go ahead & give this a try! If you make these or any other recipe from our blog, do tag us by using#naivecookcooks on Instagram.
If  you enjoyed this recipe, don't forget to FOLLOW me on  INSTAGRAM ||FACEBOOK||PINTEREST ||TWITTER ||GOOGLE+ || BLOGLOVIN || YouTube
Roasted Tomato & Carrot Soup
Ingredients
TOMATO (1.8 pounds) / (695 gms ) ( I used roma tomatoes)
CARROTS ( 5.3 oz) / (150 gm)
ONION 1 big ( You can use purple or yellow or white onion )
Few GARLIC cloves ( like 4-5 ) or 1 heaping TBSP GARLIC PASTE
OIL 2 tsp
Salt & black pepper to taste
½ tsp spicy paprika (optional)
Instructions
Slice tomatoes into half, cut carrots into pieces, onions into large pieces and peel garlic cloves. Place them on a baking sheet and sprinkle little oil and salt. Bake for 30 minutes in a preheated 375 degree F oven.
You can do this step a day in advance if you want to.
Toss the roasted vegetables into a high speed blender with little water and blend into smooth soup consistency.
Transfer into a heavy bottom pot, add more water as needed, salt , black pepper and paprika. Cook on medium high heat and let it simmer for 10-12 minutes. Taste and adjust spices.
Notes
Ami says :
If your tomatoes are on the tangier side, you can add little sugar/ sweetener of choice to balance the flavors in the soup.
I have a SHOP PAGE on AMAZON STOREFRONT where you can find tons of items from KITCHEN, FOOD ITEMS, KIDS/BABY TO HOME STUFF I absolutely love and use on regular basis! Hope you check it out and find it useful 🙂
Some more delicious SOUP RECIPES ->