Roasted Tomato & Carrot Soup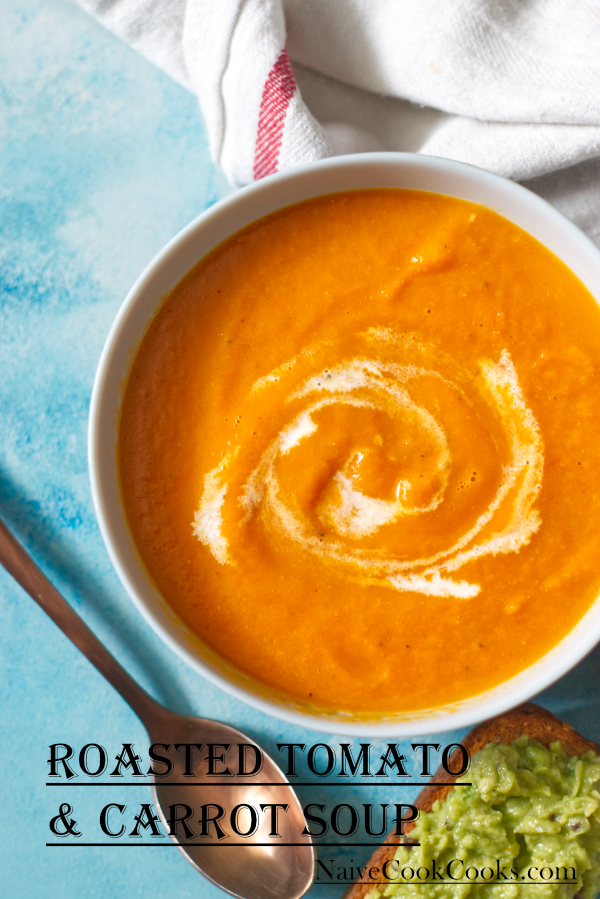 TOMATO (1.8 pounds) / (695 gms ) ( I used roma tomatoes)
CARROTS ( 5.3 oz) / (150 gm)
ONION 1 big ( You can use purple or yellow or white onion )
Few GARLIC cloves ( like 4-5 ) or 1 heaping TBSP GARLIC PASTE
OIL 2 tsp
Salt & black pepper to taste
½ tsp spicy paprika (optional)
Slice tomatoes into half, cut carrots into pieces, onions into large pieces and peel garlic cloves. Place them on a baking sheet and sprinkle little oil and salt. Bake for 30 minutes in a preheated 375 degree F oven.
You can do this step a day in advance if you want to.
Toss the roasted vegetables into a high speed blender with little water and blend into smooth soup consistency.
Transfer into a heavy bottom pot, add more water as needed, salt , black pepper and paprika. Cook on medium high heat and let it simmer for 10-12 minutes. Taste and adjust spices.
Ami says :
If your tomatoes are on the tangier side, you can add little sugar/ sweetener of choice to balance the flavors in the soup.
Recipe by
Naive Cook Cooks
at https://www.naivecookcooks.com/roasted-tomato-carrot-soup/