Delicious Punjabi Pakora Kadhi ( Spiced Buttermilk Soup With Onion Chickpea Fritters) is a simple soup made with basic ingredients. Enjoy with freshly steamed rice for a complete meal.
Some food brings back memories and this is one of them. I grew up eating this delicious spicy & tangy spiced yogurt soup with onion chickpea fritters or soul warming Punjabi Pakora Kadhi made by my mom in India. Last time I was in India is when I had her make it again for me and then I decided to take exact measurments as it takes a lot of effort to get the same taste as our mom's cooking, isn't it?? I am all about giving my own touch to whatever I cook but somethings are better left untouched.
There are different variations – some people like to add thinly sliced onions in kadhi instead of pakoras or spinach which I have done also in THIS RECIPE. If you are not in the mood to fry pakoras/fritters, you can simply leave them out and enjoy kadhi as is or add spinach or thinly sliced onions or even small chopped potatoes while cooking which I have done earlier!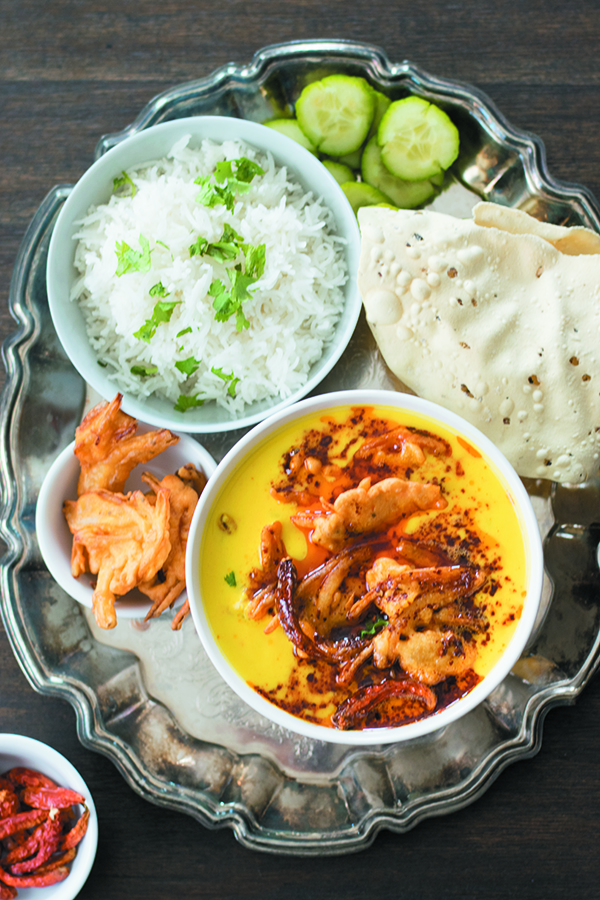 A super simple indian recipe which is not that common in restaurants here in US but so so good. Its slow cooked for 30-45 minutes which helps it thicken a bit, the flavors to marry together. You can make it ahead of time as well, simply warm it when ready to eat and add the pakoras just before eating when warming it up.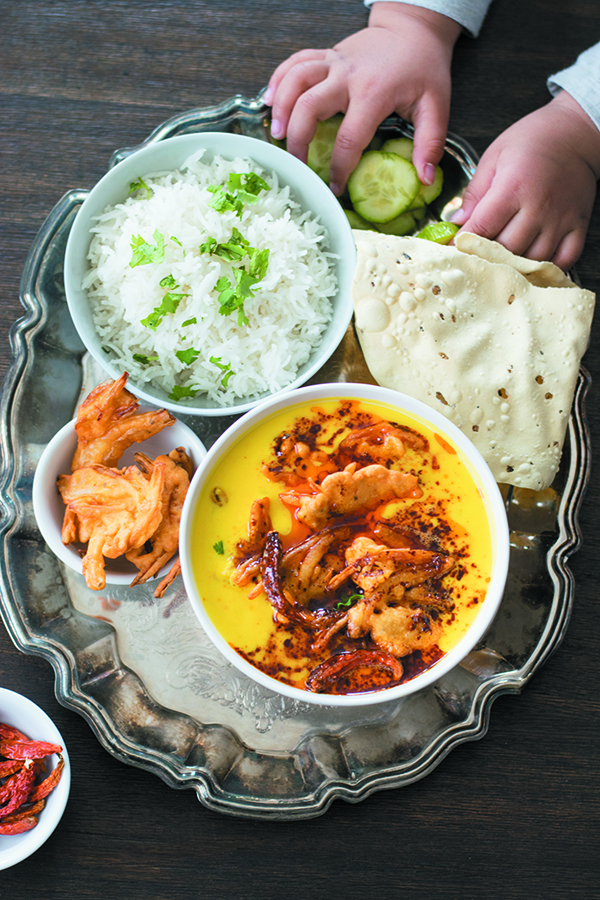 See those tiny hands in the picture up there?? She loves cucumbers like me and couldn't wait to put some in her mouth lol!

PUNJABI PAKORA KADHI ( Spiced Buttermilk Soup with Onion Chickpea Fritters)
Recipe type:
Soup , Entree
Ingredients
FOR KADHI (SOUP) ->
2 cups buttermilk *
½ cup water *
* You can even use yogurt in place of buttermilk if you want to . Instead of 2 cups of buttermilk add 1 cup of full fat or skimmed yogurt. Replace ½ cup of water with 1 full cup of water.
2 Tbsp chickpea flour
Salt to taste
½ tsp red chili powder
1 tsp turmeric powder
1 tsp oil
¼ tsp methi seeds (dry fenugreek seeds) (they have a bitter taste but using very little so WON'T make food bitter at all. If you don't have any or don't want to use, it's totally fine) (OPTIONAL)
1 tsp cumin seeds
Pinch of hing (asafoetida if you have any ) (OPTIONAL)
FOR PAKORAS (CHICKPEA FRITTERS) ->
1 cup besan (chickpea flour)
Salt to taste
½ tsp red chili powder
½ tsp ajwain or carom seeds
½ - ¾ cup water (start with ½ cup water, mix as check the consistency. You are looking for a semi thick batter that will flow slowly from the back of your spoon but not fall down completely)
½ small onion, thinly sliced
FOR TEMPERING ->
1 Tbsp oil or ghee
1-2 tsp red chili powder or as per taste
Instructions
Start by making kadhi or buttermilk soup. In a bowl add chickpea flour, buttermilk or yogurt and mixing with a whisk so no lumps remain. Then add salt ,red chili podwer and turmeric powder and mix. Then add water and mix again. Keep it aside.
Take a deep pot and heat on medium high heat. Add oil. Once hot, add methi , cumin seeds and fenugreek seeds. Once they start to splutter, turn down the gas to low. Wait few minutes then add the buttermilk spice mixture to it while whisking constantly so buttermilk doesn't curdle. Keep the gas on lowest setting. Let it cook for 30- 45 minutes and keep stirring every 5 minutes or so. Meanwhile finish making pakoras ( fritters ).
For making pakoras (fritters), in a bowl take chickpea flour, salt, red chili powder, ajwain seeds and whisk so no lumps remain. Then add water until you reach the right consistency.
Add thinly sliced onions to it and mix.
Start heating some oil around 1 cup in a heavy bottom pot for frying. When oil is hot and ready for frying, which you can test by dropping a drop of chickpea batter carefully into hot oil. If it immediately fizzes and comes to the top, that means oil is ready.
Using a spoon slowly and carefully drops small onions pieces along with batter into hot oil. Let it cook on medium high heat for 3-4 minutes before flipping. Cook until both sides are nice golden brown. Meanwhile layer a plate with paper towel and after frying place them on paper towel lined plate so it absorbs the excess oil. Repeat until all the batter is finished.
Once kadhi is done and fritters are all done, if you are ready to eat add pakoras into hot kadhi and cook for few more minutes until pakoras get slightly soft.
Transfer to bowls.
Make tempering. In a small pot add 1 Tbsp oil or ghee. Once hot, add red chili powder and cook for 10- 15 seconds and take it off gas. Add a tsp or so of this spicy oil on top of your kadhi. Enjoy with hot steamed rice.
Notes
Ami says ->
While cooking the kadhi, if it starts to get too thick, add little more water and remember to taste test to make sure all spices are perfect!
SOME MORE DELICIOUS RECIPES ->>