M&M's® Pecan Pie Cookie Pizza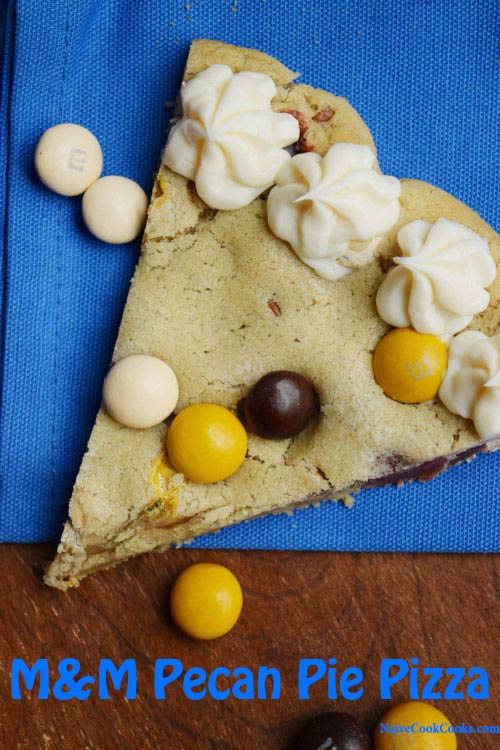 ½ cup + 2.5 Tbsp unbleached all purpose flour
¼ tsp baking soda
⅛ tsp baking powder
1 tsp cinnamon powder
½ stick unsalted butter, softened (4 tbsp)
6 Tbsp white granulated sugar
¼ egg, stirred (You can REPLACE EGG by chia seeds egg : For making 1 chia egg, mix 1 tbsp powdered chia seeds + 3 tbsp water and let it sit until thick for about 15 mins. Use ¼ of this in place of egg)
½ tsp vanilla extract
1 Tbsp milk (any fat content)
¾ cups M&M's® Pecan Pie
1-2 tbsp pecan pieces or more/less as per taste
1 cup Pillsbury™ Creamy Supreme® Cream Cheese Icing
Preheat oven to 375F.
In a small bowl, stir together flour, baking powder, baking soda & cinnamon. Keep it aside.
In a large bowl or bowl of stand mixer if using, cream butter & sugar until smooth. Beat in the stirred egg or chia egg and vanilla. Slowly add the dry ingredients and keep stirring. Add enough milk to make the dough come together, just soft enough but not wet. Stir in pecans & ½ cup M&M's®
Place dough on a parchment paper lined baking sheet and using hands flatten it out into a circle about ¼" thick. Bake for 8-10 mins rotating halfway. Take it out. It might feel sort of uncooked but don't worry as it will harden as it cools. After about 5 mins add the remaining ¼ cup M&M's® and push them down on the surface.
Once completely cool, pipe frosting.
Enjoy with a chilled glass of Snapple Apple Juice.
Recipe by
Naive Cook Cooks
at https://www.naivecookcooks.com/mm-pecan-pie-cookie-pizza/