Creamy Mushroom Soup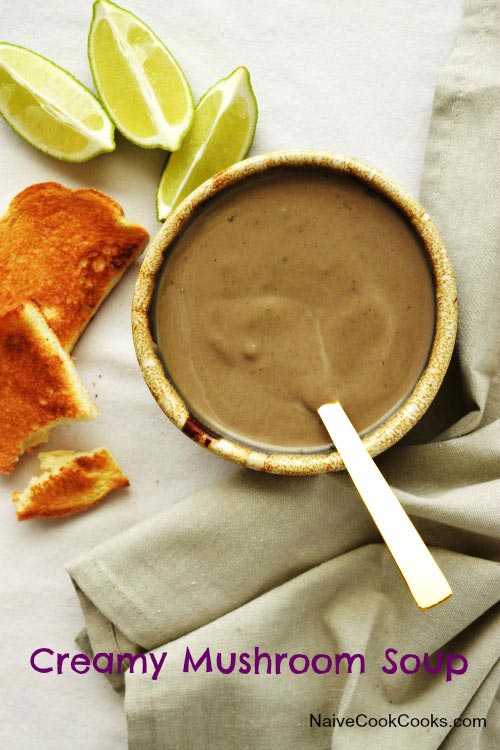 8 ounces white button mushrooms, chopped roughly
1 tsp unsalted butter
1 tsp olive oil
½ cup chopped red onion
Pinch of salt
¼ tsp black pepper
3 garlic cloves, chopped finely
⅛ tsp dried thyme powder
1 cup vegetable broth or you need to add more to adjust consistency to your liking
2 tbsp sherry or brandy or Madeira (I used Sherry which is a cooking wine and it really imparts a lot of flavor! But if you don't have any one of these on hand, just skip.)
2 tbsp low fat half & half ( you can substitute low fat cream or low fat heavy cream in place if that's what you have on hand)
½ tsp fresh lime juice
In a deep heavy bottom pot, add butter & oil. Once butter is melted, add mushrooms, onions, salt & black pepper. Stir it around and cover and let it cook on med-low flame for good 8-10 mins. Now uncover and increase the heat to med-high and cook until mushrooms start to brown and all the liquid is evaporated. Now take out 2 tbsp of this mixture on a cutting board and chop and keep it aside. Now to the pot add garlic and thyme and cook for another minute. Add broth, sherry and bring it to a boil and simmer for 5-7 minutes. Now using a hand blender or high speed blender blend until smooth. Transfer the soup back to the pot and to it add the reserved chopped mushroom mix. Stir in the half & half and lime juice. Taste and adjust salt or thyme as per your taste.
If it feels too thick, thin it out using more vegetable broth or water. Bring it to a boil and make sure to taste!
Serve with lots of crusty bread or crispy baked chicken sanwich for protein and to turn it into a more filling meal!