Delicious & nourishing Gujarati Moong Dal is made by adding yogurt and a tempering of fresh ginger,garlic & green chilies! It's a soul food from one of the Western States of India!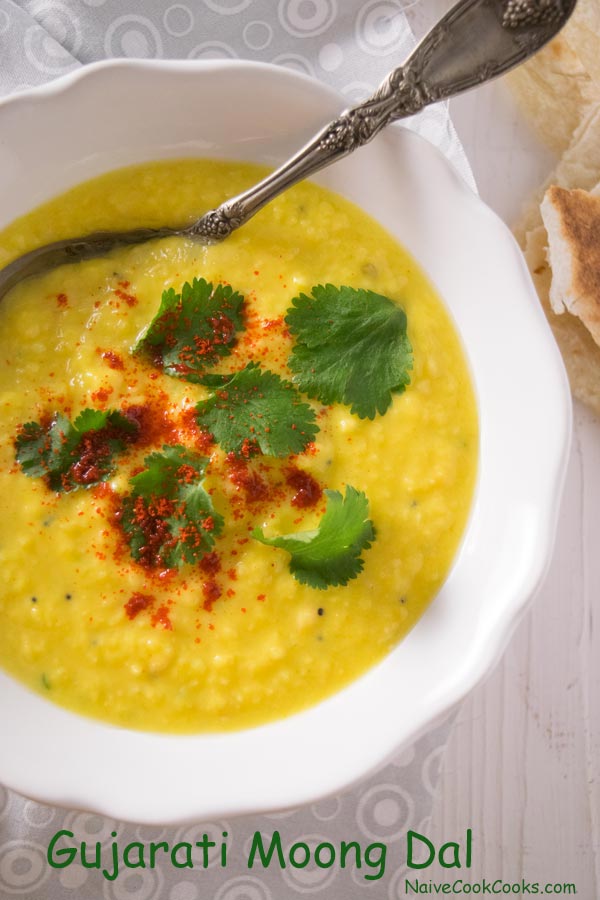 How was your valentines day friends? Did you all go out or stayed in? We stayed in and decided to finish up work. I made Ronak's favorite Louisiana Chicken Pasta, corn & jalapeno garlic bread for a pre valentine's day dinner and Ronak loved the pasta! It was my first time trying out his favorite cheesecake factory pasta and it was on point! And after that we enjoyed a glass of wine with freshly made chocolate chip cookies! Remember the power of freezing?!Always a winner!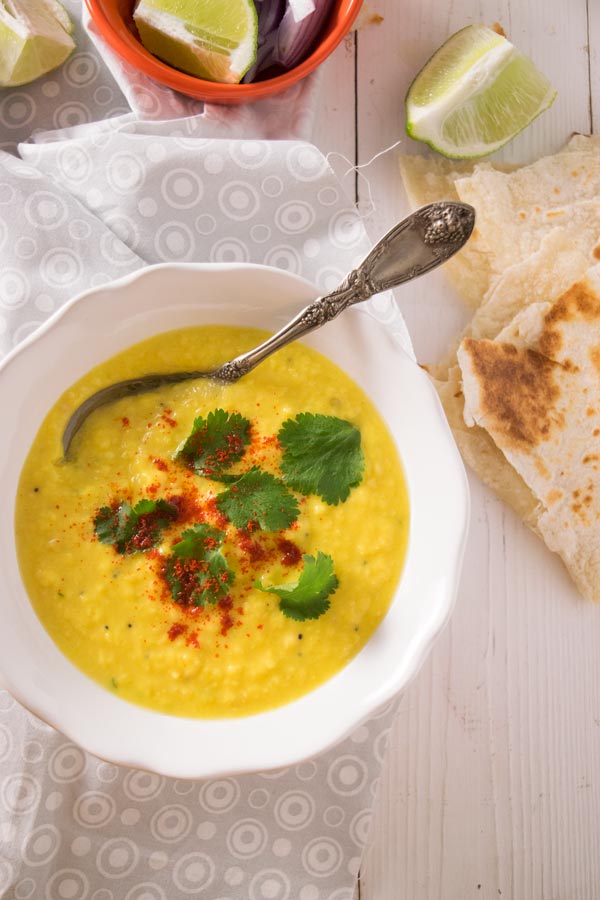 So since we indulged for pre valentines day dinner,  we decided to keep it simple and healthy last night. And when it comes to simple & healthy, lentils or chicken is always on my mind! Lentils are a powerhouse of protein and when made this way, they taste totally delicious too. To be honest I never liked yellow moong dal while growing up but when I married Ronak, I realised the way it's made in Gujarat is totally awesome and I instantly fell in love with it. I always count this as one of the perks of marrying someone from a totally different family background. I got to learn so much about their cuisine that it makes our meals so much more interesting!
In India this is enjoyed along with some freshly made homemade bhakri (a thick and somewhat stiff flatbread from Gujarat. Sort of like paratha) but if you want to make it simple, it will taste amazing along with some store bought naan as well.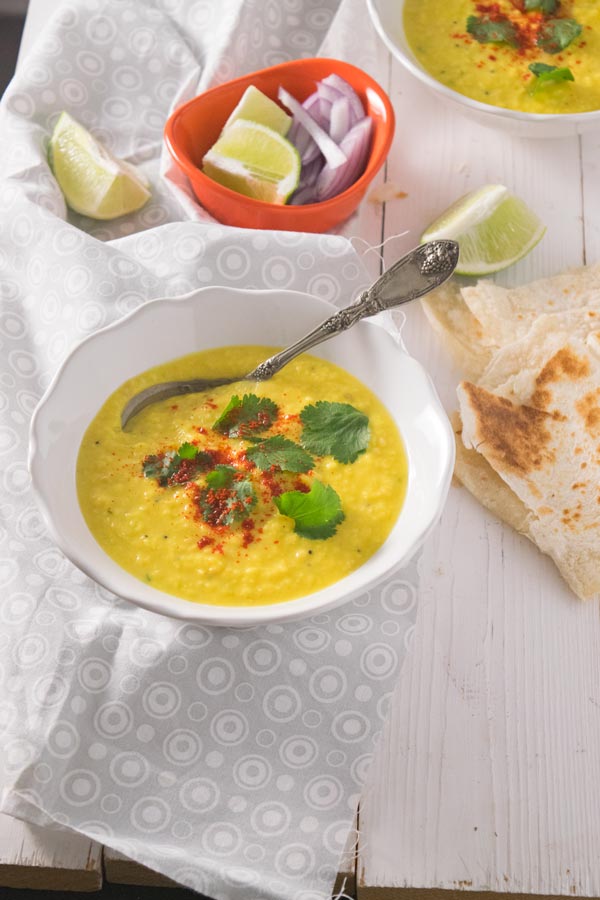 So go ahead, do meatless monday right!
Follow along for a lot more delicious treats and life happenings on INSTAGRAM ||FACEBOOK||PINTEREST ||TWITTER ||GOOGLE+ || BLOGLOVIN
Gujarati Moong Dal
Ingredients
1 cup yellow moong dal (You can find it easily in Indian grocery stores or even any supermarket)
2 Tbsp white urad dal (optional) (split and dehusked black gram lentils)
Salt to taste
¾ tsp turmeric powder
¾ cups yogurt (whole milk or low fat, both work fine)
1 tbsp oil
¾ tsp mustard seeds
Few curry leaves if you have (they give a fresh fragrant flavor but if you don't have any, you have skip)
1.5 tsp green chili paste or as per taste
1.5 tsp ginger paste
1.5 tbsp garlic paste
Few drops of lime juice
For serving ->
2 tsp oil
Few dry red chilies
1-2 tsp red chili powder (if you want extra heat)
chopped cilantro
Instructions
Rinse yellow moong dal and urad dal (if using) in a fine sieve under running water until water turns clear.
Transfer it to a pot and fill it with almost 2 cups of water.
At this point you can either boil the dal in pressure cooker or pot.
Cook until dal is completely soft and try to make sure that after cooking you are left with almost no water in the dal.
Once dal is cooked, keep it aside.
Now in a bowl take yogurt and beat until smooth without any lumps. Transfer it to the cooked pot of dal and add salt and turmeric powder. Mix until everything is combined.
Now if you have used a thick whole milk yogurt, dal is going to be thick so I I usually add about ½ cup water also at this point and mix everything nicely.
Now for the tempering part. Take a small deep pot and add oil. Once hot add mustard seeds and cover immediately or the seeds will pop out everywhere! Make sure once the seeds start popping, you lower the gas.
Once the popping stops, add curry leaves, green chili paste, garlic paste and ginger paste and cook for few seconds until raw smell goes away.
Add this to yogurt and dal mix.
Mix everything and taste. Add few drops of lime juice & adjust salt or anything else as per your taste.
Now heat it up on low gas so yogurt doesn't curdle. THIS IS IMPORTANT cause if you decide to warm up your dal on high flame make sure to constantly stir it or yogurt will curdle.
Enjoy with freshly made bhakri or store bought naan or steamed rice.
Notes
Ami says:
You can even serve this with fresh basmati rice.
 Some more Indian food love :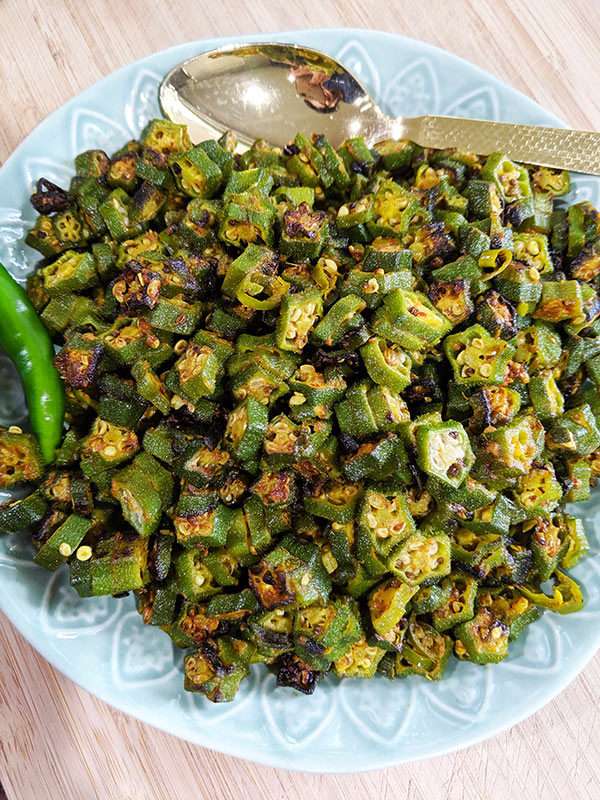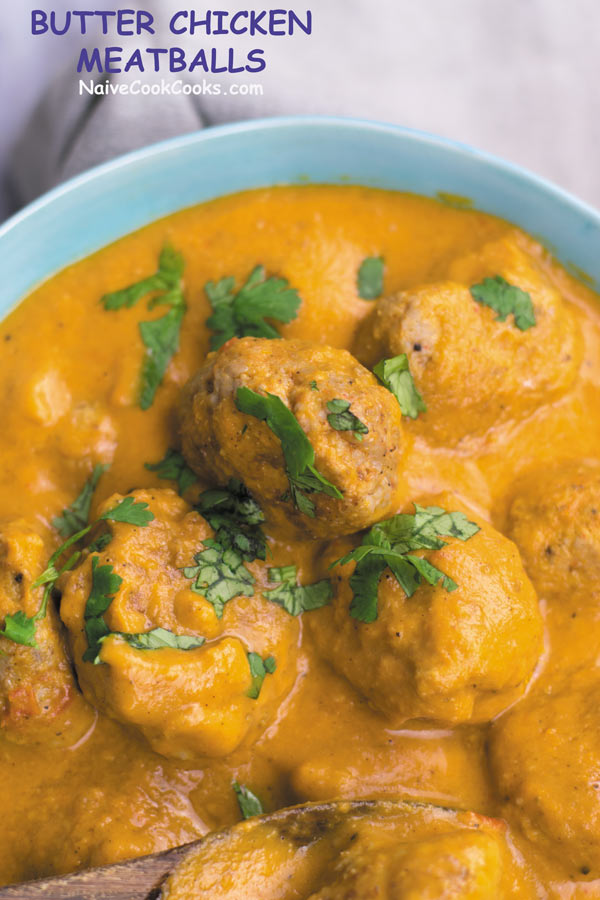 INSTANT POT RAGDA PATTICE ( POTATO CAKES SERVED WITH WHITE PEA CURRY)