Soft, fluffy Red Velvet Pancakes made with basic ingredients found in pantry. These pancakes take just 20 mins from start to finish and drizzled with a fluffy cream cheese icing, these are perfect anytime!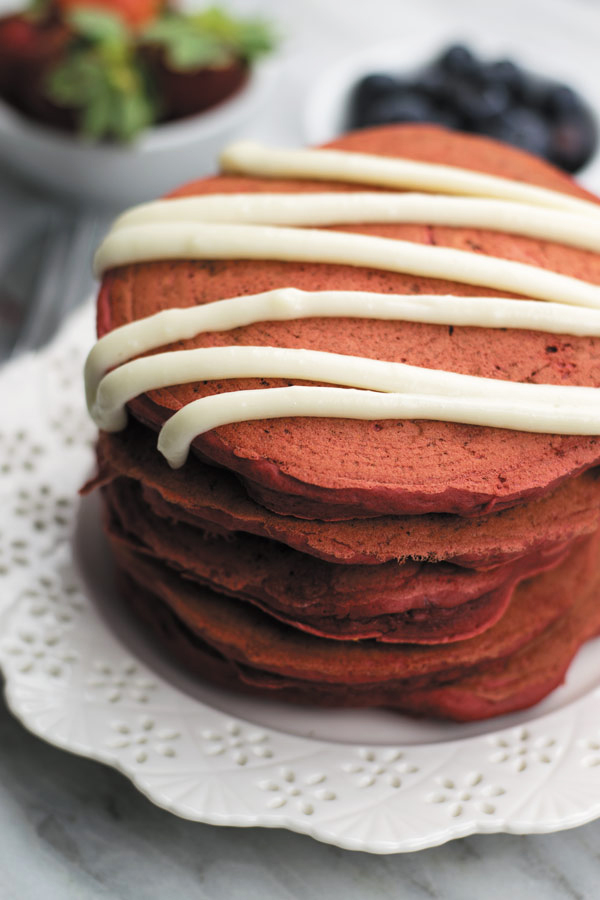 Getting back to regular normal life after a long fun weekend friends?! I had too much fun and became way too lazy and after sharing this Marble Cake recipe, I decided all I wanted to do was take next few days off work and do nothing and that's exactly what I did! Yesterday the pool in our building was crazy busy with people enjoying 4th of July, all the grills were occupied and it felt like a summer fest! We decided to keep it low key and stayed indoors instead (I know how fun?!) and I spent my time buying way too many Groupons for tons of fun activities! Ohh I will be going for a cheese making class and I am so excited! I had no idea that in winter I can go on a sleigh ride on snow covered mountains! Ohh how I love you Colorado!
Now these pancakes were supposed to see light of the day few days back but  because of the above mentioned reasons these poor babies couldn't get posted! 😛
It took me 2 trials to get them right. I wanted to use just basic ingredients since so many times I have found myself  standing in front of refrigerator with no eggs, so I wanted to make them eggless! These eggless red velvet pancakes are super fluffy. little crisp on the outside while inside is soft. I like to keep them a little less sweet and then go crazy with fluffy cream cheese icing and sometimes maple syrup too! Have you tried adding both maple syrup and cream cheese icing over pancakes – you must! I just love how juicy it makes the pancakes!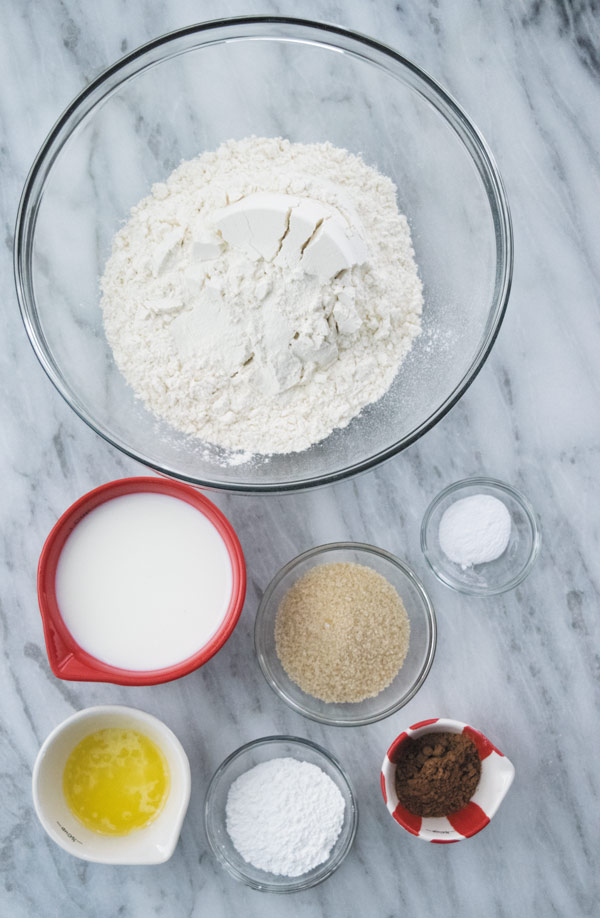 For making these you seriously need just the basic ingredients and most of you might already have them – flour, sugar, baking powder, baking soda, salt, cocoa powder, milk, lemon juice, butter and red food coloring. If you have buttermilk sitting at home, then by all means skip the milk and lemon juice and go ahead with buttermilk. The buttermilk or the one we will make by using milk and lemon juice gives a very subtle tang to pancakes which beautifully balances the subtle cocoa flavor! These pancakes will be great for breakfast, or as in my case breakfast for dinner.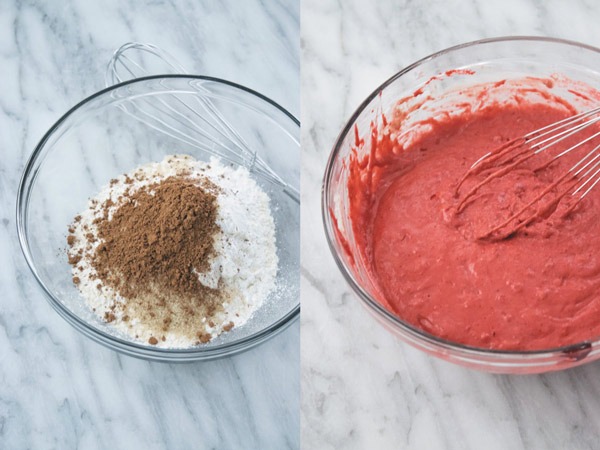 For making these pancakes, all you need is 2 glass or any kind of bowls, a simple whisk. I like to cook them on my all time favorite skillet as it takes just few drops of oil to cook these pancakes! While mixing the wet ingredients with dry ingredients, make sure to stir the batter really gently as over mixing seriously will make these dry and dense. So at any cost do not overmix. Even if you see few unmixed spots, do not worry!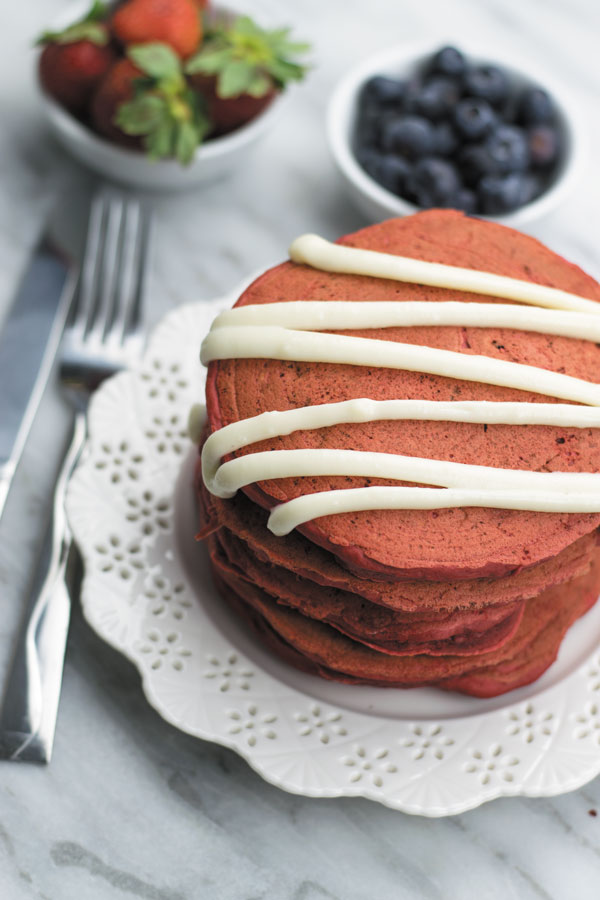 If you enjoyed this recipe, don't forget to FOLLOW me on  INSTAGRAM ||FACEBOOK||PINTEREST ||TWITTER ||GOOGLE+ || BLOGLOVIN || YouTube
Eggless Red Velvet Pancakes
Ingredients
Red Velvet Pancake :
2 cups unbleached all purpose flour (or maida) (you can also use half all purpose flour + half whole wheat flour. It will just make the pancakes slightly chewy.)
4 tbsp sugar
Pinch of salt
2 tbsp baking powder
1 tsp baking soda
2 tbsp cocoa powder
2.5 tbsp melted unsalted butter
2 cups milk
1 tbsp lemon juice
2 tsp vanilla extract or essence
1.5 tsp red food coloring or more/less depending on how much or how less red color you want
Oil for cooking
Cream Cheese Icing :
1 block (8oz) softened room temperature cream cheese
1 tsp vanilla extract
¾ cup powdered sugar
5-6 tbsp milk (Start by adding 3 tbsp milk, mix and then add more depending on the consistency you desire.)
Instructions
Red Velvet Pancake:
In a bowl add milk and lemon juice and let it sit for 5-10 minutes until milk is curdled.
First mix the dry ingredients. In a bowl add flour, sugar, salt, baking powder, baking soda, cocoa powder and stir until mixed.
Once the milk curdles to it add melted butter, vanilla extract and red food coloring to it and stir until evenly mixed.
Make a well in the center of dry ingredients and add wet ingredients there. Stir very gently until it's just mixed. DO NOT OVERMIX and do not worry if you see some spots where you see dry mix not mixed with wet mix. Over mixing will make these dry and dense.
Get skillet ready by warming it up. To it add few drops of oil and spread it all over.
Now add few tbsps of batter and gently flatten it with the back of spoon. Leave it to cook on medium gas for a minute or so until you start seeing bubbles on the surface. When you start seeing bubbles popping on the surface of pancake, that means it's time to flip. Flip it gently and cook for another minute or so. Make sure you don not keep flipping the pancakes more than 2 times as that also makes them dry. Once done transfer to a plate, drizzle cream cheese glaze and maple syrup. You can also place few chopped fruits and serve immediately.
Cream Cheese Icing :
In a bowl add cream cheese. Whip it until creamy. To it add sugar, vanilla extract and 3 tbsp milk and mix. Now add milk 1 tbps at a time and mix and proceed depending on the consistency you desire.
Notes
Ami says :
If you are planning on making pancakes in advance, then as you cook them place them on a cooling rack so they don't get soggy. When ready to serve you can just pop them in microwave for 15-20 seconds and then add icing and other stuff.
 Some more delicious BREAKFAST recipes- >>