This shop has been compensated by Collective Bias, Inc. and its advertiser. All opinions are mine alone. #NestleHoliday#CollectiveBias
Roasted Garlic Tortellini makes for an EASY & STRESS FREE dinner!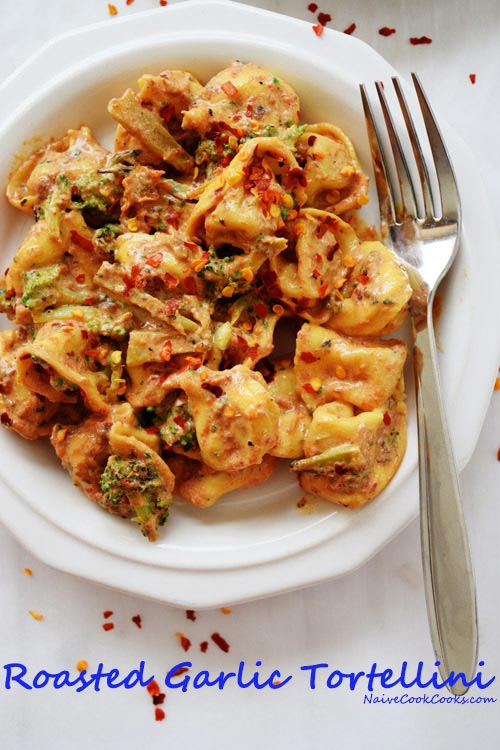 Another pasta day!??
You know how happy it makes me when I know pasta is for dinner or err may be lunch & dinner because I might have already eaten a plateful of this delicious creamy 3-cheese tortellini swimming in a dreamy sauce. I am not saying it happened but there are chances! 😉
Ok so let's talk about this sauce! 
There is ROASTED GARLIC  and I have an even simpler way to roast garlic! No waiting for 40 mins for the garlic to roast in oven!! This method takes around 20 minutes and gives an equally fragrant soft buttery garlic. But we don't stop here. We mix this garlic with beautiful oil soaked sun dried tomatoes and make a paste. Then half & half and some wonderful spices makes this into the most luscious sauce ever! Yes it is that good! I forgot to take pictures of the sauce alone but you can get an idea from the main image.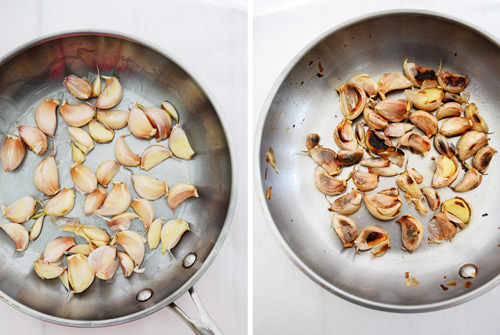 Now if you feel that I already wasted 30 minutes in getting the sauce ready and blah blah blah. Well wait because after the sauce is ready, it is a cake walk! We are using our favorite BUITONI® Refrigerated Pastas & Sauces Tortellini: 3 Cheese Tortellini . Have you ever tasted or cooked using their 3 Cheese Tortellini?! These are usually found in your refrigerator section in Walmart and I always like to keep few in my fridge for those dinner nights when I have only 30 minutes to cook a meal and no motivation! And now I think we all can use all help since Holidays!
So as I was saying, while your sauce is getting ready, you boil your pasta as per package directions and toss it in creamy sauce and that's it! I sauteed some broccoli to add in the pasta but you can use any choice of vegetables or protein.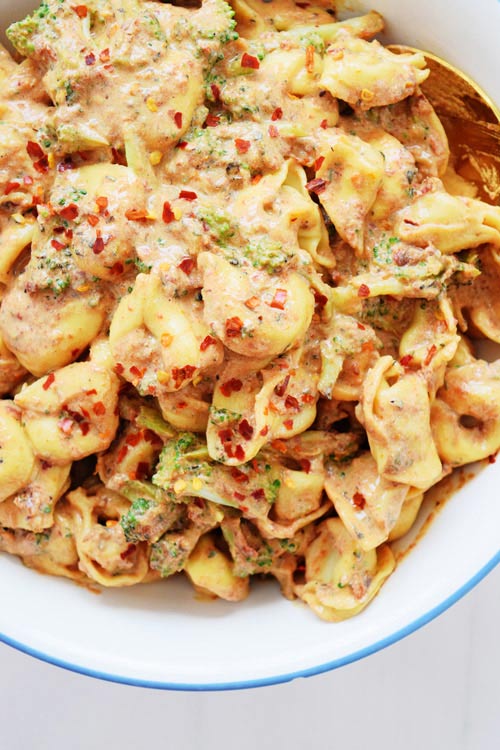 And now you might think what are these BUTTERFINGER® Bits doing here?! Well since lately I am seeing lots of good NESTLÉ® products in Walmart and I myself use a lot of them for my cooking and baking, I wanted to show you something new I found in store! Yes baking bits in butterfinger flavor! How cool is that?! I am already planning on baking something with these! Keep an eye on this space as soon something with butterfingers might pop up!!
You can check out different products NESTLÉ®/ BUITONI® sell in Walmart HERE.
And we all love Pinterest, don't we?! Then THIS page by NESTLÉ® Flavorful Moments will be your new favorite! You can follow them and get tons of delicious ideas!
Follow along for a lot more delicious treats and life happenings on INSTAGRAM || FACEBOOK ||PINTEREST ||TWITTER ||GOOGLE+
Easy Roasted Garlic Tortellini Pasta
Ingredients
3 garlic heads, cloves separated
1-2 tbsp oil
3.5 oz sun dried tomatoes packed in oil
1 tbsp oil
1.5 cup fat free half & half ( OR use a mix of heavy cream and milk)
Salt to taste
Black pepper to taste
1 tsp red chili flakes or more/less as per taste
2 tsp dry basil
½ tsp paprika
2 tsp sugar
2 cups or a medium head of broccoli, chopped
2 packs BUITONI® Refrigerated Pastas & Sauces Tortellini: 3 Cheese Tortellini (9 oz each)
1 tsp oil
Instructions
Boil water for pasta.
Meanwhile in a skillet , add unpeeled garlic cloves and to it add 1-2 tbsp oil. Stir them around until all garlic cloves are coated with oil and cook them on low - medium low heat for 20-22 minutes until they are browned on both sides. This way we save some time by roasting them on stove top. You can check out the method to roast them in oven HERE.
Now add around 1 tbsp salt & 1 tsp oil in boiling water and to it add tortellini. Boil as per package directions, once cooked, drain, rinsed under cool water and keep aside.
Now once the garlic cloves are roasted, let them cool. Now squeeze the back part of the cloves and the soft flesh will come out easily.
In a small mixer, add roasted peeled garlic cloves along with sun dried tomatoes which have been drained. We don't want to add the oil in which tomatoes are packed.
Add 1 tbsp oil and puree.
Now in the same skillet, add chopped broccoli along with some salt and red pepper flakes and cook until crispy and sauteed. Keep it aside.
Use the same skillet and add the paste of garlic and sun dried tomatoes. Cook it for a minute or two and add half & half. Stir and add all the spices. Stir and cook on low flame. Taste and add more spices as per your taste. Once you feel the sauce is good to your liking, toss in broccoli and tortellini.
You can even make this in advance and just warm up before serving!
More PASTA recipes:
https://www.naivecookcooks.com/roasted-red-pepper-sauce-pasta/
https://www.naivecookcooks.com/easy-eggless-fresh-pasta/