Easy Cheese Spinach Artichoke Pizza is taking a classic combination which only gets better with time! This weekend dive into this cheesy goodness. Trust me, you won't regret!
This post. This is the second time I am writing this post. I initially posted this pizza recipe 7 weeks ago as shows my instagram  account. We loved this recipe as this combination is a classic but one you never get bored of! After few weeks when I decided to make it again for dinner, I realized it was no longer on blog!
I was somewhat confused but later realized I did something accidentally which erased the post. So much for being extra careful!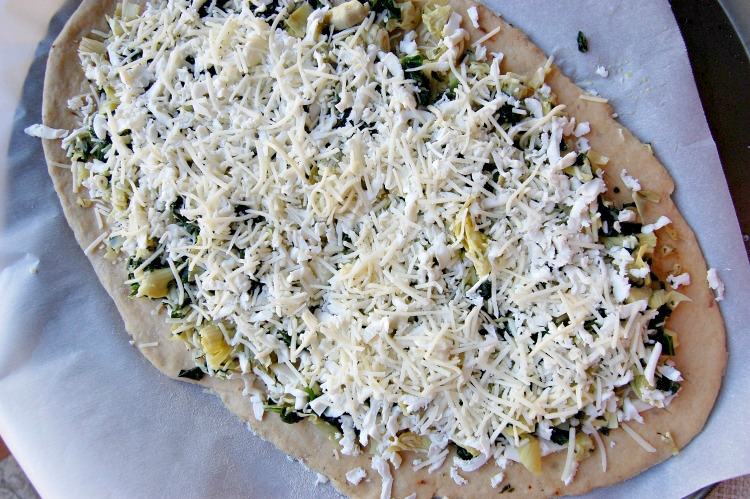 I am sharing this today with my invisible friends as it's weekend and perfect time to make this amazing goodness! Ohh, It will be perfect for 4th of July get together too!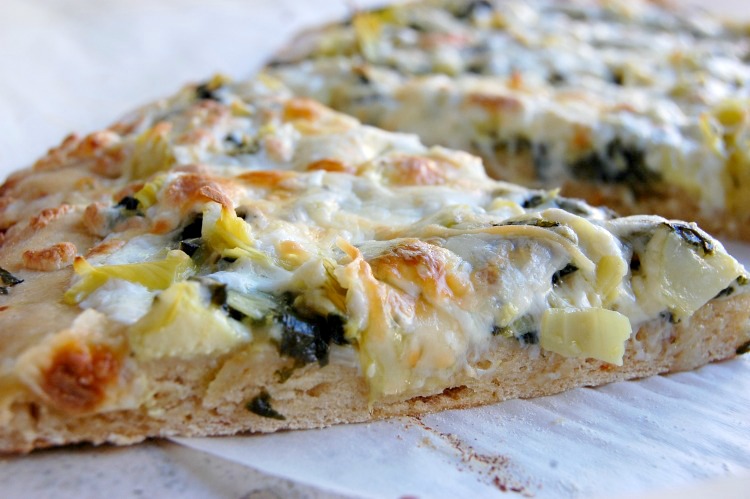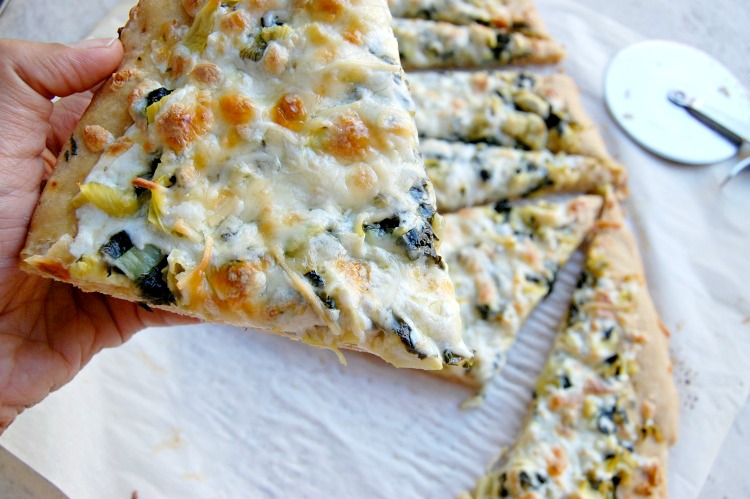 Easy Cheese Spinach Artichoke Pizza
Cheesy Spinach Artichoke Pizza Author: Naive Cook Cooks
Ingredients
For dough:
¾ cup warm water
2¼ tsp active dry yeast
1 tsp sugar
½ Tbsp olive oil
1 cup whole wheat flour
¾ cup all purpose flour
½ tsp salt or to taste
For filling:
2 Tbsp olive oil
4-5 garlic cloves, chopped
1 tsp parsley, dried
salt to taste
6 ounces Parmesan
4 ounces mozzarella
3 cups spinach, fresh and chopped fine
5-6 artichoke hearts, rinsed and chopped
Instructions
For dough:
In a bowl, add warm water, yeast and sugar and let it sit for few minutes until it starts to foam. To it, add both the flours and salt and mix. Knead into a smooth dough and place the dough covered in an oiled bowl for an hour or so until double in size.
For filling:
In a pot, add olive oil . Once warm, add garlic. When fragrant, add salt, parsley and turn off the gas. Add spinach and artichoke and cook for few minutes until spinach wilts. Roll out the dough on a well floured surface. Apply some olive oil all over the pizza. Sprinkle ⅓ of Parmesan on top. To it add all the spinach-artichoke mix and add more Parmesan and mozzarella.
Bake in a 420F pre heated oven for good 18-20 minutes until cheese starts to bubble and crust gets golden. Enjoy!
More Pizza Recipes:
https://www.naivecookcooks.com/peach-caramelised-onion-goat-cheese-flat-bread/
https://www.naivecookcooks.com/kale-hashbrowns-pistachio-pesto-breakfast-pizza/
e