These fudgy brownies have a layer of snicker bars hidden inside them and a layer on top which makes them super decadent and if you love snickers & brownies, then you will love these double trouble brownies!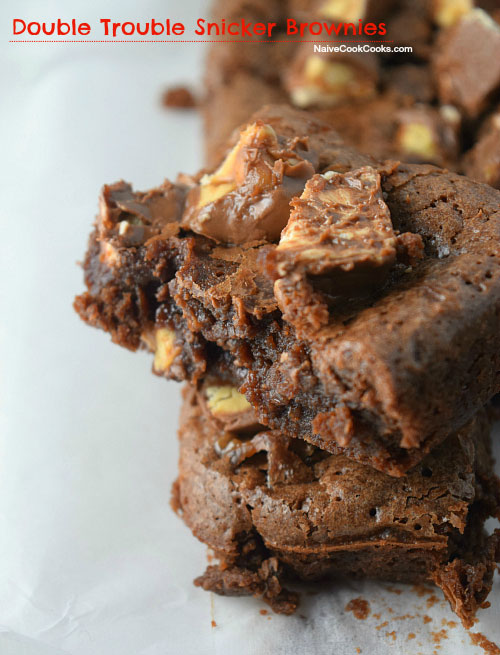 Remember those sinfully fudgy brownies I made few weeks ago? Well this is my new take on those or should I say I just added a whole load of my favorite snickers inside the brownie batter and these are now hard to resist. Snickers + Brownies = Ultimate Brownie recipe.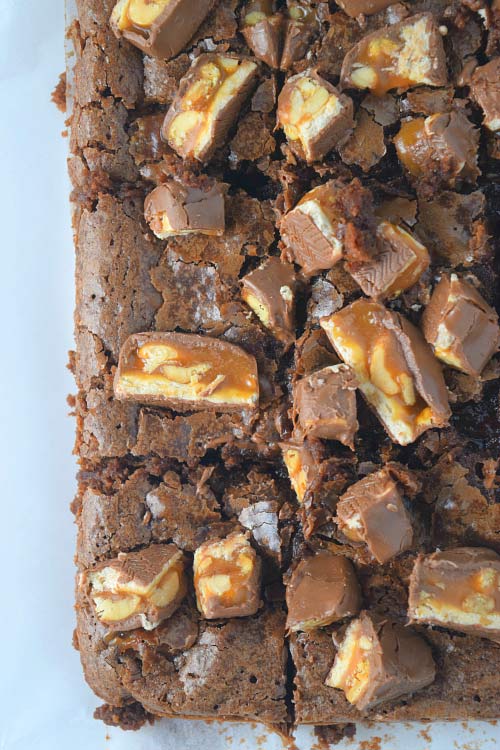 As I told you earlier that I am a fudgy brownie person so once I nailed the perfect fudgy brownie recipe, I had no intention of playing around with it. But I loved that recipe so much that I did wanted to recreate some other delicious version of those brownies. So I decided to add extra chocolate goodness to already super chocolatey brownies. These brownies! I kept the leftovers in fridge and everyday after dinner, it's a norm for me to pull out one slice of chilled brownie and eat it straight cold. Heaven! Seriously cold brownies + chilled milk makes for the best lazy dinner!
Today we landed in Atlanta and after taking care of our personal work , we ate the most awesome brunch ever. I have never eaten such moist sort of -melt-in-your-mouth kind of cinnamon rolls before. And that glaze was to die for. And as I thought I have been sort of on a sugar high all day cause I have been up for almost 34 hours and I feel still alive hehe. I know since we walked all day today, tonight I will be sleeping for like forever. We are flying back tomorrow so I am still trying to fit in some more delicious meals before we fly back home. Would totally love it if you can give any food related suggestions!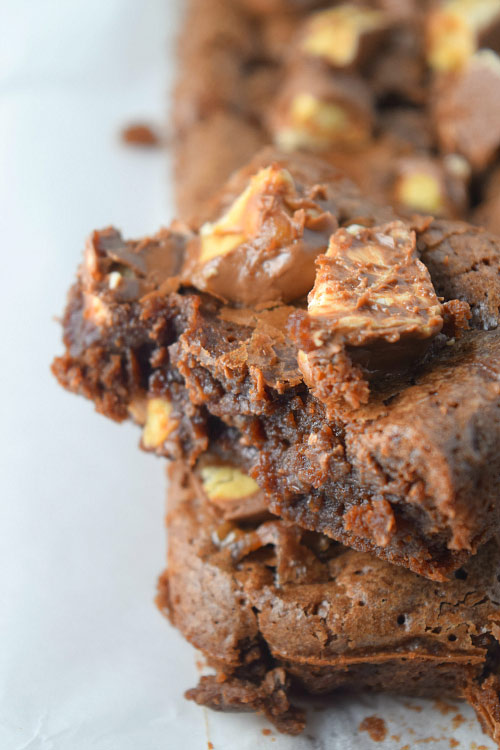 But these brownies, I want you to give them a chance!
Help in spreading the word!
Follow along for lot more delicious treats and life happenings on INSTAGRAM || FACEBOOK || PINTEREST 

Double Trouble Snickers Brownies
Ingredients
1 stick unsalted butter
2 tbsp cocoa powder
½ cup semi sweet chocolate chips
½ cup white granulated sugar
¼ cup brown sugar
¼ tsp salt
2 tsp vanilla extract
2 eggs
½ cup all purpose flour
1 cup chopped snickers bars
Instructions
Preheat oven to 325F and move the rack in the center.
Line a 7*7 inch baking pan with parchment paper or aluminium foil with a little overhang so it's easy to pull out the brownies once cooked. Grease it with little oil.
In a bowl, add butter, both sugars, salt, cocoa powder and ½ cup semi sweet chocolate chips. Melt this mix over a bain marie basically just heat some water in a pot. Once it comes to boil, place the bowl with the above ingredients over it and continue to stir until it starts to all melt.
Once it's hot and everything is melted, take it off the boiling water bath and keep aside. Let it cool for 3-5 minutes. Once warm, add eggs one at a time and stir. Add vanilla extract and all purpose flour and stir until it's all evenly mixed.
Fold ½ cup chopped snickers into the batter.
Pour the batter into the prepared pan and bake for around 25 minutes. I suggest checking the batter at around 20 minutes by inserting a knife in the center. If it comes out really wet, keep baking for another 2-3 minutes. Check again and if its still little wet, bake for another 2 minutes. If it's almost dry with only few crumbs, take it out of the oven and add the remaining ½ cup chopped snickers on top and let it cool completely.
Once completely cooled, cut and enjoy.
Notes
This recipe is adapted from my "Sinfully Fudgy Brownies" recipe.
More Dessert Recipes:
https://www.naivecookcooks.com/chocolate-bean-brownies/