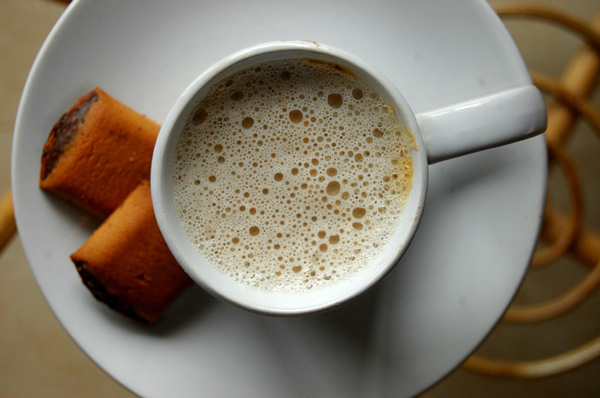 With freezing weathers outside, all I want is a hot cup of cappuccino in the comforts of my home without the need to step out and start the car. The situation is completely hypothetical here as right now I am in a city where temps even in the month of january range in 30's, city where I have to think twice to get out of home for a walk as I believe that with the crazy amount of taning I got these days, you no longer might be able to recognize me(!) but that doesn't stop me from  thinking about hot coffee or better still from having one?
 This "Low Fat" Cappuccino is those things you make when you are in serious need of a good homemade coffee or simply you feel like indulging or for no reason. Hands on, it takes 20 minutes from start to finish and trust me it is the BEST homemade cappuccino you can have WITHOUT any MACHINE.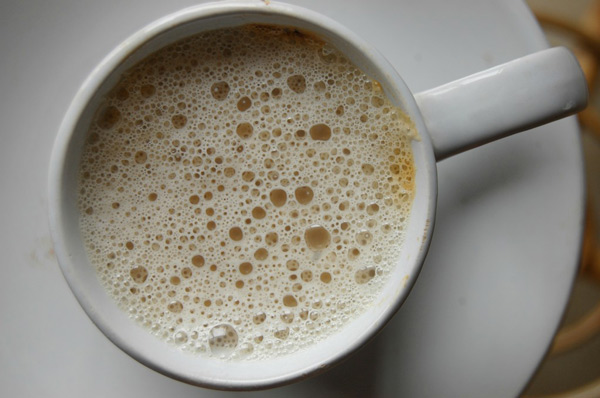 DIY Low Fat Homemade Cappuccino
Ingredients
1 tsp instant coffee like Nescafe
2 tsp white granulated sugar
Milk, 2% fat content but you can use any
Instructions
In a strong thick cup, add coffee and sugar along with ½ tsp of milk. Why strong cup? We are going to be stirring continuously for almost 10-15 minutes. I don't want your cups to get damaged. Milk is used only as a binding agent and for the ease of working.
Start stirring the mix. If the mix feels too dry, add more milk, ½ tsp at a time. As you can see from the first pic above, it starts with a very very dark color and with time it will change to pale and creamy. That's what gives it flavor. Once you have reached that stage where mix looks pale and is quite thick, transfer the mix to your desired cup. I like using a combination of ¼ parts water + ¾ parts milk. Warm the milk - water combo until it is almost boiling. Add it to the cup containing coffee mix from some height to make froth. Mix and enjoy.
Notes
While making coffee mix, if you feel that you like more stronger cappuccino, go ahead and adjust instant coffee amount accordingly. So goes with sugar.
Dairy free? No worries! Simply replace, milk with almond milk or any milk substitute. I like it with low fat milk but if you want, go ahead, replace water and low fat milk with full fat milk. No judging!
More Drink Recipes: