Comforting Spiced Turmeric Yogurt Oatmeal Bowls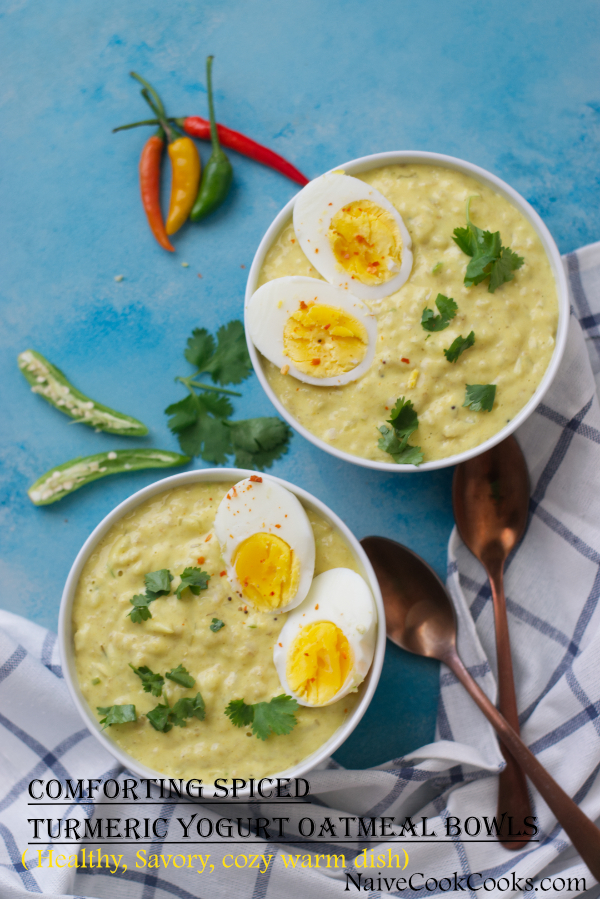 1.5 cup oats ( cook them in water until completely cooked)
1 tbsp oil
½ tsp mustard seeds
½ cup onion, finely chopped
4-6 garlic cloves, finely chopped or paste
Green chili paste, as per taste
Salt to taste
1 tsp turmeric
1 cup yogurt
1.5 cups water
Cook oats as per package directions.
In a deep pot/pan, add oil.
Once hot add mustard seeds. When they start to pop, add onions and saute until translucent.
Then add garlic, green chilies, salt and turmeric. Add cooked oatmeal and mix on low heat. In a bowl take yogurt and add water to it. Using a whisk, mix so no lumps are there.
On lowest heat setting, pour yogurt-water mix to oatmeal. Mix immediately and let it cook on slow heat with constant mixing. Taste and adjust salt, green chili or garlic. If you like little on the tangy side, add little lime juice.
Enjoy hot with some totally optional soft boiled eggs (but great!) or as is.
Recipe by
Naive Cook Cooks
at https://www.naivecookcooks.com/comforting-spiced-turmeric-yogurt-oatmeal-bowls/