Almond Pesto Pizza With Peach & Spinach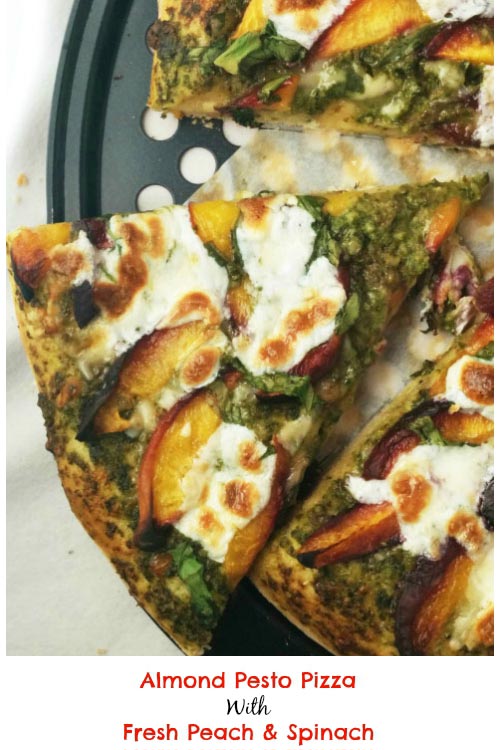 (Makes 1 12" thin crust pizza)
1.5 cups all purpose flour
1+1/4 tsp active dry yeast
1 tsp salt
½-3/4 cup warm water (start by adding ½ cup and proceed as needed)
Olive oil for coating
⅓ cup almond
2 cups fresh basil
Salt & Black Pepper to taste
2-3 garlic cloves
½ cup freshly grated parmesan cheese
3 tbsp olive oil
2 tbsp water or as needed for thinning
4 peaches fresh, thinly sliced
Handful of fresh spinach, chopped
½ cup shredded parmesan cheese
1 ball of fresh mozzarella, freshly sliced
Red chili flakes (optional but YUM)
Blend all the ingredients in a blender until smooth.Taste and adjust and keep aside.
Add warm water in the bowl of a stand mixer or regular bowl and to it add yeast.Once it starts to bubble up in around 10-15 mins, add flour and salt. Mix using stand mixer or your hands until you get a supple smooth dough. Coat it in oil and cover. Let it sit in warmed up place for good 30 mins or until it doubles up.
Roll out the pizza dough to a 12" thin circle. Transfer it to a parchment paper lined baking sheet. Spread the pesto generously all over the pizza. To it add shredded parmesan and mozzarella. Add chopped peaches & spinach. Add more cheese on top and bake at 500F for around 10-12 mins or until edges are nicely browned.
Cut in slices & serve.
You can make the pesto ahead of time and store in an airtight conatiner for upto a week. You can use pesto on sandwiches, salads or crackers!
Recipe by
Naive Cook Cooks
at https://www.naivecookcooks.com/almond-pesto-pizza-with-peach-spinach/