My brother declared this pork bolognese sauce as similar to what he had in Italy. It's super easy, comes together in around 30 mins, is chunky and tastes delicious when eaten on freshly boiled noodles!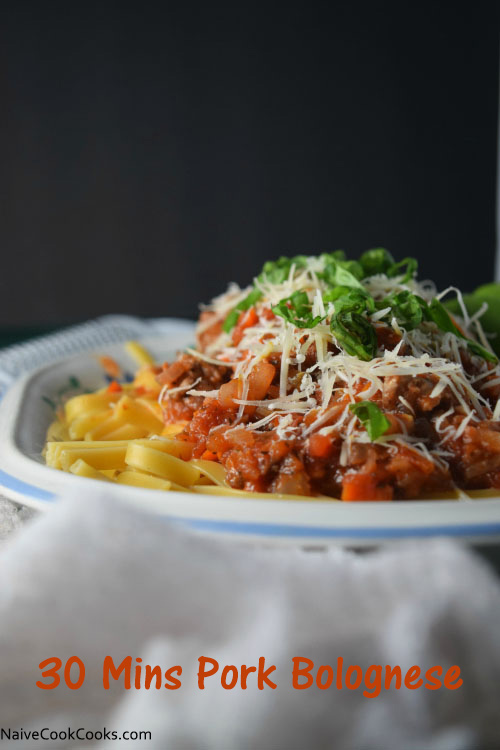 This sauce!
This was my first time making a bolognese sauce. Usually bolognese sauce is made with beef and very little pork but I decided to go the all pork route. I always had the notion that it takes hours & hours to make a good bolognese sauce and truth be told, in Italian households you might still find grandma's cooking them for hours & hours, going over each technique in a proper way but well these days everybody is in a rush so I decided to create this easy 30 MINS bolognese sauce and it tastes just like the REAL DEAL! Win-Win!!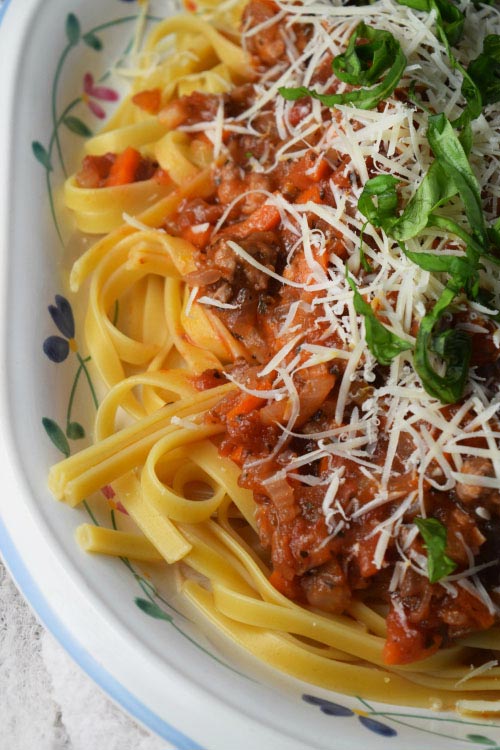 We don't eat pork but my brother who is a huge fan of pork declared this to be similar to the one he had in Italy. When he visits, the best part I like is that I get to learn & cook dishes which I might not make otherwise. So every time he visits, my grocery carts are loaded with different meats & my mind starts to run in direction of what meat eaters enjoy!
This is a simple, hearty dish packed with flavors.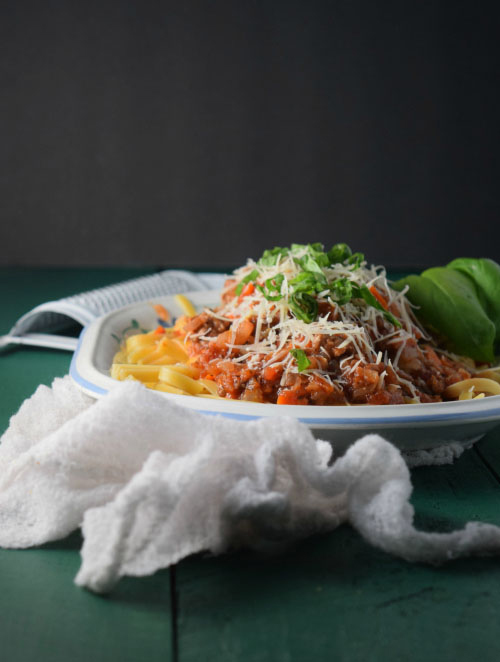 So as I was saying just 30 mins but the fact is it's give & take 30 mins. If you are little slow in chopping the vegetables or for some reason, your pasta boils super slow, don't blame me! I remember one time I posted a recipe which I was able to make easily in 30 mins but a reader complained that she loved the recipe but it took her few extra mins! I mean 30 mins is a very fine line and you can easily go few minutes here & there but the main thing is that you know in around 30 mins you can have dinner on the table! Doesn't that counts as something?!
Life lately has been super busy and hectic but a giant bowl of this & some wine helps for sure!
Help in spreading the word!
Follow along for a lot more delicious treats and life happenings on INSTAGRAM || FACEBOOK || PINTEREST || TWITTER

30 Mins Pork Bolognese
Ingredients
½ lb good quality ground pork
1 tbsp olive oil
4 garlic cloves, chopped fine
1 cup finely chopped red onion
Pinch of salt
⅓ cup chopped celery
⅔ cup chopped carrots
Salt to taste
1 tbsp tomato paste
⅓ cup red wine
14.5 oz diced tomatoes
⅓ cup water
1 tbsp oregano
1 tbsp basil
½ tsp chili flakes
Salt & Black Pepper to taste
Parmesan & basil for serving
Noodles to serve
Instructions
In a dutch oven or any heavy pot, add 1 tbsp oil. Once warm, add the meat and break it using your wooden spoon. Cook until the pink goes away.
While meat is cooking, chop away your garlic, onions, carrots and celery and bring a big pot of water to boil on another gas for the noodles.
Now take out the meat leaving behind the grease. To the same pot, add garlic, onions, celery & carots and add a pinch of salt. Lett them cook for around 5 mins until they start to turn somewhat soft. To it, add tomato paste and stir it around for a minute. Add red wine, diced tomatoes, water, salt, black pepper, oregano & basil and stir it all around. Cover and let it simmer for good 10-12 mins. Taste and adjust seasonings. Towards the last 5-7 mins add the already cooked pork into the sauce and simmer for 5-7 mins. You want pork to get the sauce flavors but you don't want the meat to overcook and become hard & chewy.
**While you were cooking the sauce, you must have a boiling water in the pot for noodles and in between when the sauce is simmering, add salt & pasta of your shape and cook until al dente.
Serve the sauce over noodles with shredded parmesan and chopped fresh basil!
Similar Recipes:
https://www.naivecookcooks.com/apple-cider-mac-cheese-with-tater-tots/
https://www.naivecookcooks.com/30-mins-cheesy-bacon-spinach-pasta/