30 Mins Pork Bolognese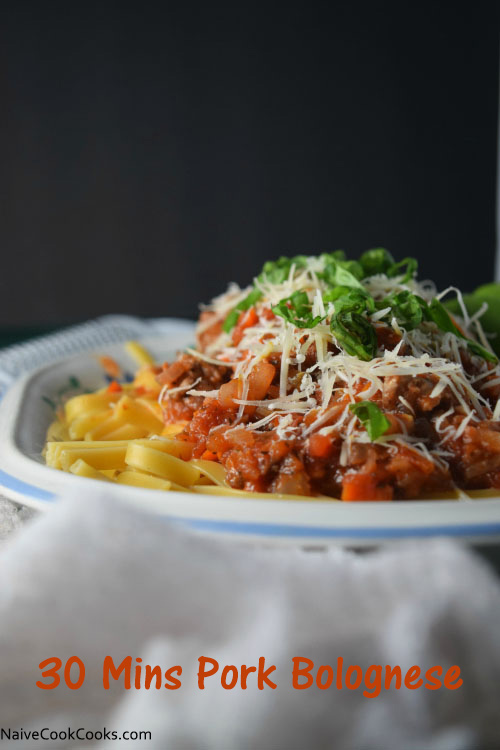 ½ lb good quality ground pork
1 tbsp olive oil
4 garlic cloves, chopped fine
1 cup finely chopped red onion
Pinch of salt
⅓ cup chopped celery
⅔ cup chopped carrots
Salt to taste
1 tbsp tomato paste
⅓ cup red wine
14.5 oz diced tomatoes
⅓ cup water
1 tbsp oregano
1 tbsp basil
½ tsp chili flakes
Salt & Black Pepper to taste
Parmesan & basil for serving
Noodles to serve
In a dutch oven or any heavy pot, add 1 tbsp oil. Once warm, add the meat and break it using your wooden spoon. Cook until the pink goes away.
While meat is cooking, chop away your garlic, onions, carrots and celery and bring a big pot of water to boil on another gas for the noodles.
Now take out the meat leaving behind the grease. To the same pot, add garlic, onions, celery & carots and add a pinch of salt. Lett them cook for around 5 mins until they start to turn somewhat soft. To it, add tomato paste and stir it around for a minute. Add red wine, diced tomatoes, water, salt, black pepper, oregano & basil and stir it all around. Cover and let it simmer for good 10-12 mins. Taste and adjust seasonings. Towards the last 5-7 mins add the already cooked pork into the sauce and simmer for 5-7 mins. You want pork to get the sauce flavors but you don't want the meat to overcook and become hard & chewy.
**While you were cooking the sauce, you must have a boiling water in the pot for noodles and in between when the sauce is simmering, add salt & pasta of your shape and cook until al dente.
Serve the sauce over noodles with shredded parmesan and chopped fresh basil!