These Blueberry muffins packed with flaxseed meal, yogurt and whole wheat pack just the right sweetness and are super soft with a crunchy cinnamon-sugar topping!
I love blueberry muffins. Out of all the zillion of muffin flavors out there, blueberry muffins are my favorite. So everytime I go to a coffee shop, blueberry muffins are on my to get list. ALWAYS. But not anymore. Since I started making my own blueberry muffins, I look forward to eating them with almost every meal. But usually they are not that healthy. Made with all purpose flour, packed with good amount of butter and lots of sugar, they leave you with no choice but to enjoy them only as an occasional treat.
BUT NOT ANYMORE.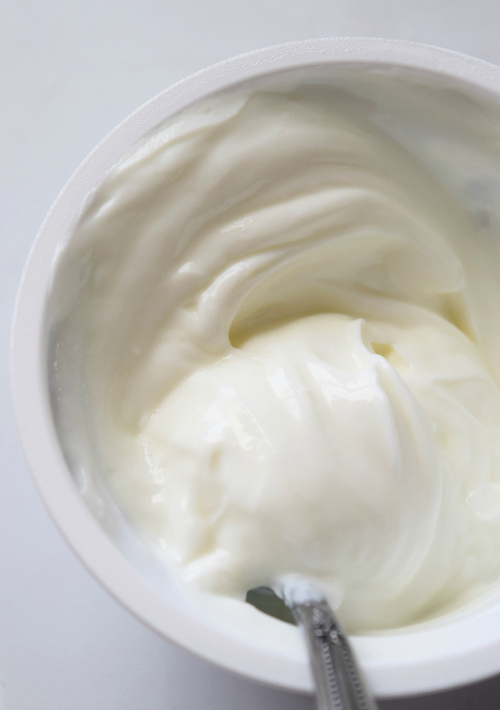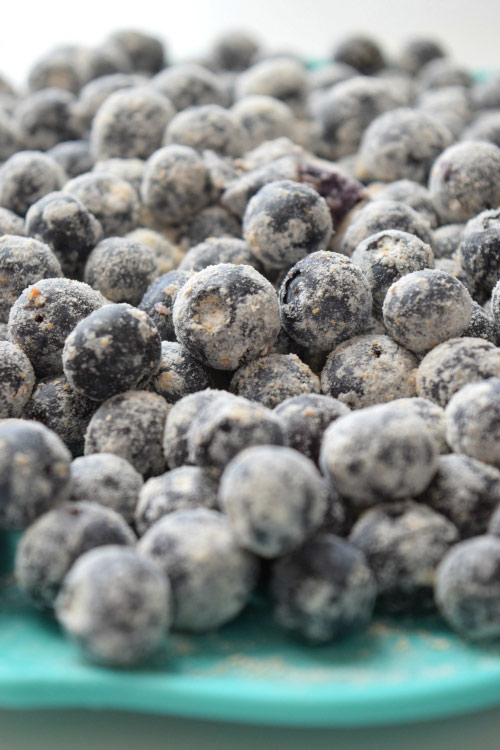 These muffins are seriously SOFT just like a good blueberry muffin is intended to be. With time they keep getting better and so soft that it was so hard for me to stop just at one. While photographing them I ended up eating almost 2 muffins. Oops!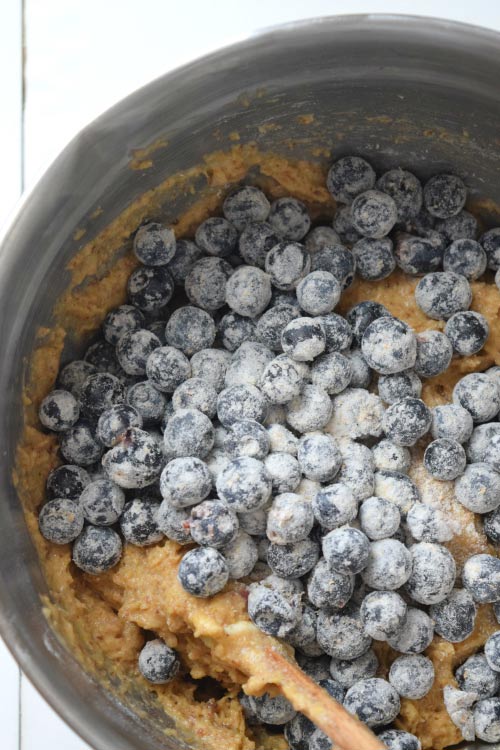 Made with white whole wheat flour, little flaxseed meal, moderate amount of sugar, lots of fresh blueberries and yogurt, they are a competition to those buttery store bought or bakery muffins. And that crunchy cinnamon-sugar topping just makes them irresistible.
I mean look at that crunchy topping! I am all about good moist muffins with a crunchy sugar topping. My favorite kind but if you are not too crazy about crunchy toppings, you can leave the addition of sugar-cinnamon mixture on top and instead add 1/4 cup sugar extra inside muffin batter to make them little extra sweet.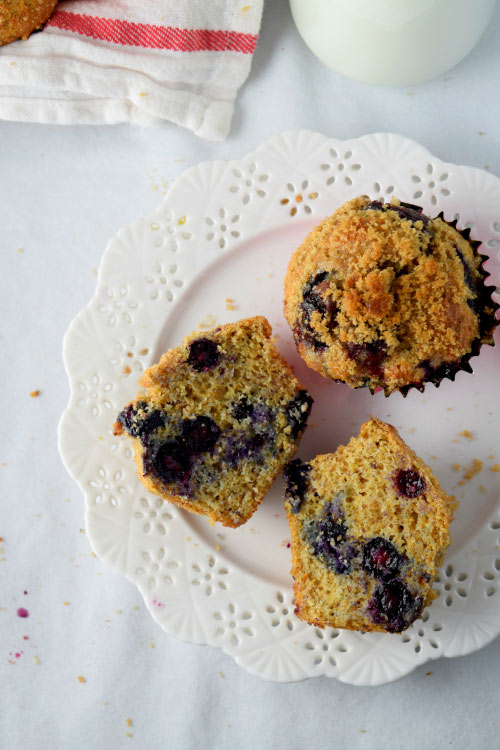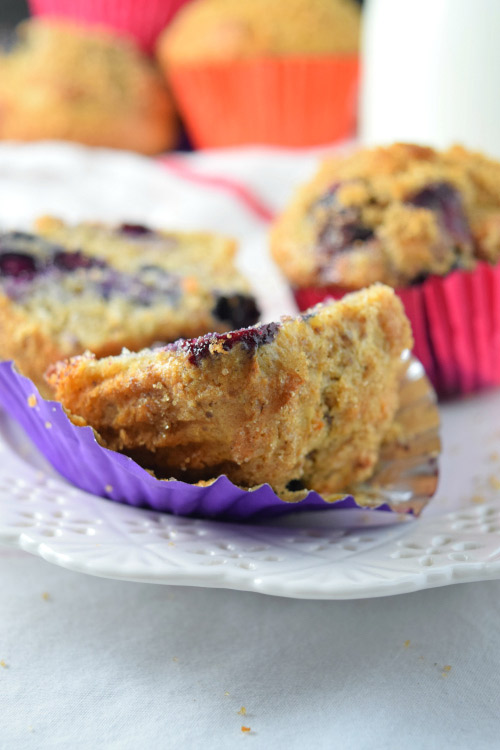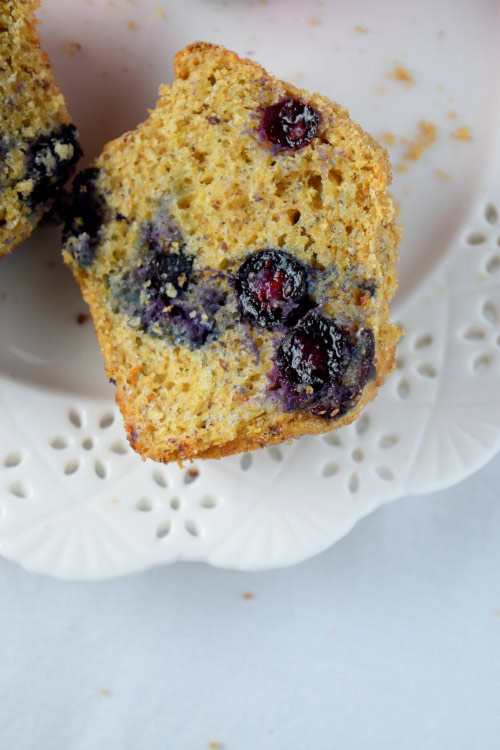 Still thinking, get BAKING!
Sharing is Caring, remember those wise words?!! 
Follow along for lot more delicious treats and life happenings on INSTAGRAM || FACEBOOK || PINTEREST 

Skinny Whole Wheat Blueberry Muffins
Ingredients
2 cups white whole wheat flour
¼ cup + 1 Tbsp flaxseed meal (Just grind flaxseeds to turn it into flour)
1.5 tsp baking powder
½ tsp baking soda
½ tsp salt
¼ cup olive oil
2 eggs
¾ cup brown sugar
2-3 tsp vanilla extract
½ cup non fat greek yogurt or full fat yogurt
¼ cup milk (I used 2% fat content)
2 cup fresh bluberries (rolled in 1 tbsp flour)
Topping
¼ cup brown sugar
½ tsp cinnamon
Instructions
Preheat oven to 375F.
In a bowl, mix white whole wheat flour, flaxseed meal, baking powder, baking soda and salt. Stir it around.
In another bowl, add olive oil and brown sugar and stir it until evenly melted.To it add eggs one at a time and stir it around. Add vanilla extract, yogurt and milk and mix until smooth.
Add the liquid ingredients to the dry ingredients. Stir it around until just mixed. To this add the blueberries rolled in flour and just stir it around.
Pour the mixture in a muffin tin lined with baking cups. Fill each upto ¾th.
In a bowl, mix the topping mix and sprinkle it on top of the muffins.
Bake muffins in a preheated oven for good 20-22 muffins or until a toothpick comes out clean when inserted in the center of the muffin.
Notes
Once cool, store these muffins in an airtight container.
These muffins last beautifully for upto a week. If temp is too hot, keep them in the refrigerator.
More Muffin Recipes: