Super easy semi homemade Spicy Sriracha Hummus Wraps make for a great filling meatless meal that's ready in under an hour.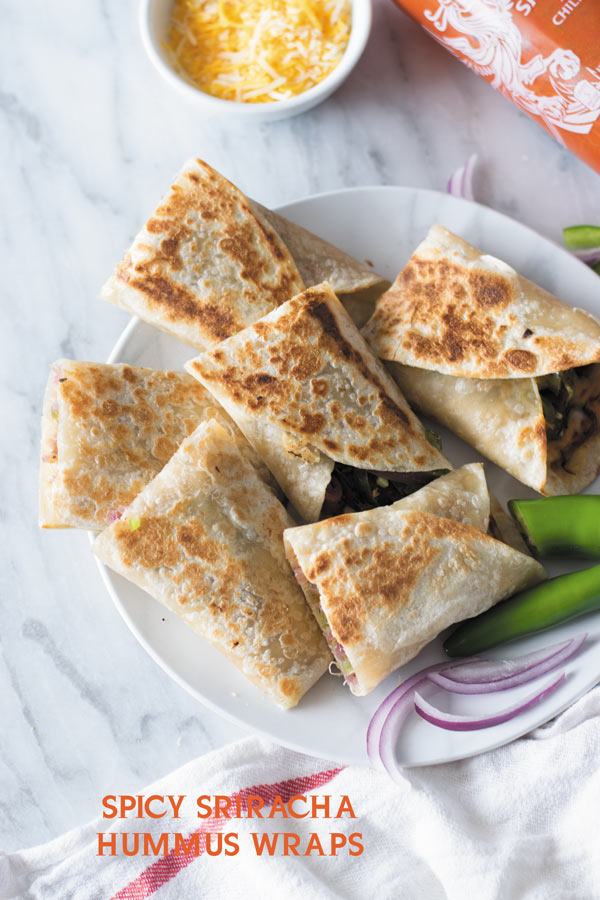 These wraps have been on constant rotation here and we absolutely love them. I learnt these from my aunt and they make for a super easy & quick semi homemade meal that's healthy, flavorful and most importantly I feel good about feeding these to my family.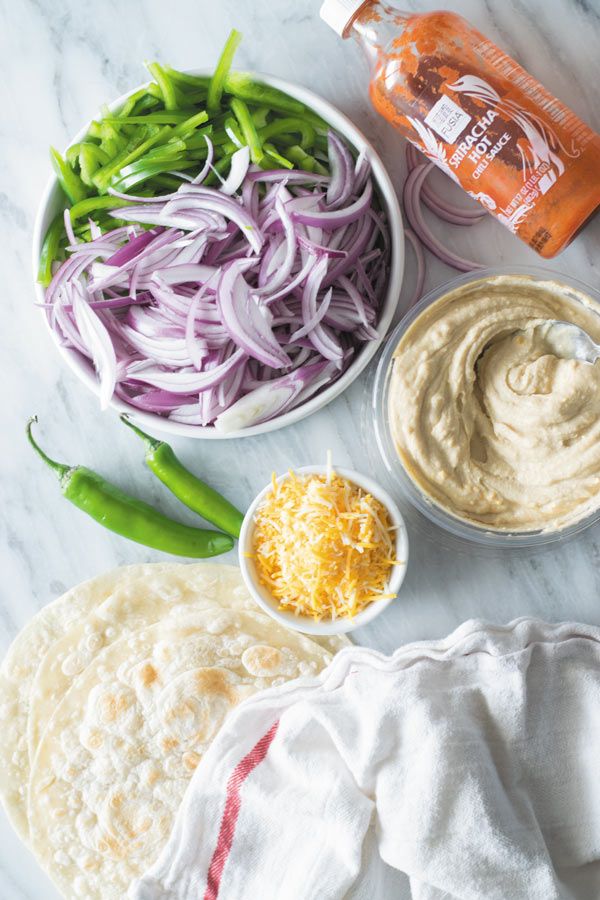 Since after having Aria, I am on constant lookout for recipes that are healthy yet full of flavors and which can be prepared in not more than 30mins to an hour.
So even though I am all about everything from scratch kind of gal, since after having a baby, I have realised that it's not always possible to do everything and that's where I have been incorporating shortcuts.
So this semi homemade meal series came to life as I am already eting and feeding this to my family and it's been such a lifesaver that I figured I would love to help out all you busy mamas and anybody in need of wholesome food but that can be made quickly!
Here tortillas and hummus is store bought. All you have to do is chop the veggies, saute them with spices and assemble. Easy peasy, right?! And husband approved!! So it's a win win!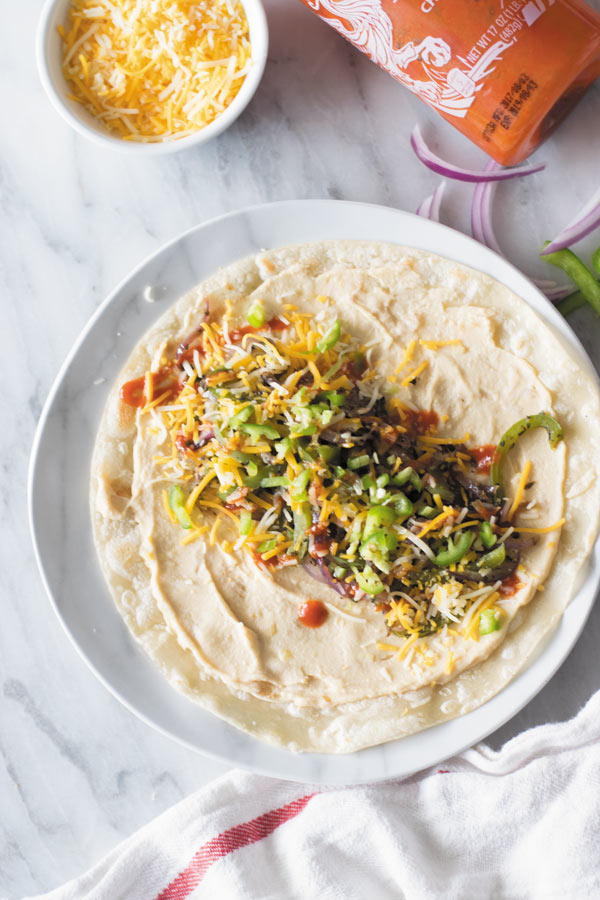 Assembling these is super easy. I love love using Tortilla land tortillas which come uncooked, are made using just 3-4 ingredients. So basically while I saute and season the veggie mix, on other skillet, I cook my tortillas. Then I take a tortilla, spread a generous amount of hummus on it, then add a good amount of yummy spicy veggie mix, some cheese, sriracha sauce and some chopped serranos if you like spicy. Then close it tightly and on a lightly oiled skillet cook them until crispy! That's about it. I like to eat them just like that but you can serve them with sriracha mayo ( just make my mixing some sriracha sauce in mayo).
These are seriously so delicious! I make them atleast few times a month. Give these a try! I am sure you will love them. For hummus, I have tried them with garlic hummus from Aldi which I feel is slightly tangy but we love it. I have also tried them with sabra spicy hummus. They turn out equally delicious with this one too.
Spicy Sriracha Hummus Wraps
Ingredients
1 Tbsp oil
1 whole Green bell pepper, sliced thin
1 onion, sliced thin
Salt to taste
4 tsp basil powder
¾ tsp oregano powder
¼ tsp black pepper
½ tsp red chili flakes
Tortillas ( I love using Tortilla land's uncooked tortillas. I cook them before assembling.)
Your favorite hummus
Sriracha sauce
Chopped serranos (If you like spicy)
Shredded cheddar cheese
Instructions
If using uncooked tortillas, cook them as per package directions and keep them aside. This recipe yields around 3-4 hummus wraps.
In a skillet, add oil. To it add sliced bell pepper and onion and cook for 5-6 minutes until it starts to get a bit soft. Add all the seasoning that is salt, basil, oregano, black pepper, red chili flakes and stir. Cook for another 8-10 minutes on medium heat or until vegetables are almost cooked. Taste and adjust if any seasoning needed .
Take one tortilla. Spread generous around 2-3 tbsp hummus on it. In the center add few tbsp of this veggie mix we just made, top with shredded cheese, some sriracha sauce and some serrano pepper if using.
Close it tightly and cook it on a lightly oiled skillet and cook until crispy both sides. Serve hot.