Delicious Slow Cooker Spiced Vegetable Rice. A quick & easy one pot meal great eaten as is with yogurt & pickle or serve with some grilled meat for a complete filling meal!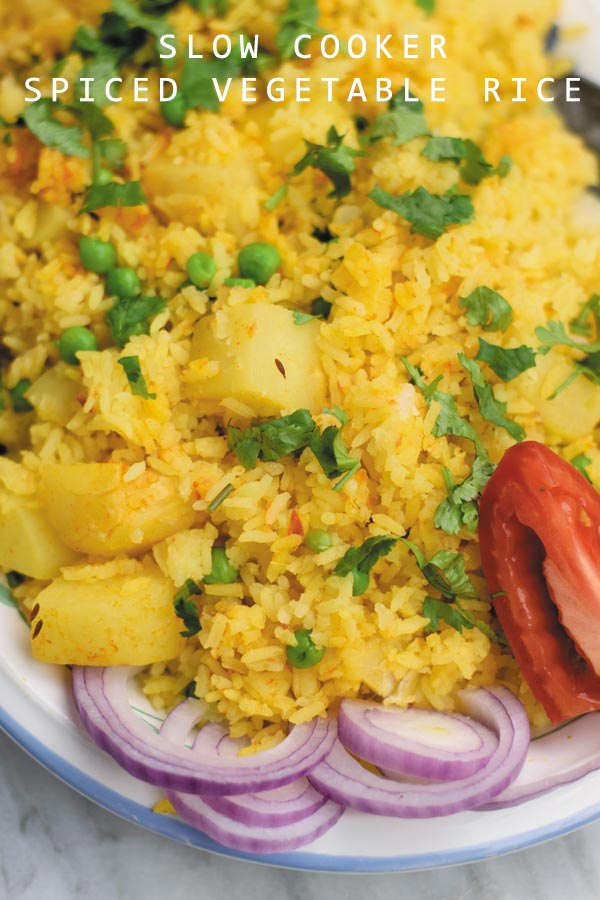 Enjoying weekend & don't feel like going out to eat and just the thought of cooking something makes you feel tired?! Yes, that's me and so if you have been following my love for slow cooker recipes lately, this is my newest addition! And this won't disappoint! I have been lately experimenting a lot with my favorite Indian recipes and making them in slow cooker to save time but still get the same exact flavors!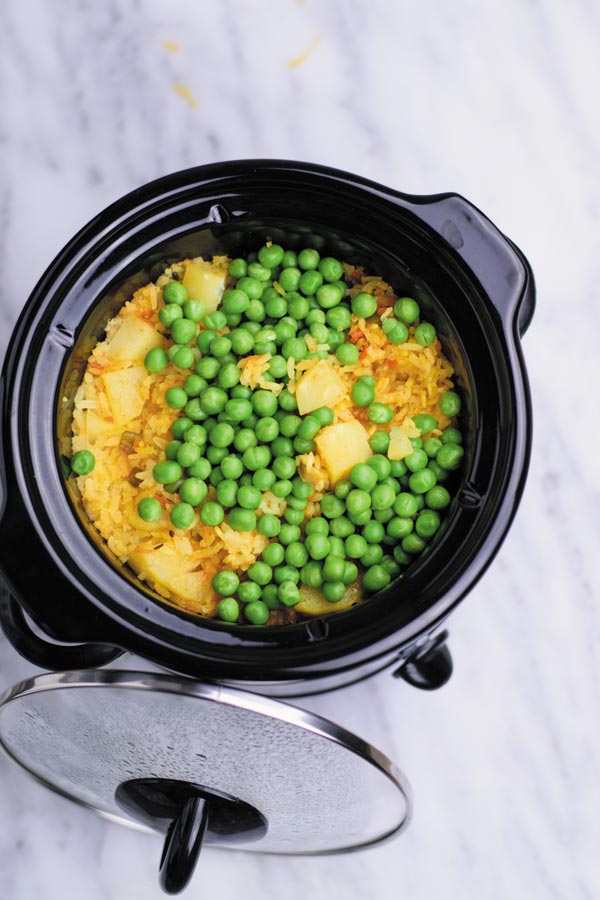 Growing up spiced vegetable rice or pulao as called in some parts of India was my all time favorite meal to eat. To this day whenever I my mom is visiting or I am home in India, I request her to make this for me! But this time I decided it was time to make it slow cooker friendly! And it turned out to be so simple!
I just added all the ingredients in slow cooker an in about 1.5 hours it was ready! And it smelled, looked and tasted exactly the way it does when made in pressure cooker! So good when eaten with plain yogurt on the side and mango pickle! Or if you want to add some protein, then serve it along with some grilled meat or this one pot chicken curry will go great!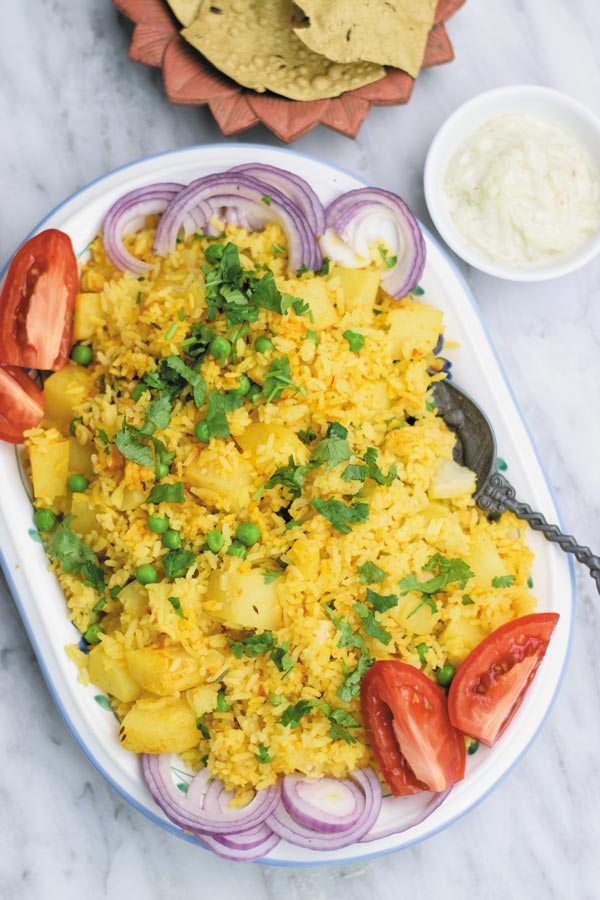 So go ahead and give this a try! If you make these or any other recipe from our blog, do tag us by using#naivecookcooks on social media channels.
If you enjoyed this recipe, don't forget to FOLLOW me on INSTAGRAM||FACEBOOK||PINTEREST||TWITTER ||GOOGLE+ || BLOGLOVIN || YouTube

Slow Cooker Spiced Vegetable Rice
Ingredients
Slow cooker spiced vegetable rice:
1 cup basmati rice, washed and rinsed
2 potatoes, peeled and chopped and boiled for 3 minutes in microwave
1 tbsp oil
1 tsp cumin seeds
2-3 green chilies, chopped
1 tsp turmeric powder
2 tomatoes, pureed
1-2 tsp red chili powder or as per taste
1 cup green peas
Finely chopped cilantro for garnishing
Instructions
Slow cooker spiced vegetable rice:
Preheat slow cooker for 15-20 minutes.
Add rice along with potatoes to slow cooker. Add 2 cups water.
Meanwhile in a small deep pot, add oil. Once hot add cumin seeds. As they start to pop, add green chilies, tomato puree, salt, red chili powder and turmeric powder. Let it cook for few minutes.
Add this mix to rice and potato mix and stir. Cover and cook on high for 1 - 1.5 hours. You will notice that rice would have absorbed all the water and will not be chewy anymore. Add green peas and cover and let slow cooker stay on warm for 30 minutes.
Garnish with freshly chopped cilantro and serve!
Some more delicious RICE recipes ->>