Slow Cooker Spiced Vegetable Rice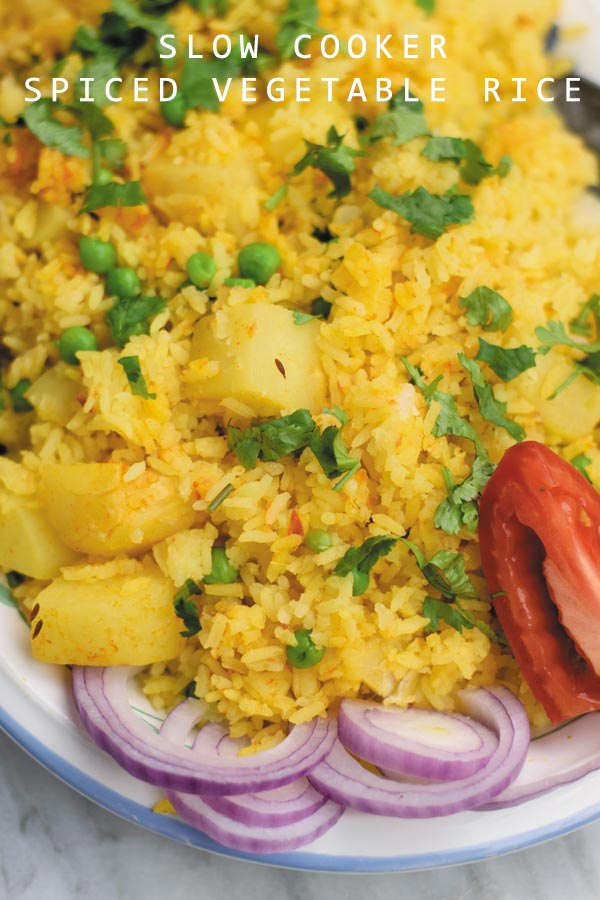 1 cup basmati rice, washed and rinsed
2 potatoes, peeled and chopped and boiled for 3 minutes in microwave
1 tbsp oil
1 tsp cumin seeds
2-3 green chilies, chopped
1 tsp turmeric powder
2 tomatoes, pureed
1-2 tsp red chili powder or as per taste
1 cup green peas
Finely chopped cilantro for garnishing
Preheat slow cooker for 15-20 minutes.
Add rice along with potatoes to slow cooker. Add 2 cups water.
Meanwhile in a small deep pot, add oil. Once hot add cumin seeds. As they start to pop, add green chilies, tomato puree, salt, red chili powder and turmeric powder. Let it cook for few minutes.
Add this mix to rice and potato mix and stir. Cover and cook on high for 1 - 1.5 hours. You will notice that rice would have absorbed all the water and will not be chewy anymore. Add green peas and cover and let slow cooker stay on warm for 30 minutes.
Garnish with freshly chopped cilantro and serve!
Recipe by
Naive Cook Cooks
at https://www.naivecookcooks.com/slow-cooker-spiced-vegetable-rice/