These 30 Mins Ranch Chicken & Guacamole Quesadilla are packed with tons of flavor & can be whipped in no time! A perfect quick lunch or dinner loved by all ages!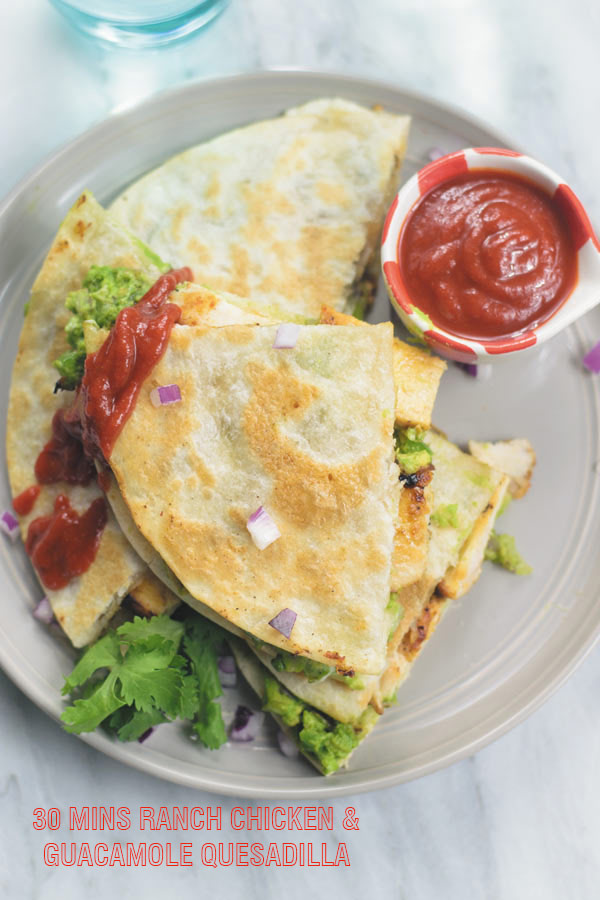 Lately we have been all about super simple quick meals that take no longer than 30 minutes as we have a baby! On top of having a 3 month old, we have been busy with packing our stuff as we are moving. So last few weeks have been super tiring for us and after eating takeouts way too many times, we decided it was time to figure out some really easy quick recipes that taste delicious as well plus are not too indulging as, umm, I need to loose all my pregnancy weight.
I have already made these ranch chicken & guacamole quesadillas for like 3 times in 2 weeks. These quesadillas along with a big salad is always such a treat to eat. It's super filling and extremely delicious with taco seasoned chicken that has been cooked on skillet until skin is charred, spicy guacamole, ranch sauce, some cheese and all this stuffed inside a flour tortilla and then cooked until crispy.
Another great thing about these quesadillas is that you don't need to prep ahead of time as start to finish these take about 30 minutes give or take. While I season chicken generously (don't be shy when applying seasoning on chicken as a good heavy handed seasoning makes the chicken really delicious, bursting with so much flavor) and it's cooking, I make guacamole and assemble tortillas, shredded cheese and ranch sauce.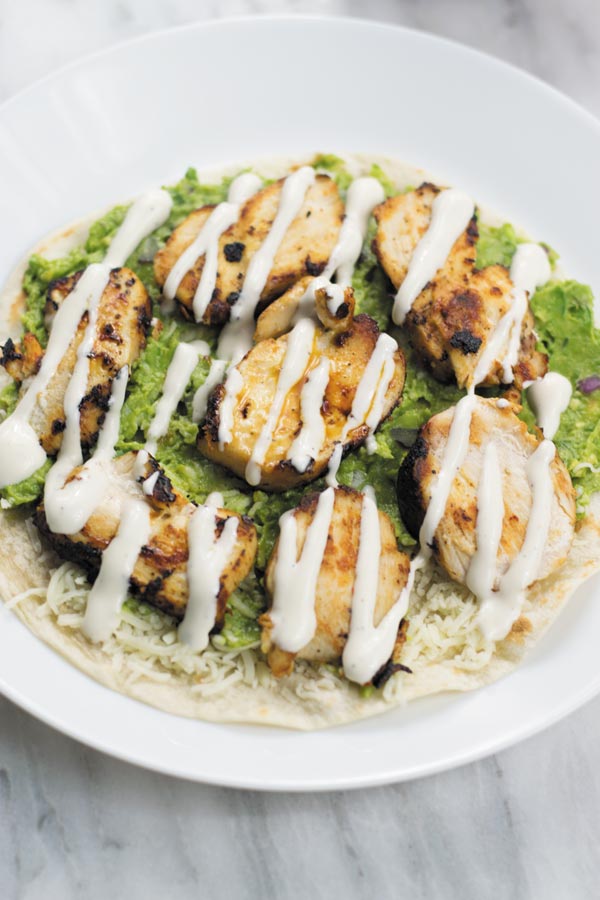 Then all I wait is to have cooked chicken which is then sliced and cooked again until charred and then stuffed in tortilla. Such a satisfying meal.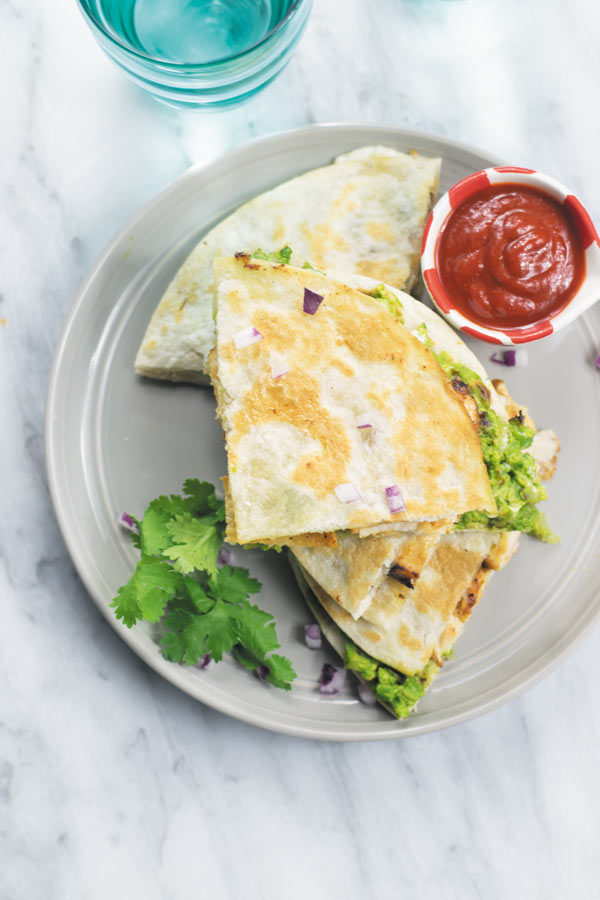 I took some step by step process shots to give you an idea of how this comes together.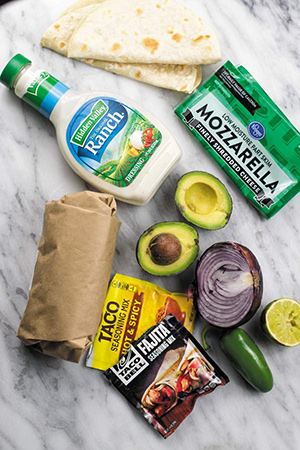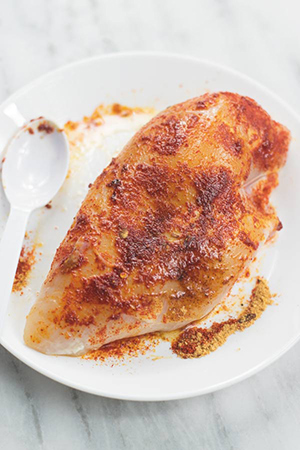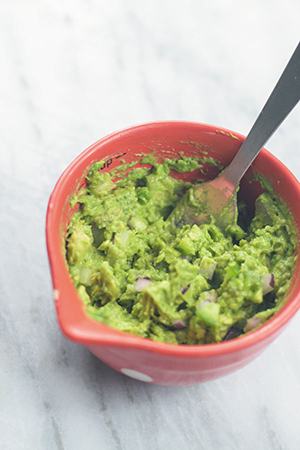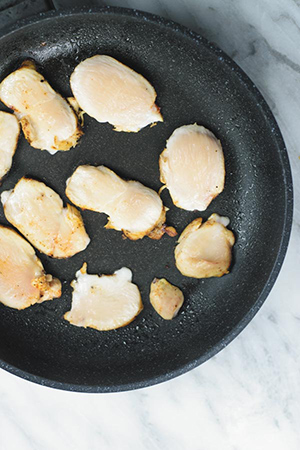 So as you can first picture shows almost all the ingredients used to make these. I forgot to include salt and red chili powder in pictures.
Chicken is seasoned generously and while it cooks, guacamole is made. Once chicken breast is cooked, it's sliced and the sliced are placed back in skillet to cook. Then everything is assembled!

30 Mins Ranch Chicken & Guacamole Quesadilla
Ingredients
TACO SEASONED CHICKEN:
1 chicken breast
2 Tbsp taco seasoning (spicy)
2 Tbsp fajita seasoning
½ tsp salt
½ tsp red chili powder or as per taste
1.5 Tbsp oil
ADDITIONAL ITEMS:
4 flour tortillas
Guacamole
Shredded cheese
Ranch sauce
GUACAMOLE:
1 avocado
1 tbsp chopped red onion
1 tsp chopped jalapeno
Salt to taste
Lime juice to taste
Instructions
TACO SEASONED CHICKEN:
Mix all spices with oil. Coat this spice mix on cleaned chicken breast generously by massaging so chicken is well coated. Heat a skillet and place this chicken on it. Let it cook on medium high for 3-4 minutes on one side and then flip and repeat. Once done, transfer it on a cutting board and cut thick slices. Place chicken slices back on skillet and cook until fully cooked.
GUACAMOLE:
Meanwhile make guacamole by mashing avocado in a bowl and to it adding the remaining ingredients.
ASSEMBLY:
Lay one flour tortilla on a plate. Spread 2-3 tbsp shredded cheese all over it, then add guacamole. Now lay half the cooked chicken pieces and then drizzle with ranch.Top it off with a second tortilla and transfer it carefully to a hot skillet. Cook until bottom is golden and flip . Once ready, cut using a pizza cutter or knife and serve with some salsa or ranch or as is.