30 Mins Ranch Chicken & Guacamole Quesadilla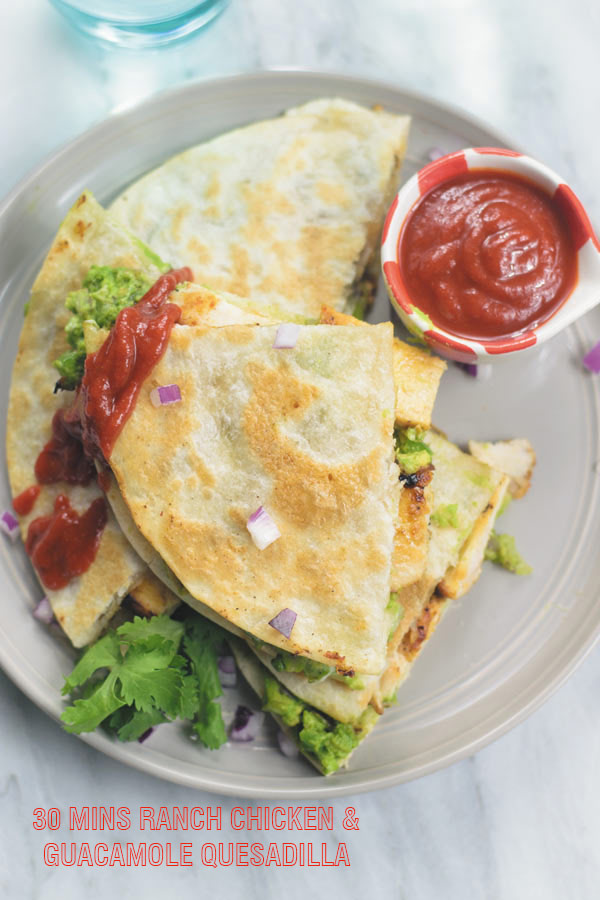 TACO SEASONED CHICKEN:
1 chicken breast
2 Tbsp taco seasoning (spicy)
2 Tbsp fajita seasoning
½ tsp salt
½ tsp red chili powder or as per taste
1.5 Tbsp oil
ADDITIONAL ITEMS:
4 flour tortillas
Guacamole
Shredded cheese
Ranch sauce
GUACAMOLE:
1 avocado
1 tbsp chopped red onion
1 tsp chopped jalapeno
Salt to taste
Lime juice to taste
TACO SEASONED CHICKEN:
Mix all spices with oil. Coat this spice mix on cleaned chicken breast generously by massaging so chicken is well coated. Heat a skillet and place this chicken on it. Let it cook on medium high for 3-4 minutes on one side and then flip and repeat. Once done, transfer it on a cutting board and cut thick slices. Place chicken slices back on skillet and cook until fully cooked.
GUACAMOLE:
Meanwhile make guacamole by mashing avocado in a bowl and to it adding the remaining ingredients.
ASSEMBLY:
Lay one flour tortilla on a plate. Spread 2-3 tbsp shredded cheese all over it, then add guacamole. Now lay half the cooked chicken pieces and then drizzle with ranch.Top it off with a second tortilla and transfer it carefully to a hot skillet. Cook until bottom is golden and flip . Once ready, cut using a pizza cutter or knife and serve with some salsa or ranch or as is.
Recipe by
Naive Cook Cooks
at https://www.naivecookcooks.com/30-mins-ranch-chicken-guacamole-quesadilla/