Super simple Bread made fancy with Cilantro chutney – Cheesy Chutney Pull Apart Bread with spicy green chutney in every bite is great for summer get togethers, holiday entertaining or just about any time!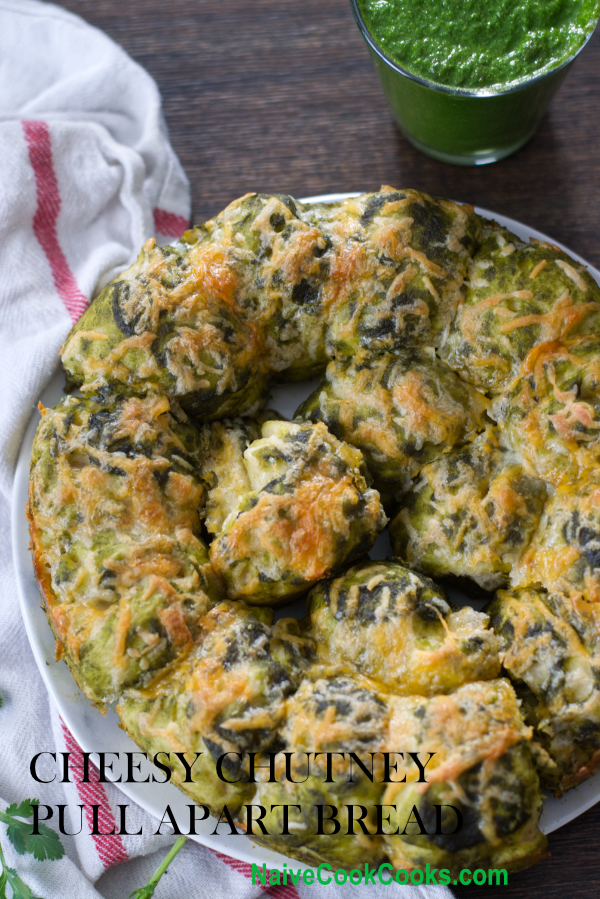 If you have always enjoyed eating Cilantro Chutney smeared on bread, then behold – I am bringing to you Cheesy Chutney Pull Apart Bread where in every bite, you can taste chutney along with some cheesy goodness. Ronak was first to suggest why don't I try making a chutney bread?! Then after doing a bit of research online, I found that there are few recipes of chutney bread already online but I decided to do it my way!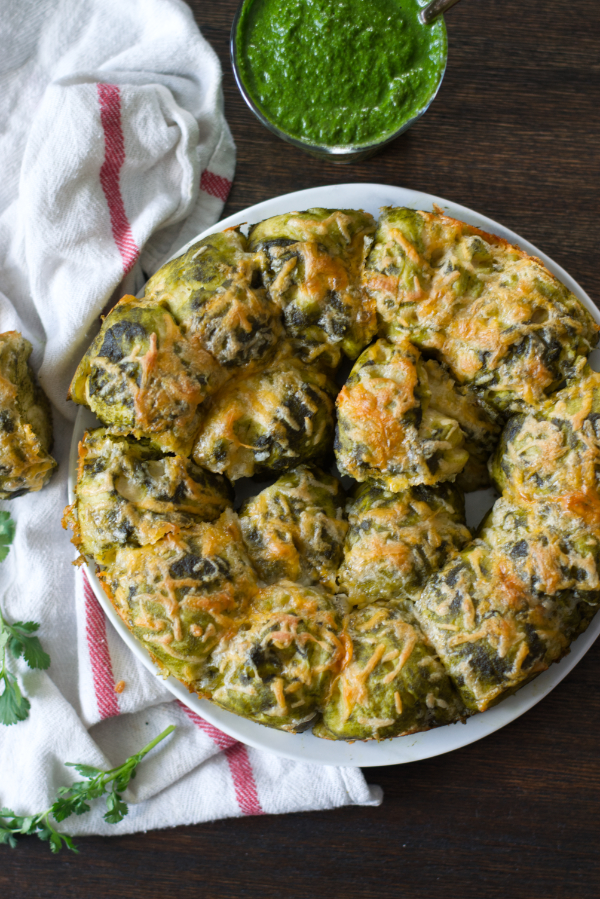 Using pull apart bread technique, I tested this bread recipe twice I found on Tasty's website and once I tried by shaping it in braid form. The braid form left the bread really dry and even though I had some super cute pictures, I discarded it. I went back to my idea of pull apart bread where a simple dough is made with All Purpose Flour, salt, yeast and oil and once it rises, it is broken into small balls. These balls are then dipped in Cilantro chutney and once all the balls are dipped, they go through a second rise. 
Just before baking, a generous amount of shredded cheese goes in there because why not? Cheese makes every thing better and in times like these GIVE ME ALL THE COMFORT FOOD!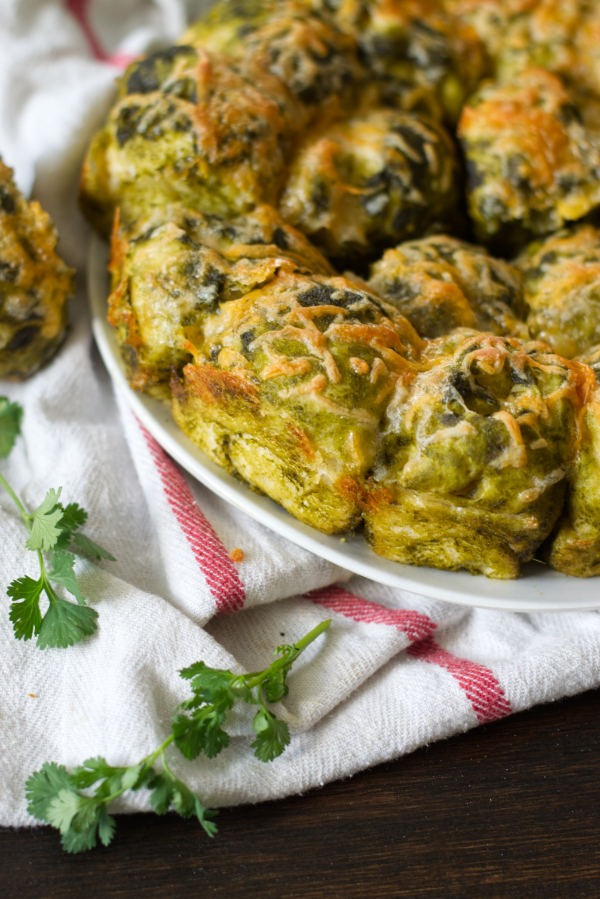 If you have never baked a bread or are just on the fence about how this bread will taste, GO MAKE IT! Stupidly simple and so so delicious!!

Cheesy Chutney Pull Apart Bread
Ingredients
CILANTRO CHUTNEY :
3-4 bunches fresh cilantro, cleaned
3-4 garlic cloves
3-4 thai chilies
Salt and lime juice to taste
3-4 Tbsp water
3-4 Tbsp extra virgin olive oil
¼ tsp cumin seeds
CHEESY CHUTNEY PULL APART BREAD :
¼-1/3 cup fresh chutney ( You can even use store bought)
2 cups all purpose flour ( 263 gms / 9.3 oz)
½ tsp salt ( 3 gm / 0.1 oz)
1 tsp Instant yeast ( 4 gms / 0.1 oz)
⅔ cup warm water
1 tsp extra virgin olive oil plus extra for coating the bowl
⅓-1/2 cup shredded cheddar cheese
Instructions
CILANTRO CHUTNEY :
You can use store bought or if making at home, add all the chutney ingredients into jar of your high speed blender and blend until smooth. Taste and adjust salt/lime juice. This will make a generous amount , so the extra you can keep in an airtight container in refrigerator or freeze to use later.
CHEESY CHUTNEY PULL APART BREAD :
In a bowl, mix flour, salt and yeast. To it add warm water and oil. Mix and then using hands knead for good 8-10 minutes. Initially it will feel really dry and you might be tempted to add more water but DON'T! Just keep kneading and by 8-10 minute mark, the dough will come together. Transfer the dough to a bowl greased with oil and cover with plastic wrap.
Let it rise for an hour. Once doubled, break it into small golf size balls or smaller and roll tightly. Dip each ball generously into chutney and place in your baking pan. You can use a bundt pan or any shape. I used a 8" round cake pan for this. Once done with the all the dough, cover the chutney covered dough balls and let it rise for another 30mins to an hour. Pre heat oven to 350F.
When ready to bake, sprinkle shredded cheese all over the chutney dough and bake for about 22-26 minutes.
Enjoy!
Notes
Ami says :
Bread recipe adapted from Tasty.