Date Night Roasted Garlic Pasta With Homemade Chili Oil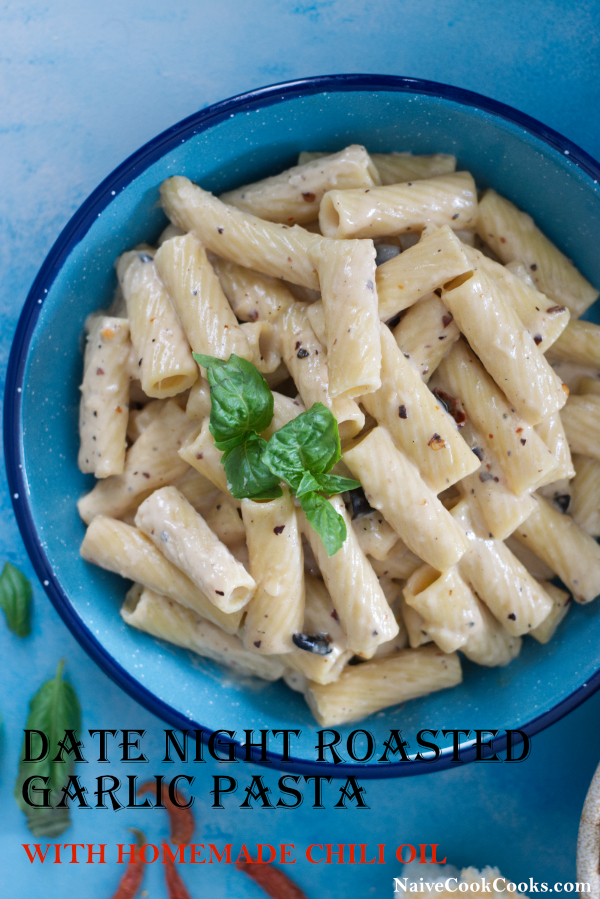 ½ Pound ( 8 oz / 227 gms ) pasta of your choice, cooked as per box instructions
½ cup pasta water
1.5 head of garlic, roasted ( This POSTexplains how to Roast garlic)
1 Tbsp butter
1 Tbsp Olive oil (If you have homemade Ronak's Chili Oil, then use that instead)
*If not using Ronak's Chili Oil then you will also need - 3 dry Red Chilies and 1 tsp Red Chili Flakes*
1.5 Tbsp All Purpose Flour
¾ cup heavy cream
1 cup milk ( You can use whole milk or skim milk)
½ cup shredded parmesan cheese plus extra for garnishing
Salt & BP
Boil pasta as per package directions. Reserve ½ cup pasta water & drain and add little oil and stir it around just so pasta doesn't stick together while you make sauce.
Once garlic is roasted, pop the garlic cloves out of their skin and place all in a bowl. Smash using back of your fork until it turns into almost a paste consistency. Keep aside.
In a deep pan, add oil and butter. If you are using Ronak's Chili Oil, you won't need to add Dry red chili pepper and red chili flakes as I am going to mention in the next step.
Once butter is melted, add broked dry red chili pepper and red chili flakes if YOU ARE NOT USING RONAK'S CHILI OIL.
Once it starts to sizzle, add flour to make roux. Cook on medium high flame until raw smell of flour goes away. Add 3 tbsp roasted garlic paste and cook for 30 secs more. Then slowly add heavy cream starting with little at a time and mixing constantly. Then add milk along with reserved ½ cup pasta water.
Let it simmer. Meanwhile grate your parmesan cheese. Add cheese along with salt & black pepper to the sauce. Taste and add more Ronak's chili oil if using. Once the sauce thickens to your desired consistency, add pasta and mix until everything is well mixed. Give a taste test again and Voila! You just made the MOST DELICIOUS ROASTED GARLIC PASTA WITH HOMEMADE CHILI OIL.
Serve with some garlic bread and a salad!
Recipe by
Naive Cook Cooks
at https://www.naivecookcooks.com/date-night-roasted-garlic-pasta-homemade-chili-oil/