Soft Classic Dinner Rolls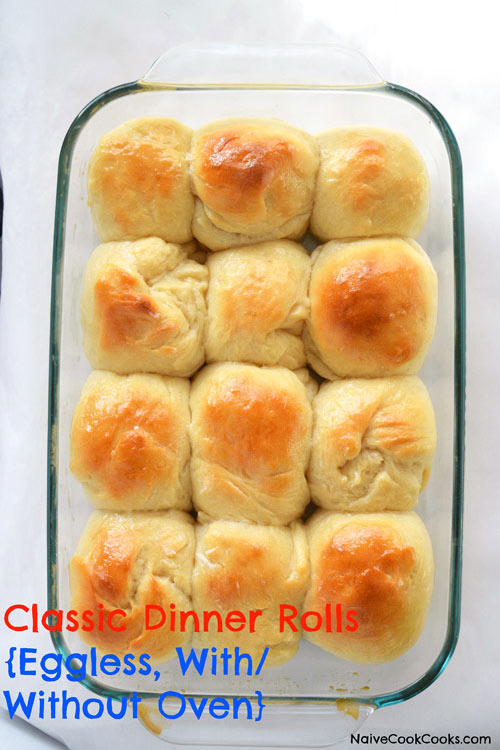 2 cups all purpose flour
14 - 15 tbsp milk ( ¾ cup + 2-3 tbsp)
1 tsp salt
1.5 tbsp butter ( I used unsalted)
1.5 tbsp milk powder
2 tsp yeast ( If using regular active dry yeast, follow the steps below BUT if using instant yeast, just add in dry flour)
1 tbsp sugar
Milk for brushing
If using active dry yeast, warm milk to lukewarm in a bowl. To it add yeast and sugar. Stir and let it sit for 10-15 minutes until it starts to bubble.
In another bowl, mix together all purpose flour, salt and milk powder. To it add the milk mixture and butter and start kneading. Now is the important part. It needs good kneading. You can use your hands or a stand mixer. The dough mix is going to be really sticky but DO NOT add any more flour! Keep it the way it is and keep kneading for 15 MINUTES and you will start to see the dough coming together and pulling away from the surface.
Transfer this dough to a greased bowl and cover and keep in warm place for an hour or until it doubles.
Once it's risen, punch it down and knead a little more for around a minute and then divide the dough into 12 balls. Roll them into neat ball shapes and arrange them on a dish or oven safe dish if you are going to bake in oven.
Cover and let it rise for another hour.
Meanwhile get your heating device ready!
If cooking in OVEN :
Preheat oven to 350 F. Brush the balls of dough with milk or egg wash and bake for 15-17 minutes.
If cooking in PRESSURE COOKER :
Add 1 cup of salt in cooker and place a perforated plate on top. Now Cover the lid and let it heat up on med-low heat. Make sure you take out the whistle and the gasket. Now keep your dough balls in a pan that would fit in your cooker. I have a medium size pressure cooker, so I used a small round baking pan and it worked great but it took me 3 runs to cook all of these.
Carefully transfer the pan with balls into the cooker. Make sure you brush the tops! Cover with the lid and cook for medium high for 15-16 minutes. Take them out carefully and brush with melted butter. Cover using a damp cloth as it will help in trapping steam which will keep them softer.
Enjoy Indian style in the form of Pav Bhaji or serve these along with a side salad and some roasted meat with gravy.
Recipe by
Naive Cook Cooks
at https://www.naivecookcooks.com/soft-classic-dinner-rolls/