Mini Gingerbread House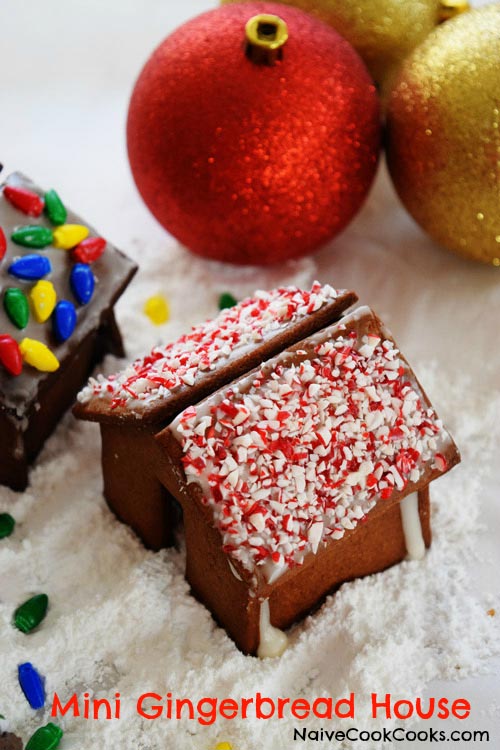 Gingerbread house:
½ cup (1 stick) unsalted butter, at room temperature
½ cup dark brown sugar
¼ cup light molasses
1 tablespoon cinnamon
1 tablespoon ground ginger
1 teaspoon baking soda
2 cups all-purpose flour
2 tablespoons water or more as needed
Icing :
1 cup powdered sugar
2-3 Tbsp water
2 tsp light corn syrup
½ tsp vanilla extract
In the bowl of your stand mixer or if doing by hand in a large bowl, cream butter, brown sugar, molasses, cinnamon, ginger, baking soda. Once it's all smooth, add flour and water and stir to make it into a smooth dough.
Wrap it in plastic wrap and chill them in refrigerator for 30 mins or so.
Meanwhile make your icing.
In a bowl, add all the icing ingredients and mix until smooth.
If the icing feels too thick, then add little water in there and if it feels too thin, then add some more powdered sugar.
Keep it aside.
Now preheat oven to 350F.
Divide the dough into 3 parts and while you work on first part, keep the other two dough parts wrapped in refrigerator.
Roll out the dough to ⅛" thickness on a floured surface. I like to sprinkle flour on a aluminium foil and then roll out the dough and then cut into shapes by placing the cut outs from template on there.
Using the template , cut out the shapes and use them for cutting parts of gingerbread house. Remember that for each house you will need :
walls
roofs
walls with door opening ( In the template, there are two sizes of door openings and you can pick either one)
I like to use a sharp knife or pizza cutter for cutting out shapes.
Then I simply remove the extra dough and transfer the aluminium foil with cut out rolled dough shapes on a baking sheet and freeze for 15 - 30 mins.
Then bake them for 9-10 minutes until golden but not overly dark or burnt. Cool them completely on a wire rack and once completely cooled, put together the pieces with icing.
I first attached the walls and then the roof. I decorated the roof but if you want, you can keep them plain.
Let them set for 30 mins to an hour and then enjoy with your loved ones!