Homemade Rosemary Crackers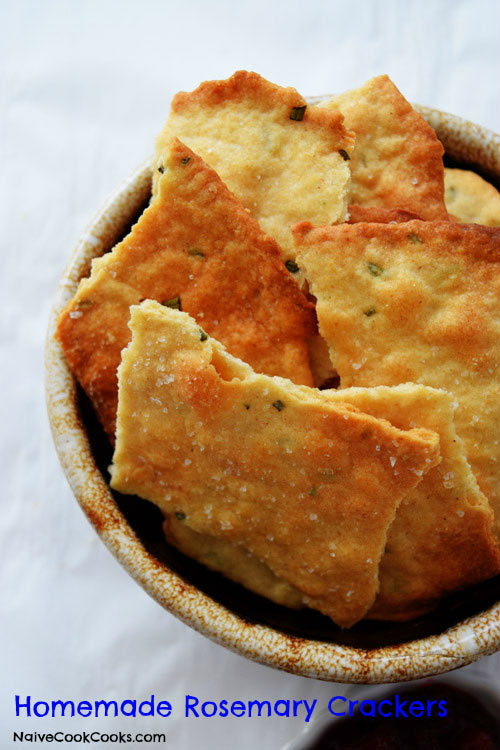 Homemade Rosemary Crackers:
1¼ cups unbleached all-purpose flour
½ cup whole wheat flour
1 tablespoon chopped fresh rosemary
1 teaspoon baking powder
¾ teaspoon salt
½ cup water
⅓ cup olive oil
Flaky sea salt
Spiced Cranberry Sauce:
2 cups fresh cranberry
½ cup sugar
½ cup water
Salt to taste
½ tsp cinnamon powder
¼ tsp ginger powder
Homemade Rosemary Crackers:
Preheat oven to 450F.
In a bowl, mix both flours, rosemary, baking powder and salt. Make a well in the center and add water and olive oil. Stir using a spoon and then knead very slowly and gently for 2-3 minutes until soft and supple dough forms.
Now divide the dough in 3 parts and roll one part at a time. Roll the dough into a thin around 8-10" circle. Don't worry, shape is not at all important here so you can roll it into any shape. Transfer it to a parchment paper lined baking sheet and sprinkle crushed sea salt on top.
Bake for 7-9 minutes or until golden. Transfer it to a cooling rack and cool completely. Meanwhile repeat with the other 2 pieces as well.
Store in an airtight container once completely cool.
For Cranberry Sauce : In a pot, add all the ingredients and let it simmer for 15-17 minutes until thick and all the cranberries have popped. Taste and adjust spices. Let it cool and store in an airtight container in refrigerator.
You can serve this cranberry sauce over soft Brie or any cheese of your choice with these crispy crackers!
Recipe by
Naive Cook Cooks
at https://www.naivecookcooks.com/homemade-rosemary-crackers/