Gulab Jamun Cupcakes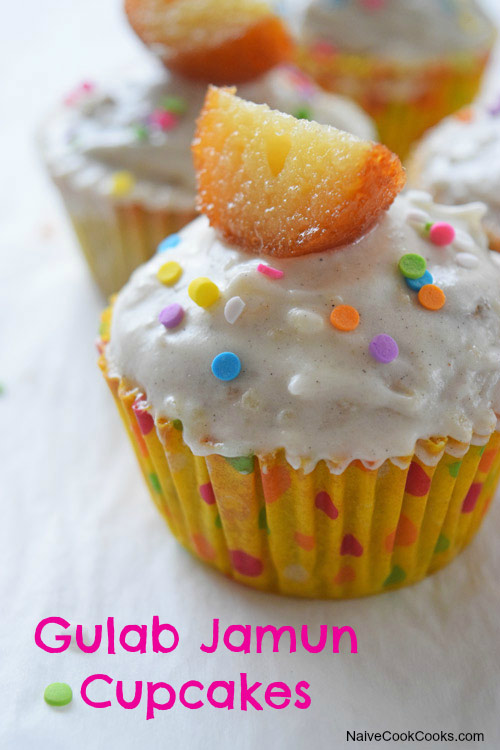 (1/2 + ⅓) cups All Purpose Flour
¼ tsp baking powder
⅛ tsp baking soda
¼ tsp salt
4 tbsp unsalted butter, melted
12 tbsp granulated white sugar
1 tbsp oil
2 whole eggs
2 Tbsp yogurt(I used low fat but you can even use full fat)
6 tbsp milk (I used 2% but you can even use 1% or full fat)
1.5 tsp cardamom powder
4 Gulab Jamuns for adding in the batter
Cardamom Buttercream
1 stick room temperature unsalted butter
2 cups confectioners sugar (white powdered sugar)
2 tsp vanilla extract
2 tsp cardamom powder or as per taste
2-3 tbsp milk (start with 2 tbsp and proceed if you want a thinner frosting)
Preheat oven to 350F.
In the bowl of your stand mixer or large bowl if doing by hand, add melted butter along with sugar,oil. Stir it until combined.
Add eggs, yogurt, milk,cardamom powder and mix it all together until smooth.
To it add flour,baking powder, baking soda & salt and mix until its all evenly mixed.
Now line cupcake baking tray with cupcake liners and fill them up with the batter upto ⅔ full. now chop gulab jamuns in small pieces and add about chopped pieces from half gulab jamun in each cupcake and stir.
Bake at 350F for about 18 - 22 mins or until a toothpick inserted inside a cupcake comes out clean.
Let them cool in baking tray for few mins and then transfer them to a wire rack to cool further.
Cardamom Butter Cream frosting:
While cupcakes are baking, start making buttercream frosting.
Clean the same bowl which we used for batter and after it is clean & dried, add butter and cream it for 5 mins.
To it add sugar, vanilla extract, cardamom & milk and mix until it gets soft & fluffy.
Top each cupcake with good amount of buttercream and enjoy!! You can even garnish with a small piece of gulab jamun!!