How to make bagels at home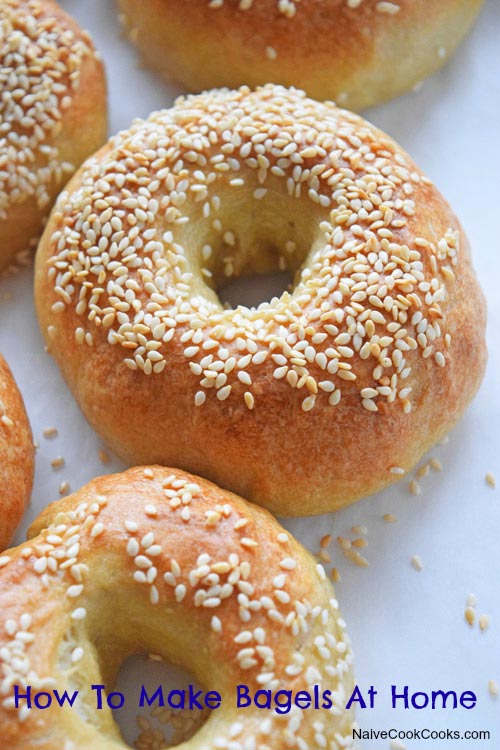 3½ cups unbleached all purpose flour
3 teaspoons salt, divided
¾ teaspoon instant yeast
1 tablespoon honey
1 cup plus 2 tablespoons water
1 teaspoon baking soda
Poppy or sesame seeds or any other seasoning of your choice
In a bowl, mix flour,2 tsp salt, yeast, honey and water and mix to form a rough dough. Let it rest for 5 minutes and then knead it for 3-5 minutes until you get a smooth supple looking dough.
Cover it tightly and refrigerate it for atleast an hour to few hours.
Take out the dough and divide it into 6-8 balls. Now roll it gently into round balls. Now poke a hole in the center of each ball and using your fingers to shape it into a round circle with a hole in the center. Make sure the center hole is around an inch wide.
Lay them on a greased baking sheet and repeat with the rest of the balls. Now once all the bagels are shaped, lightly brush them with oil and cover them and keep in refrigerator over night.
Once you are ready to bake them, take them out and let them sit at room temperature for 90 mins.
After about 60 mins, bring a deep large pot with water to boil. Once water is boiling, add 1 tsp salt and baking soda and let it simmer on low heat.
Also pre heat your oven to 400F.
Now drop bagels one by one into simmering pot of water as many as you can fit at a time. Cook them for 1 minute, flip and them cook them for another 30 seconds. Take them out using a strainer and place them on greased baking sheet. Finish all of them and then sprinkle each one of them with your choice of seasoning.
Place them in the oven and lower the temperature to 350F. Bake them for 8 mins and then rotate the tray and bake for another 8-10 minutes. If after first 8 minutes you see the bottom getting too brown, then place another baking sheet underneath.
Cool them on a wire rack and enjoy toasted or just like that with butter or cream cheese.
Recipe by
Naive Cook Cooks
at https://www.naivecookcooks.com/how-to-make-bagels/