Coca-Cola Glazed Chocolate Baked Doughnuts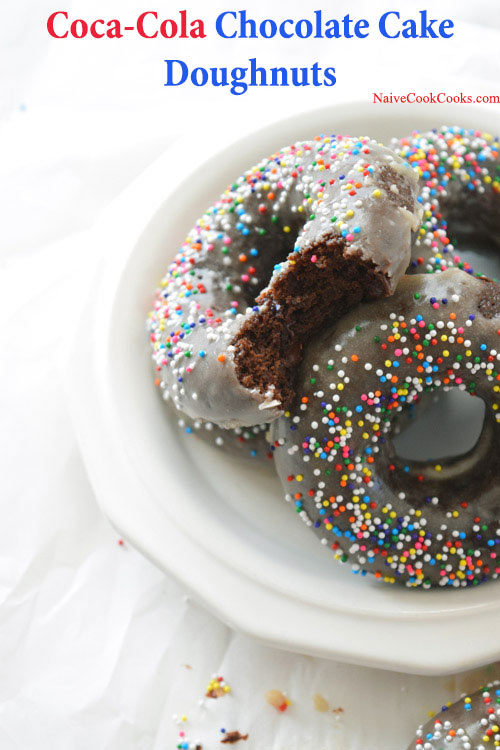 ⅓ cup Dutch-process cocoa
¾ cups + 2Tbsps Unbleached All-Purpose Flour
4 Tbsps brown sugar
½ teaspoon baking powder
½ teaspoon baking soda
½ teaspoon salt
½ cup chocolate chips
1 teaspoons vanilla extract
2 teaspoons vinegar, white or cider
¾ cup COCA-COLA
2 Tbsp vegetable oil ( I used canola oil)
¾ cup COCA-COLA
2 Tbsp butter
2 cups powdered sugar
Preheat oven to 350 F.
In a bowl mix all the dry ingredients and stir. To it add vanilla extract, vinegar, oil and coca cols and stir gently until mixed but do not overmix.
Spray doughnut pan with oil and fill upto ¾th full. Bake for 8-9 mins or until a toothpick inserted comes out clean and dry.
Transfer them to a cooling rack and make the glaze.
Bring Coca-Cola to a boil and boil until reduced to half. To it add butter and sugar. Stir until evenly mixed. Dip each doughnut into the glaze and let it dry. You can add sprinkles if are into that sort of thing!
Recipe by
Naive Cook Cooks
at https://www.naivecookcooks.com/coca-cola-glazed-chocolate-baked-doughnuts/