Lasagna Tortellini Bake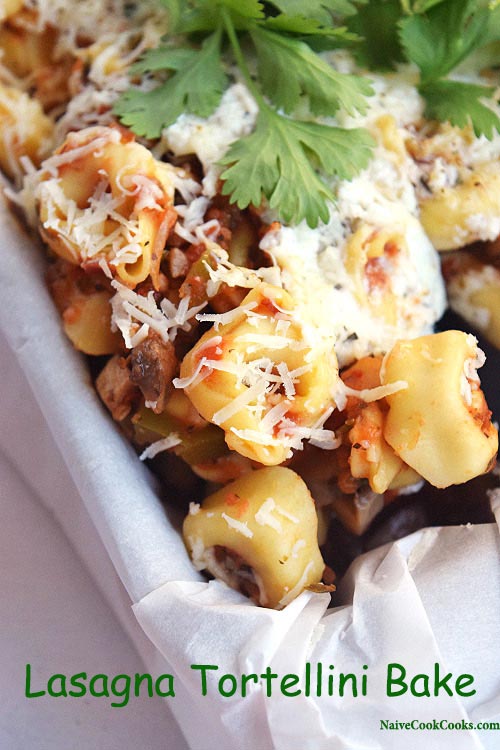 3 cups 3-Cheese Tortellini or pasta of your choice (There is a link for the brand I use always, after the recipe)
8 oz chopped mushrooms
6 garlic cloves chopped
1 bell pepper chopped
½ onion chopped
3 cups canned tomatoes or tomato puree from fresh tomatoes
1 tsp oil
1.5 tsp basil leaves crushed (dry form)
¾ tsp parsley leaves crushed (dry form)
Red chili flakes to taste
¼ tsp rosemary
1 tsp red wine vinegar
1 tbsp ketchup
¾ cup skim ricotta
¼ cup asiago cheese shredded plus extra for shredding on top
Salt & black pepper to taste
½ tsp basil leaves crushed (dry form)
½ tsp garlic powder
Bring water to boil in a large pot. Add about a tbsp of salt and add the tortellini. Cook as per package directions!
Once cooked, drain and add few drops of oil and stir so pasta doesn't stick together.
Meanwhile, in another pot add oil. To it add garlic & onion and saute for 3-5 mins on med-high heat. Add bell peppers & pinch of salt and saute until cooked halfway around 5-7 mins. Add mushrooms and cook for another 5-7 mins. Now add the tomatoes along with salt, basil, parsley, chili flakes, rosemary, red wine vinegar & ketchup. Mix it all together and let it cook on med-high flame. Taste and adjust salt & other seasonings. Cook it for 10-12 mins until some liquid is evaporated but you still ant good amount of liquid since you are going to bake. Or it will be really dry.
Now once sauce is ready, add cooked pasta/tortellini to it and stir. Transfer this to a parchment paper lined baking pot.
Now in a bowl mix all the cheese ingredients : ricotta, asiago, salt, pepper, basil & garlic. Mix and taste.
Spread this on top of the tortellini and plus add some extra asiago shredded on top. Bake at 400F for 40 mins covered tightly using aluminium foil or if making for later, place in fridge and bake before dinner time!