One Pot Lentils & Rice Bowl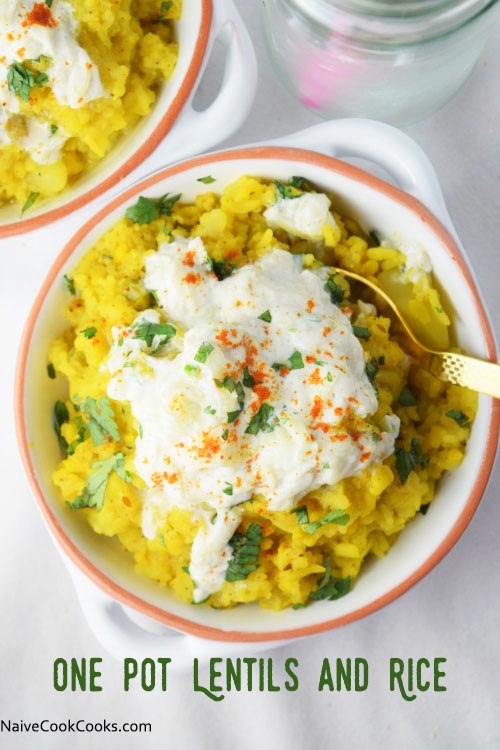 1 tbsp ghee or butter plus additional for drizzling on top
½ tsp cumin seeds
4-5 green chilies, chopped ( this made it spicy so if you want less spicy, I suggest adding only 2-3)
2 medium sized red onions, thinly sliced in half moon shape
1 tsp ginger paste
2 potatoes medium sized, chopped in cubes
¾ cup fresh/frozen green peas
1 tsp turmeric
1 cup cauliflower, chopped in big-medium size
1.5 cups basmati rice, cleaned in water and rinsed
1 cup moong dal (split green gram with skin removed. You can find these easily in all major grocery stores or in Asian stores)
Salt to taste
½ tsp garam masala (optional, this turned out pretty spicy so I left it out but if you want you can always add some)
½ cucumber, washed and grated (you can peel the skin or leave it on. It's upto your preference)
1 cup yogurt (I used 2% fat)
Salt to taste
1-2 green chilies, chopped
2-3 garlic cloves, grated or minced
1-2 tsp chaat masala or 1 tsp roasted cumin seed powder (you can simply roast cumin seeds and grind them. It is wonderful when added in yogurt, on vegetables)
In a pressure cooker or pot, add ghee. Once hot, add cumin seeds and let them splutter. To it add onions, green chili and ginger paste and saute on med-low flame for around 5 mins. Now add potatoes & green peas and saute for another 2-3 mins and add cauliflower & turmeric and stir around. Step by step sauteing helps in making sure each vegetable is nicely infused with the flavors of the spices.
Now add 1 cup cauliflower and saute for another 1-2 mins. Add cleaned & rinsed rice, lentils along with 5 cups water and salt to taste. Stir it around. Taste and adjust salt.
If cooking in a pot, bring it to a boil and cover and let it simmer on med-low while keeping an eye and stirring it occasionaly so it doesn't stick. You might need to add more water if you feel the lentils & rice are not cooked yet and still has a bite.
If cooking in pressure cooker, cover the lid and cook on med heat and let it blow whistle 2-3 times. Let it release all the steam before opening the lid.
Serve with chilled cucumber yogurt and store bought papadams if you wish.
For cucumber yogurt, simply mix all the ingredients & taste and adjust salt & chaat masala or cumin powder to taste.
The leftovers stay good for few days when kept in a covered container and make for a great lunch box meal.
Recipe by
Naive Cook Cooks
at https://www.naivecookcooks.com/one-pot-lentils-and-rice-with-cucumber-yogurt/