Roasted Tomatillo Guacamole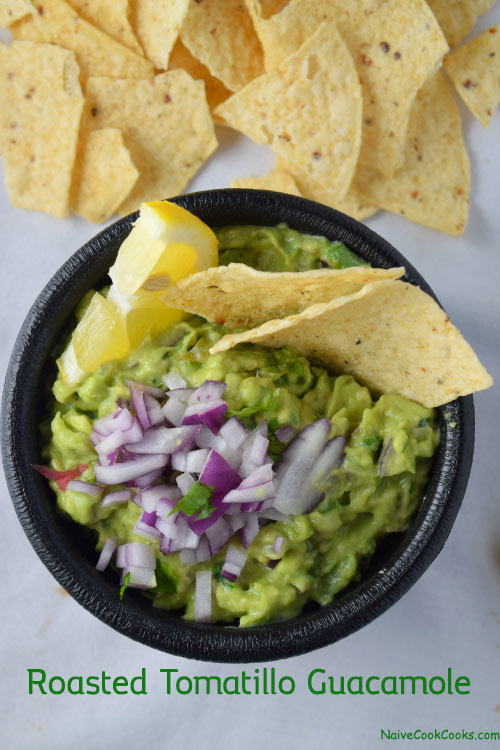 2 perfectly ripe avocados, peeled and mashed in a bowl
3-4 small-medium size tomatillos, husk removed, chopped and roasted
½ cup chopped red onion
Salt to taste
Lemon juice to taste
1 jalapeno chopped
¼-1/2 cup chopped cilantro as per preference
Preheat oven to broiler setting. Remove husks from tomatillos and chop them. Place them on a baking sheet and cook in the oven at broiler temp around 500F for around 10 minutes.
Take them out and let cool.
Meanwhile in a bowl, mash your avocados. To it add salt, lemon juice, jalapeno, red onion, cilantro. Mix it all nicely.
Now once cool to handle, chop the roasted tomatillos finely and squeeze out the water. Add them to the mix and mix. Taste and adjust seasoning. Serve with lots of tortilla chips or if making ahead of time, wrap it with a plastic wrap so that plastic wrap is touching the top of the guacamole and chill in refrigerator. This will prevent it from browning as it will stop air to come in contact with guacamole.
Recipe by
Naive Cook Cooks
at https://www.naivecookcooks.com/roasted-tomatillo-guacamole/