How to Make Croissants from Scratch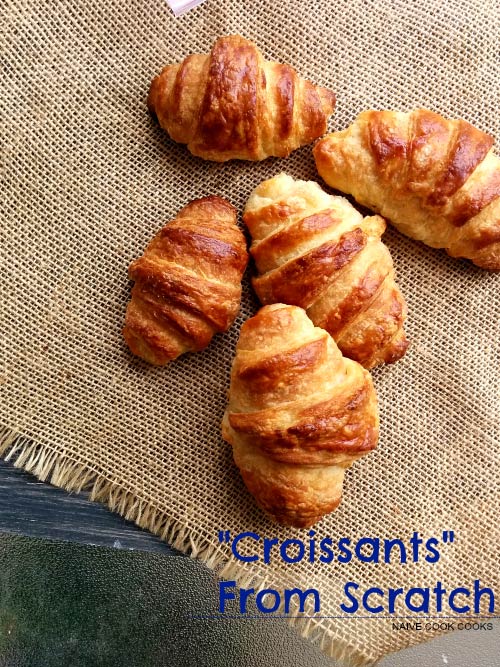 2½ teaspoons active dry yeast
¼ cup + ¾ cups milk
¼ cup sugar
3 cups all-purpose flour
1 teaspoon fine sea salt
1 cup cold butter
2 tablespoons all-purpose flour
In a bowl, add ¼ cup warmed up milk and to it add yeast. Stir it together and wait 5-7 minutes until it foams up or in other words yeast gets activated. Then add the sugar and rest of the milk (which should be cold) and mix. Add 2 cups of flour and salt to it and stir. To it remaining flour few tbsps at a time until the dough becomes soft and sticky. I ended up using ¼-1/3 cup of the remaining flour.
Transfer it onto a floured surface and knead for a good 1-2 minutes until dough becomes soft and turn it into a ball that flattens slightly as it stands. Transfer it to a plate covered with flour.
Cut a deep cross into the dough and let it sit in the refrigerator for upto an hour to overnight.
Now lets move on to the most important ingredient for croissants. BUTTER! Make sure butter is only slightly softened. You still want it to be pretty hard so you can shape it. In a bowl, add the butter and beat it until it is smooth. I usually do it in kitchen aid mixer but you can easily do it by hand though it might take more time. To it add flour and beat until smooth. Transfer it to a large plastic wrap and fold the other half of wrap over it. Now using a rolling pin, roll it into a large around 10*4 inch rectangle. Chill it with the flour.
Now take out the dough and transfer it to a floured surface. Roll the dough making 4 wings (It's best done using the heels of your hand). Basically roll each quadrant and you will end up into 4 giant wing shaped dough.
In the center place that chilled butter.
Fold the bottom wing onto the butter. Then the top one, then the one on the right and then the one on the left. Using a rolling pin, hit it a bit so butter gets evenly distributed between the layers. Roll it into a 17*9 inch rectangle.
Remember what we are trying to achieve here is have layers of dough and layers of butter one after other. We don't want butter to go inside the dough as this will ruin the layers.
Cut few mm of dough from the sides to see butter. If you don't see butter, cut little more until you see butter. Make sure you don't put the cut dough back into the main dough as this will ruin the lamination and you won't get croissants with tons of flaky layers.
After that fold the left thirds of the dough towards the centre and then the right thirds towards the centre. You will end up with a rectangle around 6*9 inch high. Hit it again with a rolling pin and cover and chill in the refrigerator for half an hour.
Roll the dough again into an 17*9 inch rectangle and repeat the fold. Make sure after rolling, you cut away some dough from the sides to reveal butter. Chill for half an hour and repeat this process one more time.
This time compress the layers a bit and wrap in plastic wrap. Chill the dough overnight. You will find the dough almost doubled up. Roll the dough to 9 inch high to as wide as possible.
Cut it into triangles using a pizza cutter or knife. I find pizza cutter to do the job in a very easy manner.
Take one triangle at a time and starting from the base of triangle, gently roll it them upto the tip. Repeat with all the triangles.
Transfer the rolled out croissants to a lined baking sheet and brush them with egg wash.
Let them sit for few hours 2-4 hours until they double up. Repeat brushing with egg wash and bake in a 375F pre heated oven for 15-25 minutes or until they are golden brown.
Let them cool a bit before serving.
These can be stored once fully cooled in an airtight ziplock bag. Just pop them in toaster oven before serving.
Recipe by
Naive Cook Cooks
at https://www.naivecookcooks.com/how-to-make-croissants-from-scratch/