Chocolate Hazelnut Crepe Cake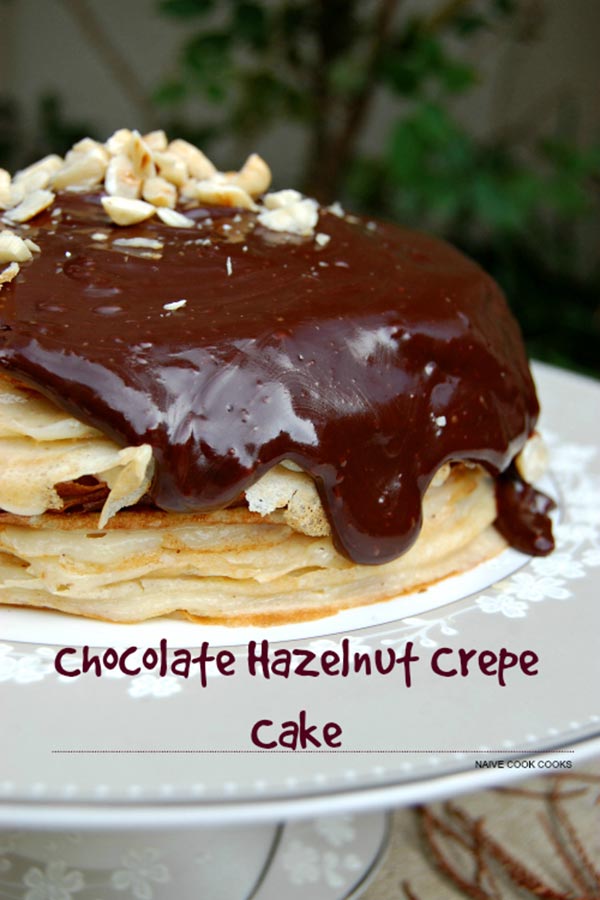 4.5 tbsp unsalted butter
1 cup plus 2.5 tbsp whole milk (can use different fat levels too)
3 large eggs
½+1/4 cups unbleached all purpose flour
Pinch of salt
¼ cup granulated sugar
Olive oil or butter for brushing skillet
½ cup + 2.5 tbsp hazelnuts
½ cup confectioners sugar or granulated sugar
1 tsp hazelnut liqueur (optional. I couldn't find any so I left this)
Pinch of salt
1.5 cups + 2.5 Tbsp whole milk
3.5 tbsp granulated sugar
2.5 large egg yolks
2.5 tbsp cornstarch
3 ounces about ½ cup semi sweet chocolate chips or finely chopped chocolate
3 tbsp heavy cream
½ tbsp hazelnut liqueur (optional)
In a small pot, heat butter on medium-low heat. Once all melted, let it continue to cook until all the foam dies, it turns clear golden and finally start to turn brown and smell nutty. Keep a very close eye as during this stage it takes a matter of seconds to make it burn.Keep stirring it at this point. Once done take it off heat and let it cool.
In a blender jar, add milk,eggs,flour,salt,sugar and 3 tbsp of that cooled melted browned butter. Blend it all until smooth. Cover using a plastic wrap and chill it in refrigerator for good 1 hour or upto 2 days.
In a skillet, add the hazelnuts and toast them on medium-high flame. Keep stirring them in between. Toast until they achieve slight colour but make sure they do not burn.Once done, let them cool. Once bearable to touch, roll them few at a time between your palms and take out as much skin as possible. It's fine if some skin is left on hazelnuts.
In a food processor, add ½ cup of these toasted hazelnuts, sugar, liqueur and salt. Keep the machine running until you achieve a powder like look which starts to come together in damp looking crumbs which combine in small clumps. Stop at that stage. If you keep running the food processor more, it will start to turn into hazelnut butter which we DON'T want.
In a medium size pot, add this hazelnut paste,milk and sugar and bring it to a boil over medium-low heat. Keep stirring it in between so it doesn't scorch. Meanwhile, in a medium bowl, whisk together egg yolks and cornstarch until smooth. Take that hazelnut milk off the stove.Add few 3-4 tbsps of this milk mix one tbsp at a time into yolk mix and keep stirring it continously so eggs dont cook. This will help in making the egg mix slighlty warmer. Now transfer this egg mix into the pot of hot milk mix but keep whisking it continously until combined. Transfer it to the stove and cook it for another 2-4 mins whisking all the time until it reaches a slightly thick pudding like consistency.Add the remaining browned butter and whisk until evenly mixed. Transfer into a bowl. Cover with a plastic wrap touching the top of this custard to prevent skin formation and chill until cold.
***** NOW GRAB A GLASS OF WINE because you will need it while making TONS of crepes!
Preheat a medium (9") or small (4") skillet. I used 9" skillet the first time and second time to get a taller looking cake, I used a small skillet.
Once heated, brush the skillet with little oil or butter. Pour ¼ cup batter (for 9" skillet size) or ¾ of ¼ cup for 4" size skillet. As soon as your pour the batter, swirl the batter around to let it coat the skillet evenly. Cook on medium-high for 1-2 minutes until sides start to turn darker in colour and pull away. At this point, you can either use your fingers or wide spatula. Pull the crepe from ons side and flip. If it feels too hot, take the skillet away from the stove and sometimes I like to wet my fingers so I feel not to hot while flipping the crepe. Flip and let it cook on medium-low heat for 5-10 seconds. Transfer on a plate covered with paper towels. Repeat and keep piling up the crepes. Keep them covered. Don't worry as first 1-2 crepes might not turn out good or you might not be able to flip them. It's totally normal. Just throw those 1-2 initial crepes and continue. By 3rd or 4th crepe, you will get the hang of it!
On a cake stand or plate, place one crepe and smear with hazelnut pastry cream using an offset spatula or butter knife works great too.Place second crepe on top and keep repeating the process until you are left with the last crepe which will act as the lid. Do not add cream on the top most crepe.
Let it chill until you make chocolate sauce.
Bring heavy cream and hazelnut liqueur to a boil. Add to the chocolate chips in a bowl. Stir until all the chocolate melts.
Remove the chilled crepe cake from refrigerator. Pour the chocolate sauce on top and spread using your spatula. Garnish with the remaining leftover hazelnuts.
Cake recipe adapted from Smitten Kitchen's Cookbook
I halved the recipe and made smaller crepes but If feeding a crowd, you can go ahead and double or triple the recipe and make larger about 9" crepes.
I know the recipe might make you feel scared as it did to me too! But Jerry insisted me to try this cake and because of him we were treated with such an amazingly delicious crepe recipe. So just saying, don't let the ingredient list and the directions scare you!! This cake is super simple, little time consuming but worth every single penny!
Recipe by
Naive Cook Cooks
at https://www.naivecookcooks.com/chocolate-hazelnut-crepe-cake/