Loaded Veggie Pizza Toast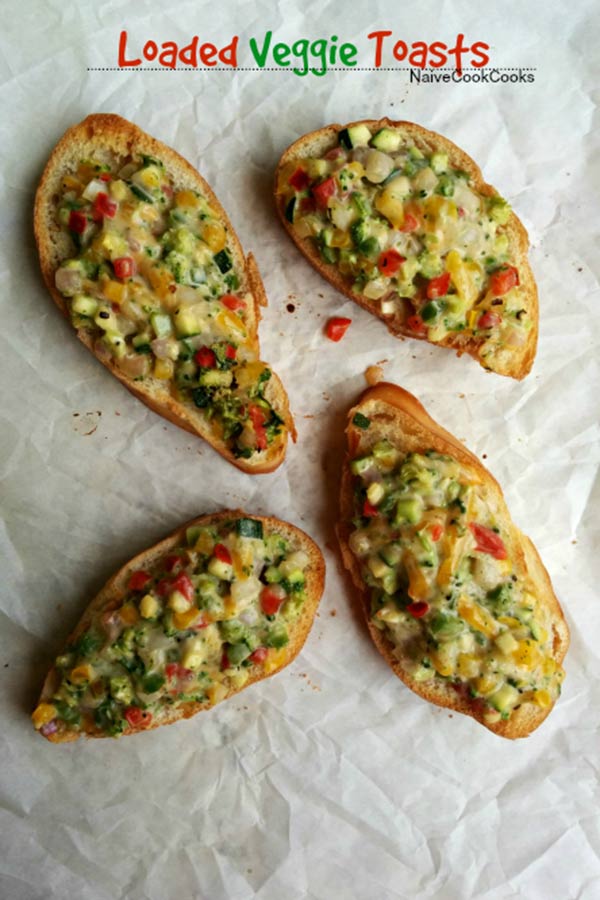 ½ red bell pepper, chopped very fine
½ red bell pepper, chopped very fine
½ yellow bell pepper, chopped very fine
½ yellow bell pepper, chopped very fine
½ green bell pepper, chopped very fine
½ green bell pepper, chopped very fine
1 medium sized sweet onion, chopped very fine
1 medium sized sweet onion, chopped very fine
1 medium size zucchini, chopped very fine
1 medium size zucchini, chopped very fine
7-8 broccoli florets, chopped very fine
7-8 broccoli florets, chopped very fine
2-3 garlic cloves, chopped fine
2-3 garlic cloves, chopped fine
1 jalapeno or as per your taste, chopped fine
1 jalapeno or as per your taste, chopped fine
small bunch of cilantro, chopped fine
small bunch of cilantro, chopped fine
2-4 ounce shredded cheese or as per taste(I used a mix of cheddar and monterey jack cheese)
2-4 ounce shredded cheese or as per taste(I used a mix of cheddar and monterey jack cheese)
1 loaf of fresh french bread
1 loaf of fresh french bread
3-4 tbsp mayonnaise or as per taste
3-4 tbsp mayonnaise or as per taste
Salt and black pepper to taste
Preheat oven to 350F. Cut  slices of french bread or for your sanity, just buy the pre cut one. Spread little butter on one side and Lay them on a baking sheet. Toast in the oven for few minutes until they get slightly crisp. Make sure you don't crisp them too much as we will again bake them after adding veggies and too crispy toast gets too dry to eat. Once little crispy, take them out.
In a bowl, add all the ingredients and mix so they get coated nicely with the veggies. Taste and adjust salt, black pepper, mayo or cheese as per taste.
Add 2-3 spoonfuls of the veggie mix on each toast. At this point, if you want extra cheesy, you can sprinkle some more shredded cheese on top. Bake for another 10-12 minutes or until cheese starts to melt. Serve immediately.
Enjoy these with chilled beer, wine or soda.
Recipe by
Naive Cook Cooks
at https://www.naivecookcooks.com/loaded-veggie-pizza-toast/