Bhakarwadi - Tea Time Indian Snack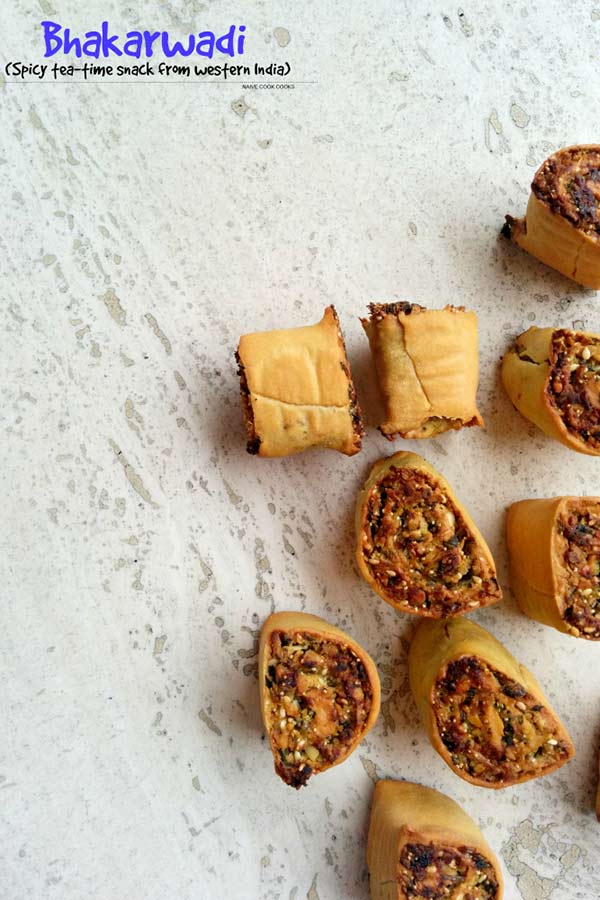 ¾ cup fresh powdered coconut (found in freezer aisle)
1.5 cups fresh cilantro, chopped fine
1 Tbsp poppy seeds
4 tsp sesame seeds
2 Tbsp green chili
2 tsp ginger
Salt to taste
1 Tbsp garlic paste
½ tsp turmeric
2 Tbsp lemon juice
¾ cups crushed peanuts
3 Tbsp sugar
1 tsp fennel seeds, crushed
1 tsp garam masala
1 tsp oil
1.5 cups chickpea flour / gram flour (besan)
½ cup all purpose flour
4 Tbsp oil
1 Tbsp lemon juice
Salt to taste
In a bowl, add all the filling ingredients and mix. Taste and adjust salt, green chili, sugar or lemon juice as per taste.
Keep it aside.
Add dough ingredients in a separate bowl and mix using warm water. You want is tight dough. Break dough into medium palm sized balls and roll into a circle. Evenly distribute filling leaving the ends. Roll it tightly and seal the corners. Using a sharp oiled knife, cut into medium thickness spiral rounds.
Arrange these on a baking sheet covered with parchment paper and bake at 350F for good 30-45 minutes until golden brown. Flip halfway and keep an eye so they don't over brown. Let them cool and store in an airtight container.
Recipe by
Naive Cook Cooks
at https://www.naivecookcooks.com/bhakarwadi-tea-time-indian-snack/