Green Mexican Lasagna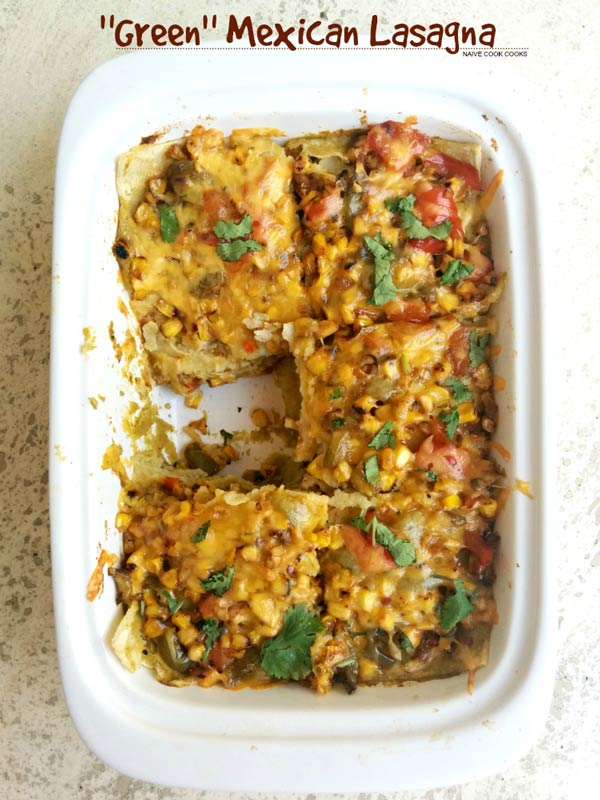 9 white or yellow corn tortillas
6 ounce mild/sharp cheddar cheese, grated
1 packet of mexican rice blend, cooked as per package directions
1 cup dry pinto beans or a can of refried beans
Salt to taste
¼ tsp red chili powder
1 tsp taco seasoning
¼ tsp cumin powder
3 med size tomatillos, cleaned, poked using a knife and microwaved on high for 1-1.5 mins (Keep them in a zip lock but DO NOT close the zip all the way)
1 jalapeno
½ cup tightly packed cilantro
1 can fire roasted chopped green chile (I used HATCH brand)
½ cup red onion, chopped
4 garlic cloves
¾ cup water
¼ tsp cumin powder
Salt to taste
Pinch of paprika
2 ounce mild/sharp cheddar cheese, grated
1 green bell pepper, chopped
½ red bell pepper chopped
2 fresh corns, husk removed and roasted on stove top or grill
salt to taste
2 tsp olive oil
1 garlic clove
½ tsp cumin powder
½ tsp oregano
¼ tsp paprika
1 tsp taco seasoning
In a pan, add oil. Once hot, add garlic. Saute for a minute or two. Add bell peppers and corn. Add salt, cumin, oregano, taco seasoning and paprika. Stir it around and cook it on med-low until veggies get cooked through. Taste and adjust seasoning if needed.
Cook the Mexican rice as per package directions and keep it aside.
If using fresh pinto beans, soak them in hot water for about 10-15 mins. Rinse and pressure cook them with sufficient water. You might end up getting 12-15 whistles or more until the beans get cooked all the way.
Transfer cooked beans in a blender. Add little water, salt to taste, cumin, taco seasoning and red chili powder. Blend until coarsely blended. Taste and keep it aside.
For sauce, throw in all the ingredients except water and cheese in blender. Blend on high until smooth. Transfer to a pot and cook on med-high heat. Add water. Keep cooking for 10-15 minutes until it starts to get little thick. Stir the cheese and taste and adjust seasoning if needed. Keep it aside.
In a baking dish, pour few tbsps of sauce. I couldn't fit whole tortilla so I cut them in half and then layered. But it depends on the size of baking dish you are using. Layering is shown in one of the pic above as well. Sauce, Tortillas, sauce, veggies, beans, rice, cheese, sauce and repeat.
I used 3 tortillas per layer and I used a baking dish roughly around 8" *4".
Bake in a 350F pre heated oven for around 30 minutes. Let it sit for 10-12 mins before serving. Garnish with more cilantro and serve with more sauce and sour cream.