5 Banana Coconut Banana Bread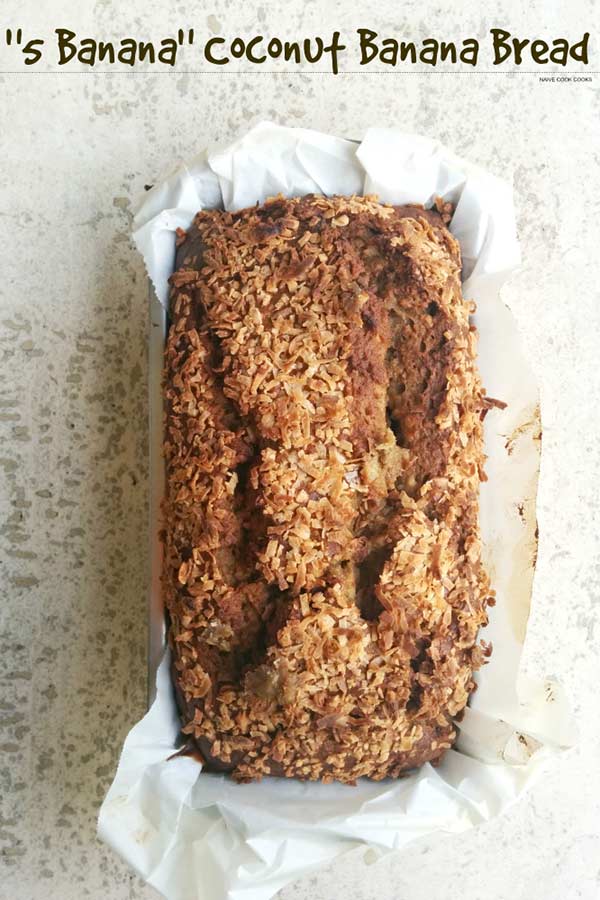 2 cups all purpose flour
1 tsp baking soda
Pinch of salt
½ tsp cinnamon
½ cup olive oil
½ cup brown sugar
2 eggs
(2+1/3) cups banana puree (You might end up using 5 large overly ripe bananas)
½ cup sweetened coconut flakes plus extra for garnishing
Pre heat oven to 350F.
In a bowl, add flour, baking soda, salt and cinnamon. In another bowl, add olive oil and brown sugar. Stir it until it gets evenly mixed. To it add eggs and stir it around. Add banana puree and mix it all together. Add the banana mix to dry ingredients and fold until it all comes together. Try not to overmix.
Fold in the sweetened coconut flakes. Pour the batter in a greased loaf pan or loaf pan lined with parchment paper. Garnish with more sweetened coconut. Bake in a pre heated oven for good 60 mins or until knife comes out clean.
I made this loaf little less sweet but if you like a good fully sweetened bread, go ahead and make it ¾ cups brown sugar instead of ½ cup.
Recipe by
Naive Cook Cooks
at https://www.naivecookcooks.com/5-banana-coconut-banana-bread/