Crispy Potato Lentil Fritters ( UP's Famous Aloo Dal Pakoda)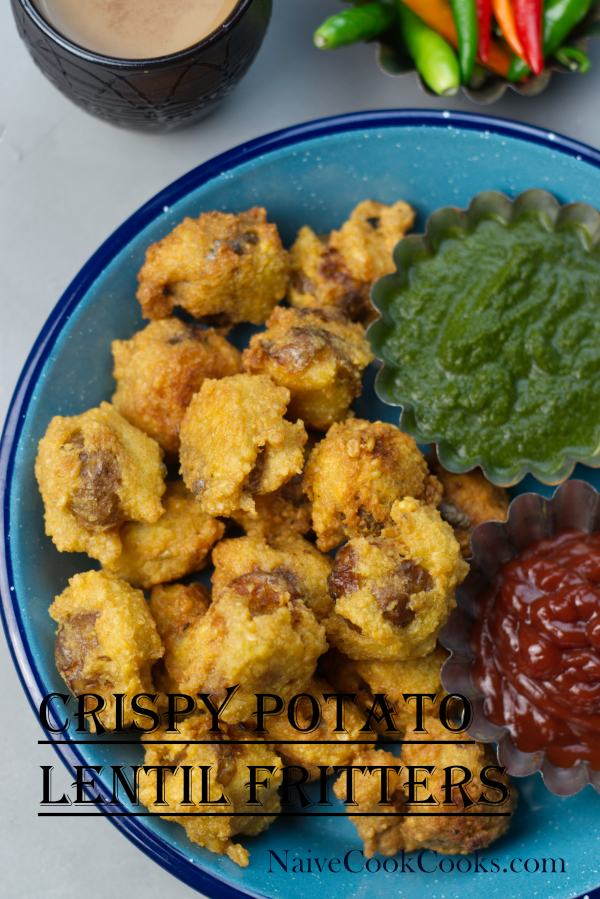 1.5 cups yellow moong dal ( moong lentil)
1 pound baby potatoes
Salt to taste
1.5 tsp black salt
1 tbsp ginger, finely chopped
2-3 green thai chilies or as per taste
Chaat masala
Oil for frying
Rinse moong dal in a fine mesh sieve under running water until water turns clear. Soak it in a bowl with water covering it overnight.
When ready to cook wash baby potatoes and boil until fork tender. Drain and keep them aside.
In high speed blender jar, add rinsed dal (make sure to drain out all the water), ginger and green chilies. Blend until almost fine consistency ( little coarse is totally fine).
Take it out into a bowl.
To the grinded dal add salt, black salt and mix and taste.
If you are using baby potatoes, smash them slightly and then generously sprinkle chaat masala over each of them.
In a deep heavy bottom pot, heat up oil. Drop a tiny piece of potato to test if oil is hot enough for frying. If the potato comes up immediately oil is ready. Keep the heat to medium to medium low. Dip chaat masala coated potatoes one by one into batter and slowly and carefully add them into hot oil.
Make sure that the gas is on medium to medium low so they cook evenly. It will probably take like 7-9 mins for them to cook until golden brown. Serve immediately with fresh chutney and loads & loads of chai! Bliss!
Recipe by
Naive Cook Cooks
at https://www.naivecookcooks.com/crispy-potato-lentil-fritters-ups-famous-aloo-dal-pakoda/