Ronak's Garlic Chili Oil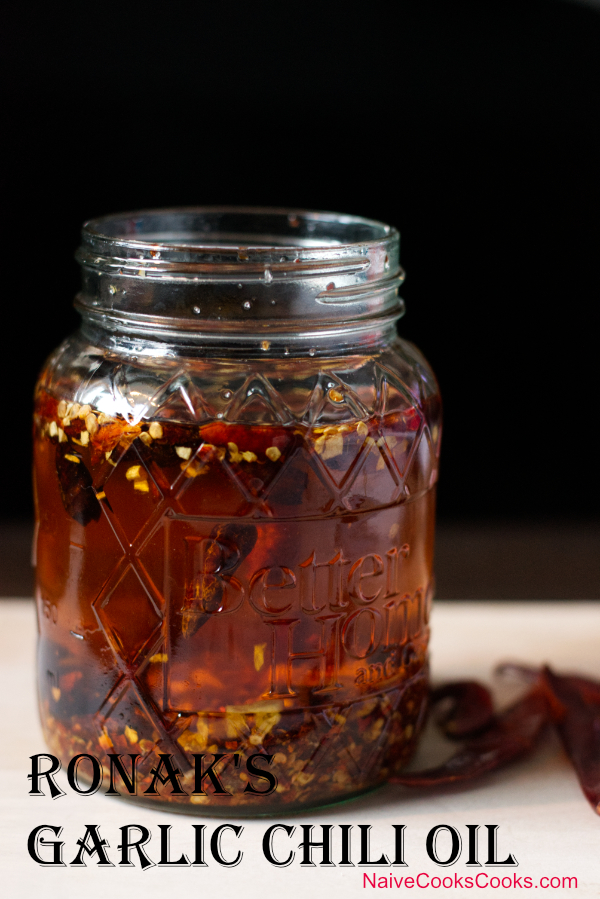 Serves:
700 ml garlic chili oil
Ronak's Garlic Chili Oil
½ cup + ¼ cup, divided [Spicy Sicilian chilies dried ( If you can't find them or don't have them, you can in a pinch use regular dry red chilies easily available at walmart or any Indian grocery store)]
3 tbsp crushed red pepper flakes
2 tsp red chili powder
2 tsp salt or as per taste
6 garlic cloves, finely chopped
3 garlic cloves, slivered
700 ml Regular Cooking Oil ( I used the regular lighter tasting Olive oil NOT Extra Virgin Olive Oil)
Ronak's Garlic Chili Oil
Take ½ cup of dried chili peppers in a pot and smash roughly using back of your spoon. Add enough oil to cover the chilies and on medium heat cook. BE CAREFUL , if using these Sicilian chilies they emit really spicy choking fumes! We were coughing nonstop for 10 mins after inhaling them! lol
Once the chilies are slightly cooked like for 3-5 mins, take them off heat.
Fill 2 * 350 ml mason jars halfway with oil or use a single large jar.
To this oil add the above chili oil you just cooked. To it add ¼ cup more these Sicilian chili peppers. Also add chili powder and red crushed pepper flakes along with salt and 3 finely slivered garlic cloves. In the same pot where you earlier cooked chili peppers in oil, take little bit more oil like 3-4 Tbsp and add chopped garlic. Cook until golden. Let it cool down a bit and then add to the jar. Add the remaining oil left from 700ml of oil and close the jar lid tightly.
Shake it carefully so everything is mixed properly!
Let it sit for a minimum of 3-4 weeks before you start using it! It will get spicier and the oil will turn more and more red as long as it will sit!
Once you start reaching bottom of your jar, you can always top it with little more oil.