Instant Pot Ragda Pattice (Potato Cakes served with White Pea Curry)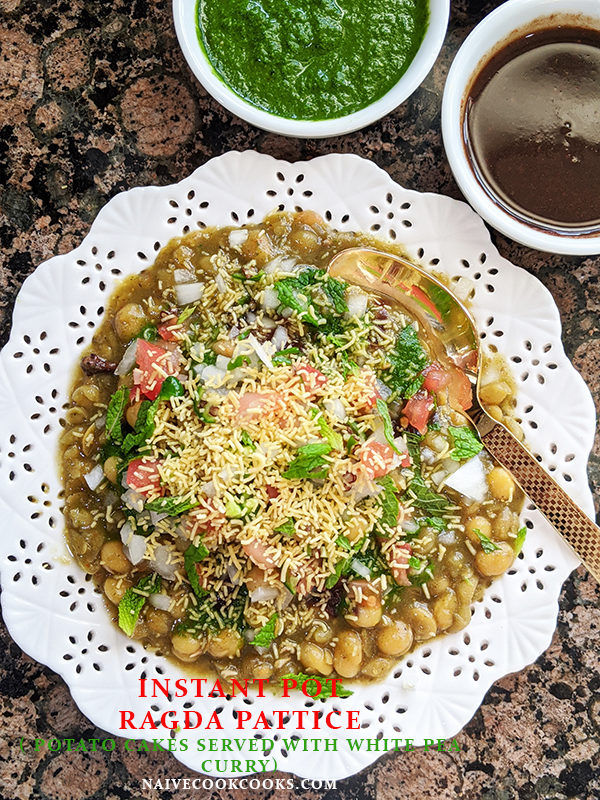 Serves:
15 aloo tikkis ( 7 servings)
FOR CURRY ->
2 cups white peas (vatana / matara) soaked overnight in water
1 Tbsp oil
8 cloves
2 bay leaf
1" cinnamon stick
1 cup onion, finely chopped
1 cup tomato, finely chopped
½ cup water
Salt to taste
4 tsp garlic paste
1.5 tsp ginger paste
½ tsp red chili powder ( I added less because of my little daughter but feel free to add as much/less you want as per your spice level)
1 tsp Garam Masala
2 tsp amchoor ( dry mango powder or lime juice)
1 tsp sugar
1 tsp Dhaniya powder ( coriander powder)
½ tsp cumin powder (jeera powder)
½ tsp haldi (turmeric)
1 tsp poppy seeds (khus khus)
3 cups water
¾ additional cup of water if needed
3 tsp spicy green chutney
5 tsp sweet date chutney
FOR ALOO TIKKI ->>
5 large potatoes, boiled, peeled and grated
Salt to taste
2 tsp ginger paste
1 tsp green chili paste
2 Tbsp rice flour ( or add breadcrumbs or poha) for crispy aloo tikki
¼ tsp haldi (turmeric)
ASSEMBLY ->
Spicy cilantro mint chutney
Date tamarind chutney
chopped oinions
chopped tomatoes
chopped green chilies or serranos
chopped cilantro / mint
fine sev
RAGDA/ WHITE PEA CURRY ->>
Turn Instant Pot to saute mode. Add 1 Tbsp oil. Once hot, add bay leaf, cinnamon sticks and cloves.
Once they start to sizzle, add finely chopped onions.
Once the onions become translucent, add finely chopped tomatoes.
Once the tomatoes become mushy, add ½ cup water and cook for few more minutes.
Add all the seasonings. that is salt, garlic paste, ginger paste,red chili powder, garam masala, amchoor, sugar, coriander powder, cumin powder, turmeric, poppy seeds and mix. Cook till raw smell of spices go away.
Then rinse the soaked white peas (matara/vatana) and add to it.
Stir it all around, add 3 cups of water and cancel saute mode. Close the lid of instant pot, put it on sealing and turn on High Pressure for 20 minutes. Once timer turns off, let it release pressure naturally. Once all pressure is released, open the lid.
At this point taste taste, add green & date chutneys and whatever more seasoning you feel missing. When I was ready to serve I ended up adding almost ¾ cups of water more to get the right consistency. You want it little soupy so if you add water towards the end, make sure to taste and adjust spices as well. Also mash some peas with the back of your spoon/laddle which gives a creamier consistency. Also you can add finely chopped fresh cilantro if you have some, I had none so skipped.
ALOO TIKKI ->>
Meanwhile get your aloo tikki ready. Boil 5 large potatoes (this will make about 15 aloo tikkis ). You can boil in instant pot or stove top or microwave like I did. For boiling potatoes in microwave , clean your potatoes undre running water, prick them using a fork and place on a deep plate/bowl or ziplock bag with little water. Keep in microwave for 6-8 minutes.Peel and grate boiled potatoes and add seasoning in there.
Mix with hands, roll them into patties.
Cook them in little oil or you can shallow fry or even deep fry them if that's what your heart desires!
Tada! Crispy on top and soft inside.
ASSEMBLY ->>
Place few spoonfuls of white pea curry / ragda onto a plate. Place 1-2 aloo tikkis on top and add more curry. Add both green & date chutneys, onions, tomatoes, green chilies if using and sev.
Recipe by
Naive Cook Cooks
at https://www.naivecookcooks.com/instant-pot-ragda-pattice-potato-cakes-served-with-white-pea-curry/