Curried Egg Rice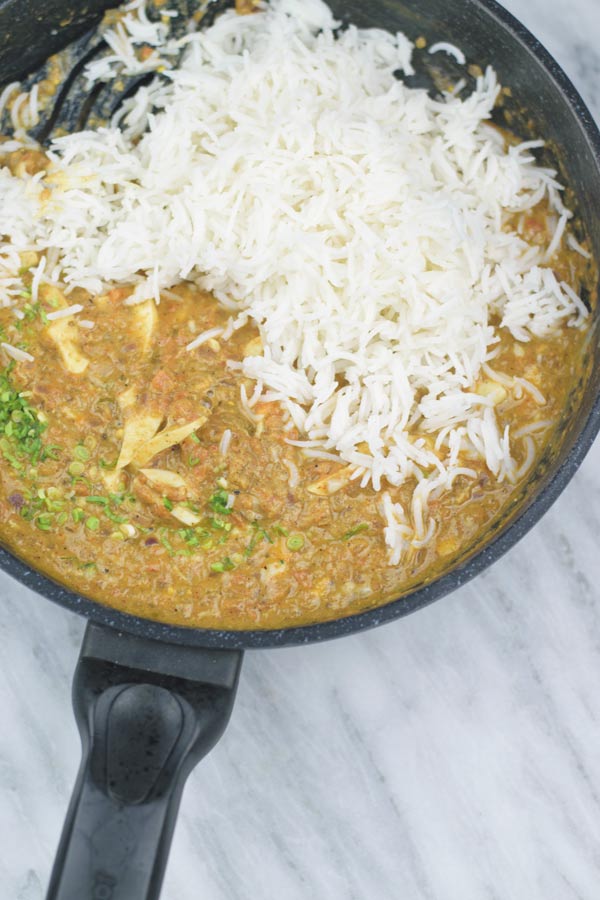 Recipe type:
One Pot Meals
Curried Egg Rice:
½ cup basmati rice, uncooked
2 boiled eggs, peeled
4 eggs, raw
4 tbsp oil
¼ tsp cumin seeds
2 heaping tsp garlic paste
½ tsp green chili paste or as per taste
2 tbsp green garlic, finely chopped (optional)
1 red onion, finely chopped
Salt to taste
4 Roma tomatoes, finely chopped
½ tsp red chili powder or as per taste
¼ tsp black pepper
½ tsp garam masala
For Tempering (Chaunk/Vaghaar):
2 tsp oil
1 tsp cumin seeds
2 dried red chillies
Curried Egg Rice:
Boil 2 eggs. Once cool to touch, peel them. Cut then in half lengthwise and take out the yolks. Now cut the boiled white parts in thin long slices. Keep aside.
Also chop onions, tomatoes and green garlic (is using) . Get garlic and green chili paste ready.
Boil rice until fully cooked. Once cooked transfer it to a large plate/tray and let it cool down.
Once you have everything ready, proceed with the recipe.
In a deep non stick pot, add oil. Once oil is hot, add cumin seeds and let them start sizzling. Now add garlic paste, green chili paste, green garlic (is using) and stir it around. Add finely chopped onions and pinch of salt and stir. Cook on medium heat until onions get translucent say 3-5 minutes.
Add finely chopped tomatoes to it. Take a hand held masher and start mashing up everything so everything starts to get into a chunky gravy sort of consistency. Add boiled yolks and mash more until yolks are incorporated into it. You are done with masher.
Add salt, red chili powder, black pepper, garam masala and mix . Now add sliced white boiled egg and mix it. Make sure to turn your gas to the lowest setting. Add all 4 raw eggs and start mixing them into the gravy. Since the gas is at lowest setting, eggs won't curdle but they will still keep cooking with the heat and will be safe for eating.
After 3-5 minutes of stirring the gravy, taste and adjust any spice if need to.Add cooked and cooled rice and mix gently until rice is mixed with the gravy.
Cook for another 3-5 minutes on lowest setting.
Turn of the gas and make tempering. In a small pot, heat oil. To it add cumin seeds and dried red chili until they start to sizzle.
Add tempering over the curried egg rice. Serve. This is a great filling meal on it's own but if you want you can also serve it with some fried eggs on side or a big salad.