Easiest Soft & Fluffy Coconut Macaroons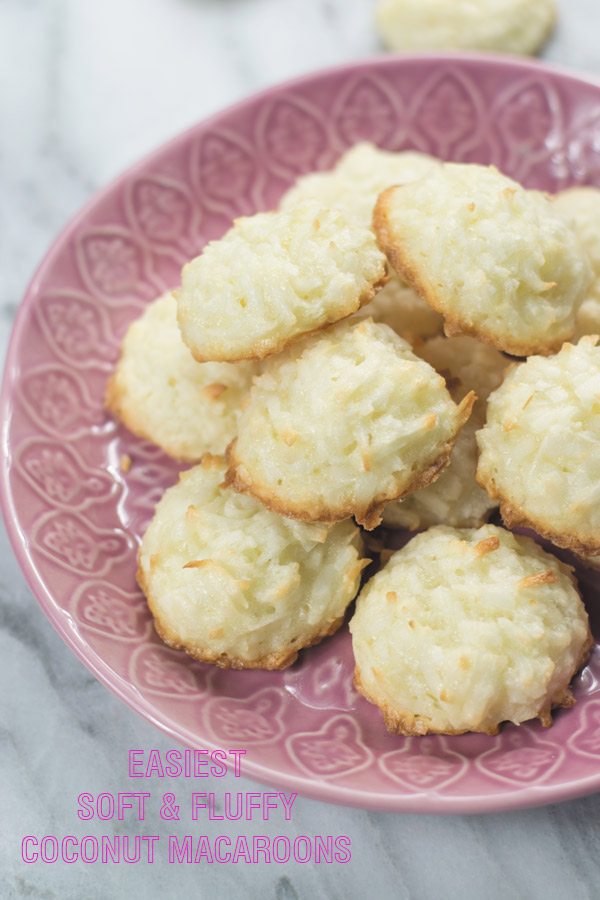 Easiest Soft & Fluffy Coconut Macaroons:
1-1/3 cup sweetened shredded coconut flakes
⅓ cup sugar
2 Tbsp all purpose flour
⅛ tsp salt
2 large egg whites
1 tsp coconut extract
Preheat oven to 325F.
In a bowl, mix all purpose flour, sweetened shredded coconut, sugar, salt, egg and coconut extract. You will get a thick and sticky batter.
Using a scoop, drop balls of batter on a parchment paper lined baking sheet.
Bake for 18-21 minutes or until slightly golden.
Cool on a cooling rack and then store in an airtight container.
Ami says :
Recipe adapted from Taste of Home
Recipe by
Naive Cook Cooks
at https://www.naivecookcooks.com/easiest-soft-fluffy-coconut-macaroons/